FISHING EXPO OFFERS YOUNG ANGLERS CAREER ADVICE
High school and college anglers are the focus of special activities next Sunday, February 25 at the Wisconsin Fishing Expo. Young anglers wearing their fishing team jerseys  get in free to the event at the Alliant Energy Center in Madison.
Plus Shimano's Varsity Program will present a special seminar on career opportunities in the fishing and boating industries.
"The interest in tournament fishing among young anglers has seen exceptional growth," said Frank Hyla, coordinator for the Shimano program. "From attending events, we found while many of these anglers aspire to fish the professional circuits, even more want to know about being involved in the fishing business as a career after finishing high school and college."
Career focus
At the 1 p.m. seminar, Hyla will discuss Shimano's Varsity Program, scholarships and what kind of work is available in the fishing business. He will talk about the need of talented grads in positions like fishery management, product design, accounting and supply chain. All these are part of business side of fishing.
Erin Streit, marketing manager at Crestliner Boats, will talk about the many white- and blue-collar positions offered in the marine industry, as well.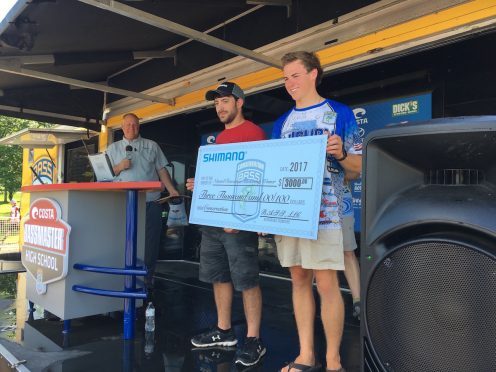 "A big thanks to the folks at the Wisconsin Fishing Expo for this opportunity to connect with young anglers at their show," Hyla said. "Wear your fishing jersey, bring a student I.D. and learn about careers in the fishing business. Plus we're helping you keep a few extra bucks in your pocket that you can spend on new fishing gear. Shimano will be exhibiting at the show all weekend, too. Come check out all our bass, walleye and musky tackle."
For more show hours and other info: https://midwestoutdoors.com/event/wisconsin-fishing-expo/2018-02-23/.
For information on Shimano's program for high school and college age anglers, visit http://varsity.shimano.com.
Elsewhere on midwestoutdoors.com: Read about icing more fish by properly timing your hook-set: https://midwestoutdoors.com/know-set-hook/
You can be among the first to get the latest info on where to go, what to use and how to use it!
---
We believe being outdoors is good. With more than 1,000 articles each year, MidWest Outdoors magazine is all about sharing outdoor experiences with you—where to go, what to use and how to use it… whether you're close to home or on that trip of a lifetime.
All author posts
---