Women Ice Angler Project: Making an Impact, and Memories
A group of adventurous female anglers set out to the Northwest Angle and Lake of the Woods this past winter for the Women Ice Angler Project (WIAP). The annual event was born out of frustration from seeing little representation of women in ice fishing marketing and magazines. Women fish with friends, spouses, and by themselves, but rarely does photographic evidence appear in print or online fishing media.
Pro angler Barb Carey said she had her lightbulb moment for this project when she opened a leading fishing company's winter catalog, but saw no photos of women. As the founder of WI Women Fish, a multi-state women's fishing club, she knows that quite a few women are interested in the sport, and are spending money on gear and classes. In fact, all of the ice clinics she's hosted for the past decade––specifically for women––have sold out in short order.
The Women Ice Angler Project media event was born to create images and stories about real women who fish hard water.
"Women are interested, and they are a huge market," says Carey. "We're hoping manufacturers pay more attention to women, when planning their marketing campaigns."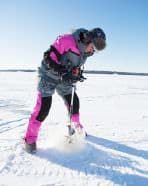 Part of the boom in ice angling, regardless of gender or age, is better-fitting, high performance gear, that's lighter than it has been in the past. There are great products being made for women anglers, so with more awareness will come more participation. WIAP has set out to produce images and stories that help more women discover the sport.
Lake of the Woods as Canvas
This past January, Carey was joined by anglers Bonnie Timm, Shellie Holland, Holly Hanson, Jane McMahon, and Sarah Englebert, along with author Kristine Houtman, and photographer Hannah Hudson, for the first Women Ice Angler Project media event. With 40 mph winds and -30-degree temperatures, Lake of the Woods delivered a true Northwest Angle experience.
At times the wind gusted to 50 mph and produced whiteout conditions, but the group ventured onto the ice, stuck together, and had a wonderful experience. The trip was a smashing success (and hopefully, a barrier-smashing success). Walleyes were plentiful, as were monster crappies. As the project shared photos on social media and blogs, it was apparent there are plenty of female ice anglers out there, and that they want to find each other.
Based on social media comments, many women want to go fishing with other women, but don't realize there are others who feel the same. They also feel intimidated by the equipment involved, but don't want to "feel dumb" asking somebody how to use it. The project aims to overcome these barriers and help more women become lifelong ice anglers.
Carey wants women to know they can do this on their own. "Women don't have to wait for someone to take them," she says. "There are women out there to help with questions and techniques."
What started as a project to document real women fishing hard water became that and more. It has already inspired women of the Ice Belt to pursue their fledgling interest, and/or passion, for the sport.
Return to the Woods
Up next for Carey's WI Women Fish: a return to Lake of the Woods, in late January of 2016. After seeing images and hearing stories from the inaugural WIAP trip, there is strong interest in making the area a traditional winter destination. Most of the group had not previously traveled that far north to fish, but had dreamed of going, and loved targeting walleyes, saugers, crappies, jumbo perch, pike, tulibees, and eelpout.
The fishing is worth the trip, and the scenery is, too.
"We've received so many comments from female anglers," Carey said. "They say, 'my hubby goes every year with his buddies, and I'm so glad to have a trip to go on with my girlfriends.' We are excited that the Women Ice Angler Project has made other women realize they can seek each other out, and take ice-fishing trips together."
According to Carey, fishing has changed over the recent past, with destination fishing a growing trend. People are traveling to seek out quality fisheries, and target specific species. The WIAP reflects that. Traveling anglers are an economic boon to areas that can attract them, and Carey wants to showcase these destinations to women.
The mission of the first WIAP media event was served, as catalogs for winter 2015-16 have included images of women on the ice. Already, more women are realizing they can travel together to incredible destinations, sample the ice fishing, and make memories.
Hannah Stonehouse Hudson is a photographer specializing in dogs, things that move quickly, and extreme cold weather. Her work can be seen at StonehousePhoto.com, and she is available for commercial and editorial shoots, as well as workshops, nationwide. Reach her at hannah@stonehousephoto.com.
For more information…
Women interested in future WIAP trips can contact Barb Carey at icefishher@gmail.com.