What's up…North Top of the List: Rainy Lake
It may seem a bit premature to be thinking about open-water fishing, but I'll confess: As much as I enjoy getting my time on the ice, I start thinking about open-water fishing as soon as the first skim of ice appears. At this time I begin compiling a mental list, which evolves into a spreadsheet as winter advances. It includes destinations to visit next season, beginning with the first open-water trip. There is one destination that almost always tops the list—Rainy Lake—and for good reason, actually several.
For starters, Rainy Lake simply has large populations of large fish, and more specifically, the three species most often pursued in this region: smallmouth bass, northern pike and walleyes. I suppose it's partly because I spend a fair amount of time chasing walleyes during the hard-water season, but it's really the smallmouths and pike that draw me to Rainy at ice-out. Additionally, the fact that Rainy Lake falls into the Canada-Minnesota Border Water regulations means that the bass and pike seasons are continuous, meaning no closed season—no date juggling or calendar watching. If you can get the boat in, you can get after them.
Rainy Lake also has a fair amount of current running through it, which is another bonus come spring. That current assists in the ice-out process, and also tends to put the fish in a generally favorable mood compared to more slack-watered bodies of water. Now that we've touched on the why, let's get into the how.
If you presented most smallmouth bass junkies with the question, "If you could only use one lure for spring smallmouth, what would it be?" nine times out of 10 the answer would probably be jerkbait. It's a good answer, and nine times out of 10 they would be right—this is the other time. In this case, this time of year we are talking about some cold water, likely in the mid- to high 30s. These water temps often have the bass positioned very near, and usually on their wintering habitat. This means rock piles and main-lake points, in or extremely near a basin. Fish will likely be in the 20- to 30-foot range, give or take a few feet either way depending on weather conditions.
In this scenario, two presentations rule: the drop-shot and a plain lead head jig. Fancy stuff, I know. It's not to say that a warming trend and some sun might slide the fish up the break or the water column at times in this cold water. And to be honest, I will have a couple boxes of jerks in the boat. However, the majority of the time, you can literally fit everything you need into a teeny little Plano box and stuff it into your jacket pocket. This includes a handful of drop-shot weights and jig heads in 1/8 to 3/8 ounces to account for depth and wind, and some number 1 drop-shot hooks.
Are you enjoying this post?
You can be among the first to get the latest info on where to go, what to use and how to use it!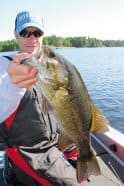 Don't skimp on the jig heads though. Go with a premium head. This tends to be a vertical or semi-vertical presentation while using electronics, so you won't lose many heads. I like the VMC half moon and darter heads, mainly due to the slightly oversized light wire, yet surprisingly strong hooks. Even the little 3/32 ounce carries a sticky sharp 1/0 hook. The 90-degree line tie is a big bonus, if not a necessity, considering the vertical nature of the presentation. If you have another favorite jig head you may already have something similar on hand.
The bait on the business end of the hooks is just as simple; small, scented, straight-tailed minnow imitators really shine here. The various Berkely minnow offerings, including the PowerBait, Gulp, and Gulp Alive product lines, all work well. I fish the same style bait on both rigs, with only the size being different. I lean toward 3- to 4-inch baits on jig heads, and the slightly smaller 2- to 3-inch profiles on the drop-shot. Other minnow offerings on the market can work as well if you have a favorite. So do different presentations, like hair jigs, tubes, and Jigging Raps at times, especially for big fish. Day in and day out though, that little minnow is pretty consistent in my experience (and fits nicely in your other jacket pocket).
After your hands get cold and tired from handling big smallmouths out in the basin, see if you can't find one of those protected, black-bottomed spawning bays. There is likely one not too far away. It will give you a chance to warm up a bit, and probably has a few of the bruiser pike that Rainy is known for. You don't need much: polarized sunglasses, some stout bass tackle, leaders, larger bass-sized topwaters, a spinnerbait and a couple large plastic profiles or flipping jigs for potential sight-fishing.
After a few hours of catching smallmouths below the boat, what's not to like about the water exploding with a giant pike or two at the end of a long cast?
You can be among the first to get the latest info on where to go, what to use and how to use it!
---
MidWest Outdoors works with more than 200 outdoor experts each year, who contribute articles based on their areas of expertise. MidWest Outdoors magazine offers more fishing and hunting articles than any other publication!
All author posts
---