Fall is Trophy Time on Lake Michigan and Tribs
The leaves have changed from the deep green of summer to the crimson red, golden yellow and orange colors of the fall, with many starting to blanket the forest floor by this time. The geese are flying and landing in the cut fields and deer hunters are sitting quietly several feet off the ground, waiting for that 30-pointer to walk by. But wait. Don't put the boat away quite yet. We still have some amazing fishing to experience on Lake Michigan and its tributaries—this is "trophy time."
Shortly after Labor Day starts, boat after boat slowly disappears from marinas each day. I'm not sure why, but everyone seems to transition to the next phase of their outdoor cycle. But hey, it's a very long off-season.
I hear it every winter at sport shows, "Boy, I can't wait for spring," and "I really wish the salmon season was longer" and "How long do you fish?"
Well, I think most of you are missing what just might be the best fishing opportunities of the season.
Talk about wanting to have nearshore trophy fishing. This is it. While some of the kings have migrated upstream to spawning beds miles away, some still remain staging. The later are still coming in late September and early October. These are perfect opportunities for pier anglers, small-boat anglers and charter clients to get in on some trophy king fishing.
Mixed in with these are "trophy" brown trout on their fall spawning migration and "big" steelhead, the early runners that winter under the river ice. By mid-October we also see the coho salmon heading to the river to make their spawning migration and by late October. Huge lake trout also sneak into the shallows to spawn in late this month into early November.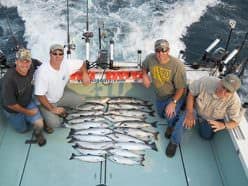 Although lake trout season ends October 31, I've seen many trophy lake trout the last two weeks of October taken from nearshore boat anglers and shore fishermen.
With all these big fish swimming near the mouth of the river, you would expect to see lots of boats circling the shallow fishing grounds—not always the case. With the very clear water in Lake Michigan, on calm, sunny days the staging fish will often get "lock-jaw" and play hard to get in the shallows. Never fear: This is the best time to slide out deeper and from 100 to 300 feet of water and target the active junior salmon and steelhead feeding intently before winter. This is my favorite time to fill my freezer before the cold. Past experiences have shown that after the lake turns over in fall, the fish seems to suspend higher in the water column and it is usually game on for daily, mixed-bag fun.
Are you enjoying this post?
You can be among the first to get the latest info on where to go, what to use and how to use it!
This is the one time of the year where the streams fill up with big fish of several different species. Stream Guide, Tyler Yunk, of Habitual Guide Service, and one of my summer fishing specialists, is an avid stream fisherman. The fall season preparation starts in mid-August when he starts gathering near-ripe salmon spawn from charter captains and preps and ties them into spawn sacs for the fall season. If you've never experienced a king salmon nearly ripping your arm out of its socket on a hook-set, you've got to try this. Being one-on-one with a 25-inch king salmon—while standing waist-deep in the river bracing against the current and feeling your line—and watching your float disappear moments before you rip back with a massive hook-set while the king tears back and takes off downstream, is like leading you into one of the greatest fights you will ever experience. This is a thrill everyone should have.
Tackling the elements in a one-on-one fashion makes this one of the most rewarding ways to catch the salmon. Like hunting a trophy buck, you need to be continuously conscience of your environment and hidden as possible. Like stalking any game, if the fish doesn't know you are there, the better your chances for success. Knowing the streams, the bends, the rapids and the holes where they like to hang, and how to best approach them are all important to a successful outing.
If you are not sure where to go or what kind of equipment and bait you need, Habitual Guide Service can "hook you up." I believe the first time or two when tackling something new, you can spend an awful long time learning on your own, or you can have someone show you how—and duplicating from there on is easy.      
Lee Haasch is an Algoma charter captain with 40-plus years of Great Lakes fishing experience. He's been writing and giving seminars for 25-plus years. Contact: fishalgoma.com or call 888-966-3474.
For more information…
You can check out Habitual Guide Service for tips at habitualguide.com or call Tyler at: 920-255-7865.
TIP OF THE MONTH
Before you lay your boat up for the winter, it's a great time to give your boat motor a fall tune-up. I like to treat my gas with ValvTect Ethanol Gasoline Treatment all season, but especially in the fall. This treatment will help keep any fuel left in your tank from separating over the winter months. I also run a can of Sea Foam in my tank at least two or three trips before lay-up. This will help clean the carburetor and help prevent damage from the ethanol put in today's gasoline. And to keep those motors running smooth, try some ValvTect Octane Boost to 'pump up' the octane. I use it regularly to keep my motors trolling smoothly for long periods of time. Remember to start using these products regularly and make sure you run some through the engine well before you put it away to make that first early spring trip more successful.
You can be among the first to get the latest info on where to go, what to use and how to use it!
---

Capt. Lee Haasch is a charter captain out of Algoma, Wis., with more than 45 years of Great Lakes angling and guiding experience. Haasch has been instructing anglers for over 30 years with education seminars and timely freelance articles.
All author posts
---