Planer Boards are Key to Trolling
Boat launches are once again bustling with activity along the bay and the Lakeshore. If you were like me, you probably spent some time last month getting your equipment ready. I've already checked over my Abu Garcia reels to make sure they were greased, that the line was set and ready to hit the water All of my stickbaits and crankbaits are all organized. Most importantly, I've made sure all of my planer boards were organized and in the ready position on the boat. Whether you are chasing walleyes, brown or lake trout on Lake Michigan or Green Bay, my springtime workhorses are my planer boards. When fish are shallow and with clear water, it is imperative that you get your baits away from the boat to be the most effective.
Shallow water trolling means running planer boards. That's the great thing about spring trolling; it all takes place in fairly shallow water and the equipment and setups are the same whether it's a bay or lake chasing walleyes or trout. I run all 7-foot, 6-inch Ugly Stik GX2's rods teamed with Abu Garcia Alphamar 16LC line counter reels in the spring. I spool them up with Trilene 40-pound Professional Braid with 10-pound Trilene Professional Grade Fluorocarbon leaders. Team that up with a box full of Flicker Shads, Rapalas, Fastracs or Warrior Spoons, and you're set to do some damage.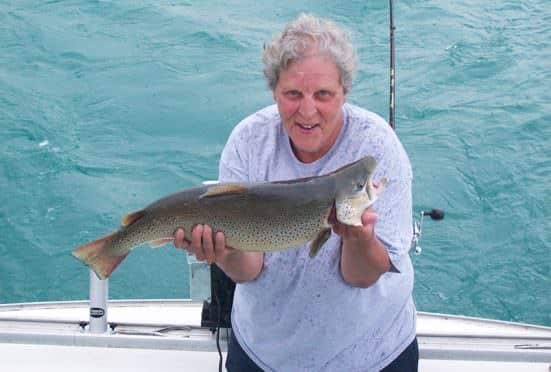 Planer boards come in all sizes, colors and brands. For spring trolling, all you need are the smaller sizes, and I've all brands. Whether you prefer a certain brand, color, or tattle flags or factory releases or even your own, whatever setup you have and are comfortable with they'll work. The main premise is to get your lures out wide from the boat and in front of the fish. In shallow, clear water the fish will hear and see the boat coming and swim wide of the boat, many times rendering your baits directly behind the boat ineffective (unless exceptionally far back). To be more effective, you will need to place your lures in the "fish zone," 15 to 30 yards wide of your boat. This is where the majority of your bites will come.
When a fish strikes a lure behind a planer board, the board will start to pull back, and depending on how you choose to set your releases, it will either release and the board will slide down the line, or just pull back and you can remove the board manually well ahead of the fish. Both methods work and enable you to bring the planer board and fish to net behind the boat without disrupting the other boards. When resetting that line, you will be able to "park" the board and lure back in line where it started. This is the advantage to running in-line planer boards verses running a mast and trolling ski setup.
As I mentioned, spring is unique in that this exact rigging works now for a multitude of species, especially in northeast Wisconsin. The bay of Green Bay will produce walleyes and in the north along the rocky northern Door County waters—brown trout are highly targeted here. When the winds from the west or north make the bay a bit rough for small boaters, the shores of Lake Michigan off Door and Kewaunee counties are calm and productive waters for brown and lake trout. As a bonus, you may even tie into an occasional steelhead returning from their spawning run in the tributaries or even a powerful chinook salmon cruising the shoreline in search of a meal. Since stickbaits (minnow-type baits) are the springtime favorites, any fish looking for a tasty meal will target in on these types of natural-looking baits. And when the conditions switch, just change locations and head for the bay, but use the same setups.
In very shallow waters, floating stickbaits are preferred, so turning the baits will hold their level or rise up, instead of sinking into the rocks and snagging up. When angling farther outside or running alongshore with the outside boards and you're running much deeper, the deeper diving body baits or weighted rigs can get the lures a bit lower in the water and into "fish-killing zones." Quite often, I try to run shorter leads on my inside boards with baits that get to the right depth a little quicker. Then, as I move wider, I increase my leads and baits accordingly. This enables me to "park" my boards back into position after catching a fish without crossing lines and baits.
I fish planer boards the entire season, but it is the most effective method by far in the spring. Stock up on a few small, light planer boards and releases and see your catch rates climb.
     Capt. Lee Haasch is a charter captain out of Algoma, Wis. Capt. Lee has over 40 years of Great Lakes angling experience and has been instructing anglers for over 25 years with education seminars and timely freelance articles in outdoor publications.
For more information…
For current fishing reports or information on charter fishing check out Capt. Lee Haasch's report page at FishAlgoma.com.
You can be among the first to get the latest info on where to go, what to use and how to use it!
---

Capt. Lee Haasch is a charter captain out of Algoma, Wis., with more than 45 years of Great Lakes angling and guiding experience. Haasch has been instructing anglers for over 30 years with education seminars and timely freelance articles.
All author posts
---