It happens all of the time. A walleye angler swings the rod back for a nice hook-set on a walleye, the rod bends hard and thoughts of a nice fish is in the top of his mind. In an instant though, that sinking feeling happens. The line quickly rises to the surface and the water explodes with brown fury.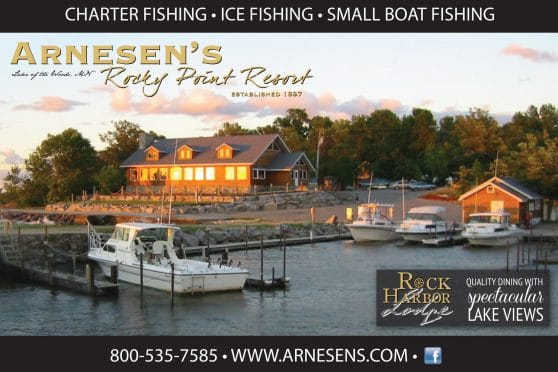 Yep, it's another nice smallmouth caught by an unsuspecting walleye angler on Lake of the Woods.
The vast majority of anglers on these waters are after walleyes, but the population of smallmouths is very strong and these fish are not targeted. If you are one of those who like bass or want to mix it up, there are a few areas you will want to target.
Rainy River
The Rainy River flows into LOW. There is 40 miles of navigable water between the mouth of the river and the Birchdale access, which is east of Baudette, Minn. This is an incredible smallmouth fishery with endless opportunities. At the mouth of the river there is a stretch of water that sits behind Pine Island called 4 Mile Bay. This bay extends behind Pine Island and has a variety of weed beds, areas of rock and some current edges that extend west off of the river that will hold some nice bass.
Other options along the river are where the smaller tributaries enter the Rainy River and in the tributaries themselves. These smaller rivers will hold nice bass depending upon the depth, amount of flow and how much rock is available. Bridges crossing over the smaller rivers can be a hot spot for smallies.
Some good smallmouth spots aren't so noticeable. While targeting Rainy River smallies, we noticed scattered boulders in a farm field that continued into the river. It turned out that every boulder that sat in at least 3 feet of water held a smallmouth behind it. That day, we were casting Gold Scatter Raps behind the boulders in the slack water and the bass were all over them.
The Rapid River dumps into the Rainy with a beautiful area called Clementson Rapids. Below the rapids is an area with a lot of rock, current and breaks. This area typically holds good numbers of smallies and is a great shore fishing area. Up and down the river there are areas of scattered rock, boulders, weedlines and humps too, all holding bronzebacks.
Are you enjoying this post?
You can be among the first to get the latest info on where to go, what to use and how to use it!
Big Traverse Bay
Some anglers refer to Big Traverse Bay as the "main basin." This area is 30 miles long by 25 miles wide. Much of it is made up of a mud basin with a variety of rock reefs. Some are near the shore, while some are offshore. These areas will hold a variety of fish, including some monster smallmouth bass. Depending upon the time of the year, check the tops first and work your way off the edges.
During a recent walleye tournament, my partner and I were pulling a long rock reef extending out from Garden Island called Starren Shoal. A fellow tournament boat was on a different part of the reef pulling cranks for walleyes and the net was swinging constantly. Our assumption was they were into a good school of walleyes and we gave them their space. We soon found out the majority of the hoopla was big smallies, which were not very welcome in the heat of a walleye tournament. In most cases, these bass that frequent the tops of reefs are left alone as walleye anglers are focused on the deeper edges.
The south shore of Lake of the Woods from Morris Point over to Rocky Point is the home to a number of small reefs and rock piles. I can speak from experience that nice bass live on many of these.
The Northwest Angle
The NW Angle is the northernmost point of the continental U.S., where the 14,552 islands of the lake begin. Some anglers who stay up at the Angle will fish Minnesota, while others will fish the Ontario side of the lake, which opens up the waters for another 40 miles with thousands of islands with structure, bays, weed beds and current edges.
On a past fishing trip, the "Scatter Rap Challenge," we could only use Rapala Scatter Raps as part of the promotion. My fishing partner, Mark Fisher, of Rapala, was casting shorelines around islands with gradual rubble and rocky points with these shallow-diving crankbaits. Our count for the day was just below 100 fish. The majority were smallies with some walleyes, pike and muskies mixed in. Smallmouths were on every island and eager to inhale what they thought was an injured minnow.
Walleye anglers and bass anglers have something in common—they often kid each other about each other's species being a "rough fish." If you are a walleye angler, an apology needs to be made up front about the number of "rough fish" that live in the waters of Lake of the Woods. These fish are brown, in big numbers, get massive and pound for pound are supreme battlers. If you want to have a fun day of fishing, target smallmouths on Lake of the Woods. You will have them all to yourself.
You can be among the first to get the latest info on where to go, what to use and how to use it!
---

Tournament angler and licensed charter captain Joe Henry fishes and hunts the Midwest. Henry is a media member of AGLOW and writes for numerous publications, creates videos, appears on a variety of outdoor TV and radio shows and is a frequent seminar speaker. Henry is the Executive Director of Lake of the Woods Tourism.
All author posts
---