Lake of the Woods Fishing Report January 15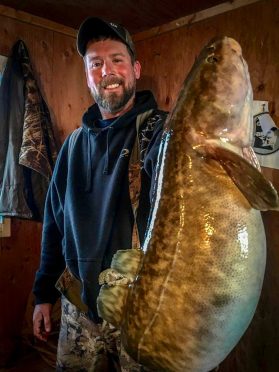 Great ice action continues on Lake of the Woods with anglers catching all sizes of walleyes and saugers.  Most of the action on the south shore is in 24 to 30 feet of water.  A good daytime bite continues thanks to the stained waters of Lake of the Woods.  There has been a good morning evening bite in 15 to 17 feet as well.  Resorts and outfitters are keeping ice roads in good shape. The one-two punch of a jigging line and dead stick (a live minnow on a plain hook or jig under a bobber) has been effective. Use electronics to mark fish. Jigging spoons in gold, glow, glow/red and pink UV have been effective.  Small Rapala Rippin' Raps also have been good. If not fishing in a resort fish house, bring an auger extension for spots where ice is layered. 
Snowmobilers should stay on marked trails or they could encounter big ice chunks.
The Rainy River is pushing out some nice walleyes with an occasional sturgeon coming through the ice. Good luck landing the latter! Fish houses are all along the snowmobile trail from Wheeler's Point to Baudette Bay.  The best walleye fishing happens mornings and evenings.
The NW Angle also has good ice conditions where resorts have ice roads and ice trails. Fishing continues great. An ice road goes to Flag and Oak Island from Young's Bay. Good walleyes are coming from 22- to 28-foot depths; saugers and perch are in water deeper than 26 feet. The best set-up is one rod with a jigging spoon and  one dead sticks with a jig and minnow.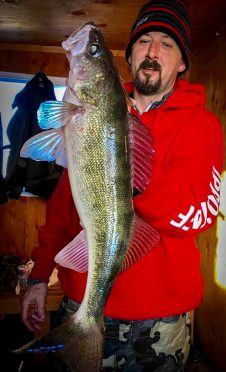 NW Angle resorts are guiding anglers to slab crappies on the Ontario side of lake. Please, don't catch and release crappies from 25-foot depths. Catch  your crappies and move on to walleyes or another species. Crappie mortality rate is high when you release them after catching them from 25-foot depths. 
 Snowmobile trails on and around Lake of the Woods are marked and groomed.  A complete list of lodging, ice fishing packages and sleeper houses is available at www.LakeoftheWoodsMN.com/Lodging.
You can be among the first to get the latest info on where to go, what to use and how to use it!
---

Dave Mull of Paw Paw, Mich. has spent his career communicating the outdoors experience and runs Inner Viking Media. He enjoys kayak fishing for anything that swims in the lakes and rivers of the Midwest and beyond, and even uses his MirroCraft, from time to time. Available for seminars.
All author posts
---