Lake of the Woods Walleye Fishing on Fire
Strong walleye fishing continues around Lake of the Woods. Most anglers still use a jig and a minnow. However, according to some reports, long-lining cranks in the shallows is catching plenty of walleyes with some smallmouth bass mixed in. The best jig colors are gold mixed with yellow and orange.
Some Lake of the Woods anglers report success with crawler harnesses, running them 15 to 25 feet down during the day. They pull them in as little as 10 feet for the morning and evening bite.  
The Rainy River is slow for the time being. A good population of walleyes stay in the River year 'round and a jig and a frozen shiner bounced off bottom is the go to. The sturgeon fishing keep season opens again from July 1 through Septempber 30.
NW Angle
Up at the NW Angle in Minnesota, walleye fishing has been on fire. A jig-and-minnow, a bobber rig, and snelled spinners are all working. Walleyes can be had anywhere from 3 to 15 feet deep in the evening and from 18 to 25 feet deep during the day. Pink and white, chartreuse and blue and white jigs have been the most productive.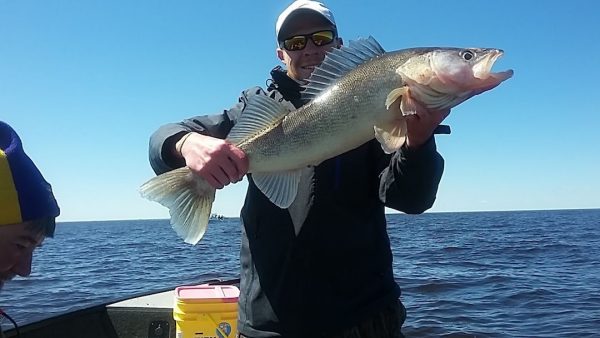 Anglers are finding Canadian walleyes on Lake of the Woods a little deeper at 22 to 26 feet deep. Surface water temps are in the high 50s at sunrise, reaching mid to upper 60s by evening
A complete list of lodging, fishing packages, how -tos, and info about fishing LOW is available at www.LakeoftheWoodsMN.com
For more great reading about catching walleyes right now, click here.
You can be among the first to get the latest info on where to go, what to use and how to use it!
---

Dave Mull of Paw Paw, Mich. has spent his career communicating the outdoors experience and runs Inner Viking Media. He enjoys kayak fishing for anything that swims in the lakes and rivers of the Midwest and beyond, and even uses his MirroCraft, from time to time. Available for seminars.
All author posts
---