Equipping Young Hands for Fishing Success: Teach Kids with Correct Gear
Teaching kids how to fish with the proper gear
There's something about watching a child reeling in a fish that's pleasing to one's soul. I mean have you ever seen someone so excited? I love the look on their faces when I make a scoop and the fish is safe within my net—their eyes open wide, they grin and also giggle in delight.
Summer and early fall are great times to get a youngsters on the water, as temperatures can be comfortable and the fish are usually biting.
Gear 'em up
My granddaughter Delaney grew up fast. Now a young lady, she still loves to fish, and catch them. It doesn't matter the size, species or battle endured, each fish is still a trophy to her. And, she's very good when it comes to catching. Delaney hasn't become the accomplished anger she is today just by chance. I had her using quality equipment from the very first cast. There was no "toy" equipment for her. Instead, it was top fishing equipment. And I know it made a difference.
Take advantage
The lack of sensitivity and the inability to cast well with a cheap, short, heavy, fiberglass rod coupled with plastic reel spooled with substandard line, would frustrate the best anglers. So why would you want any kid to have to suffer while using lesser equipment? Fishing with inferior equipment is just as maddening for kids as it would be for you. I'm not saying you have to spend $400 on a new rod and reel combo specifically for beginners, but you should let them use similar equipment you would use.
If you've been looking to upgrade your own rods and reels, then here's your excuse to hand down what you've been using that's still good for you and then perhaps go buy yourself something new. Or, better yet, purchase something you would love that's new for them so they have gear they can call their own.
Equipment for youths should be light and durable. A graphite Berkley Lighting Rod IM6 Spinning is recommended. Or a two-piece 6- or 6 1/2-foot, medium-light-action rod is a good multi-species piece. Also choose a reel that balances well with a rod. An Abu Garcia Silver Max spinning reel is a great match for the Lighting Rod, which allows the combo to be more sensitive and produce less hand and wrist fatigue.
Fill it
Line is the most important no matter how old the angler is. Cheap line often kinks, making it tougher to cast even the heaviest of lures. Monofilament is suggested for beginners. But make sure you spool on mono that's soft and subtle for easier casting, yet is abrasion resistant. Younger anglers are more apt to get snagged up. Berkley's Trilene XL (extra limp) at 8-pound test will flow off a reel smoothly, helping kids make longer casts and resists getting scraped up by any rocks or wood.
For terminal tackle, any kid I take fishing will be using the same high-quality products I do. Berkley's Ball-Bearing Swivels and Cross-Lok Snaps-Swivels/Snaps are ideal.
Hooks should be the best that money can buy. Nothing's more frustrating to a kid than losing a fish due to hook failure with weak steel or a dull hook. I also teach kids the knots experienced anglers use while tying on quality hooks.
Patience makes perfect
Taking youths fishing requires patience. And even when the bite is good and the catching is steady, many kids can lose interest. Youngsters messing around onshore or while in a boat in between the action is all part of experience for them. And let them play around with the live bait. Reaching into a can and grabbing nightcrawlers or leeches is all part of the learning curve. As my granddaughter grew older I'd let her rummage through my tackle totes and check out all the crankbaits, jigs and spinners. It was certainly a learning experience that hooks are razor-sharp and are to be handled with care.
Like all kids, she became more and more inquisitive, and the questions about my sonar and GPS became more common when we were out fishing. Soon she knew more about bottom composition, structure, and the environment fish live in than many seasoned anglers four times her age know. And when it came to GPS and a Navionics mapping program playing in the background of the screen, she was and still is able look at a hydrographic map and determine where the fish are likely to be holding on any waterway.
Good now, better later
It's taken me a long time and a lot of hard work to get where I am in professional fishing. But I guarantee you it was my fishing experiences with my own father and grandfather and being able to use proper gear that really got me started on the right path. My granddaughter has become an experienced angler because I allowed her to use quality equipment from her very first day.
There's still plenty of time to get your kids fishing this season. Not only take the time, but also get them fishing with the right gear early on so the adventures on the water will be better for all.
For more information on teaching kids how to fish, check out this video from MidWest Outdoors TV Show.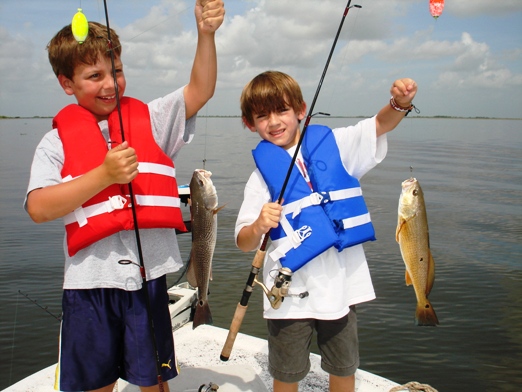 You can be among the first to get the latest info on where to go, what to use and how to use it!
---

Mark Martin is a professional walleye tournament angler and instructor with the Ice Fishing School/Vacation series. For more information, check out his website at markmartins.net or fishingvacationschool.com.
All author posts
---