Spring Bass Fishing on Waters that Warm Fastest
Spring bass fishing has always been challenging, engaging, and exciting for myself and guests in northern Wisconsin throughout the years. We catch more heavyweight largemouth and smallmouth bass tipping the scales between 4 and 8 pounds in May and early June than at any other time of the year.
Catching them consistently in early spring, however, isn't easy. While their movements from ice out to pre-spawn generally are predictable, the unpredictable weather and water temperatures can throw us curveballs.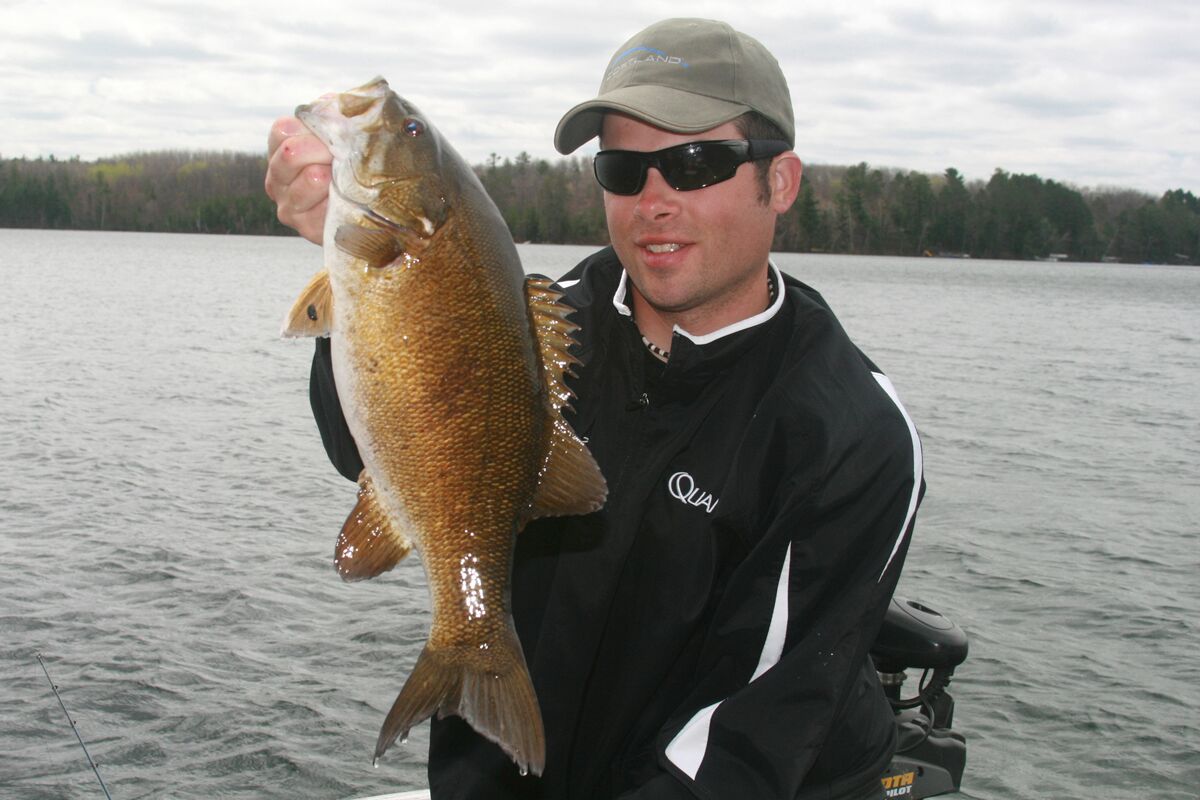 This winter was mild and tolerable, but spring, despite an early ice-out, could lead to either an early or prolonged spring season. I anticipate a cold spring season that will last until around Memorial Day. This could undoubtedly slow the fishing.
There are no shortcuts to consistently catching trophy Northwoods bass in spring, but you can implement certain strategies and methods to improve your success. A big key is spending most of your time fishing the right waters.
Springtime brings warming weather and water temperatures. In return, abundant schools of pre-spawn bass invade the shallows to stage for spawning. Specific lake locations that hold heat are where you want to be. Underwater structure and the lake's geography determine the areas that warm most quickly. Shallow bays with exposure to the southern skies (usually those on the north side of lakes) warm the fastest.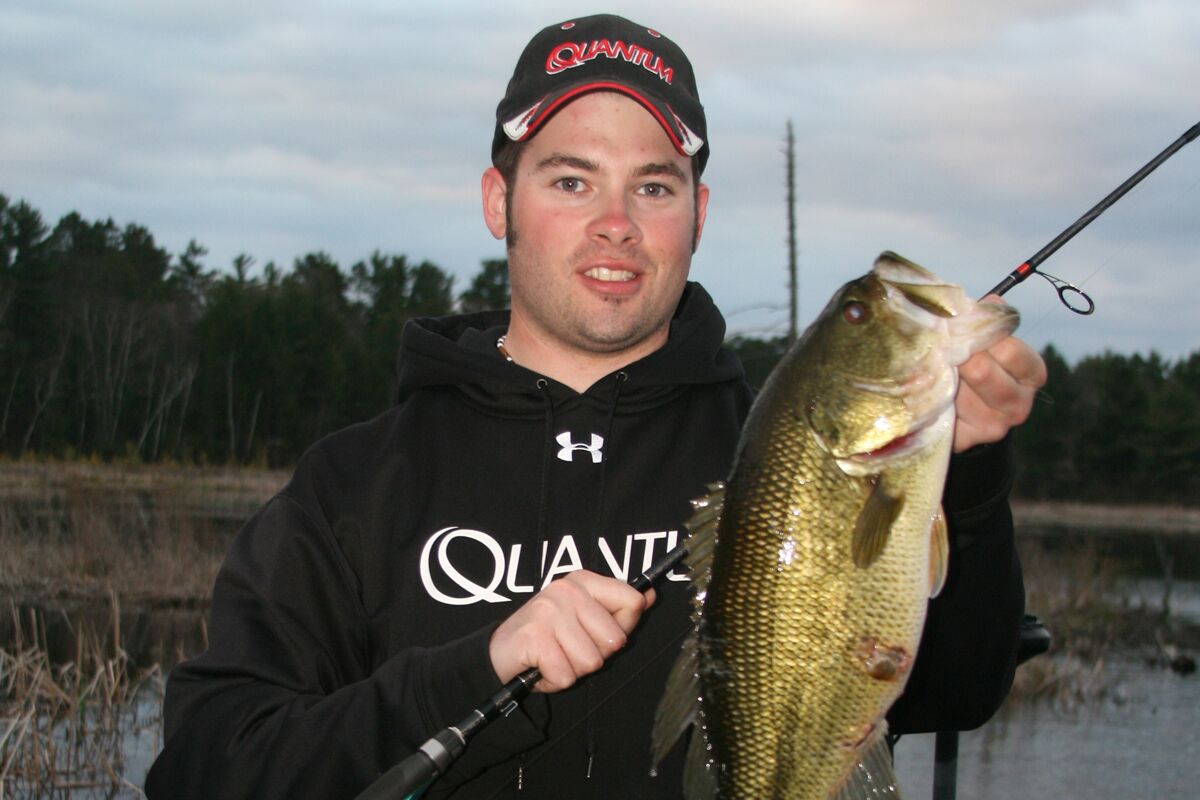 What if spring 2018 turns out to be just as cold and brutal as the weather of May 2016 was, and your preferred lakes don't warm up like they should? For one thing, fish don't move up to spawn yet. The aforementioned spots don't have many fish. So what is a guide to do when Ma Nature doesn't behave and keeps spring from coming?
In that case, I opt to spend most of my days fishing river systems and reservoirs for smallmouths. Add in a few largemouth bass trips on backwaters and shallow heavily-vegetated eutrophic lakes for diversity and variety and now I've got plenty of productive fishing options to keep myself and my guests busy and entertained.
Early smallmouths
When my preferred lake destinations aren't ready for spring fishing, I trailer my rigs to the drainage lakes, reservoirs, and river systems.
On these waterways, the best smallmouth fishing of the year takes place almost immediately following ice out, simply because they warm rapidly, have shallower depths and usually darker water, with inflows and outlets that continuously inject warmer water into the system.
Reservoirs such as Iron County Wisconsin's Turtle-Flambeau Flowage  and the Rainbow and Willow flowages in Oneida County have no shortage of shallow rocky islands, bars, points, creeks and man-made rip-rap. All are fish magnets throughout spring. In high water years, flooded shoreline vegetation and wood become factors as well.
The Wisconsin River hosts an almost a guaranteed smallmouth bite in spring. Unless it floods—revisit May and June 2013 and 2014 when it was unfishable. Under normal circumstances, 50- to 100-fish days while floating by boat or wading and pool hopping are the norm. Fish magnets here and similar river environments are laydowns, boulders, rock fields, eddies and underwater benthic zones, which are current breaks along bottom. Wisconsin River float trips and wade fishing adventures during May of 2015 and 2016 were unbeatable, and the biggest draws for my spring seasons!
Spring smallmouths on these current-oriented waters are angry and hungry, and rarely conditioned by angling pressure or exploited by in-season harvest. Catching them requires a lot of bank beating and spot hopping. Because we usually must cover huge expanses of water on flowages and rivers, smallmouths are often enticed by suspending jerkbaits such as Rapala X-Raps and Dynamic Lures J-Specs in yellows and oranges, and crankbaits like the Rapala DT-6 and Crankin Rap 05 in red craw colors. If water levels are high, spinnerbaits, swim jigs, and weedless creature baits extract fish from the shallows. Once I figure out fish location I can then throw other favorite early season presentations. A fun one is a soft plastic, weightless fluke-style minnow (the Stankx Bait Company Jerx is a good one). Dragging  a hula grub such as a Chompers Twin Tail works, too.
Early largemouths
The fertile backwater systems, marshes, side channels and thoroughfares of large lake chains lead hungry largemouths to an awakening oasis of underwater life. These waterways warm rapidly, and are scattered throughout the landscape of Wisconsin's Vilas and Oneida counties.
Eutrophic lakes are exceptionally fertile, shallow, warm and heavily vegetated. Seldom deeper than 10 to 15 feet, they are bowl shaped and often lack defined structure. They tend to have silted muddy bottoms, and may feature boggy shorelines with lots of submerged wood and tannic, stained water. They often have plenty of emergent and submersed vegetation, too.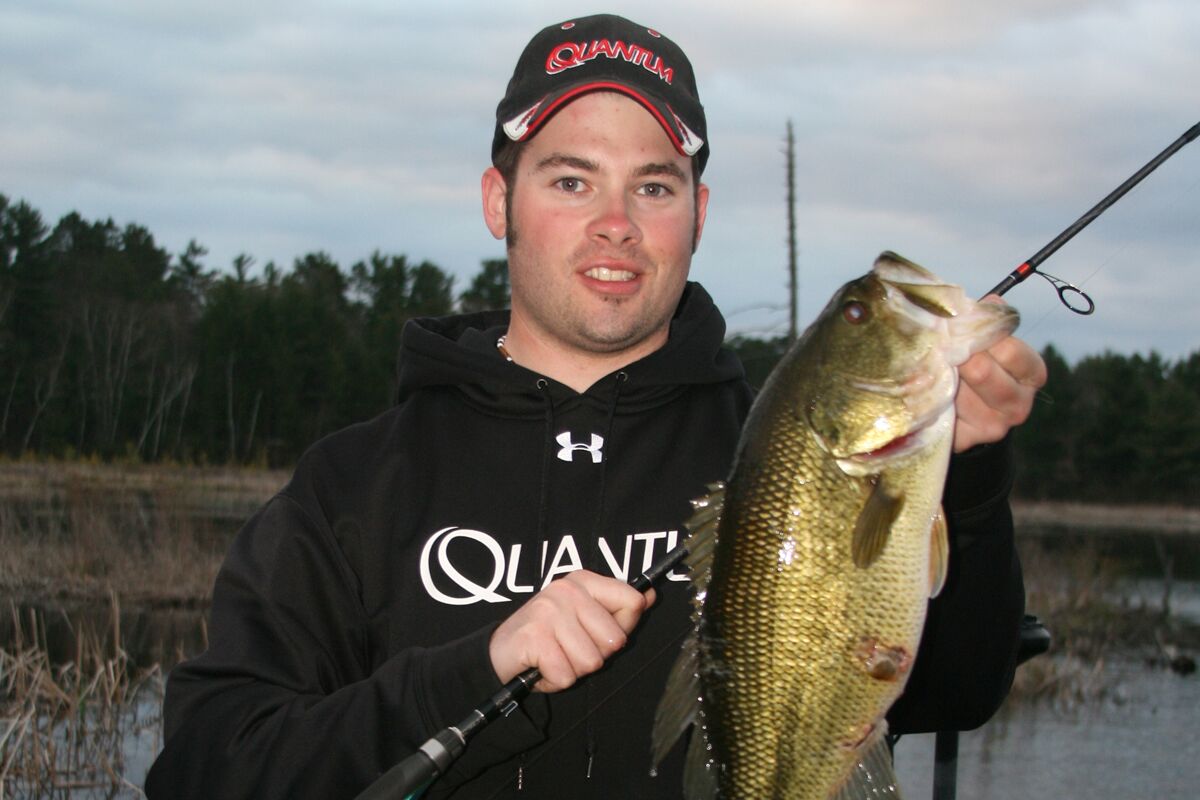 Creeks and rivers, channels and thoroughfares, river oxbows, swamps and marshes, beaver sloughs and ditches lie mostly in obscurity from the mainstream of Wisconsin bass fishing destinations, and that's perfectly fine with us. While the smaller, quieter waters fail to attract large numbers of anglers and their oversized watercraft, these warming environments do attract hungry bass and produce great fishing through the spawning period.
Overlooked fishing areas like backwaters exist along the outskirts of several popular lake chains where navigation channels and swamps abound. Finding them requires nothing more than Google Maps and explorations. We just need to figure out how to access the water and gain knowledge of the fishery as well as the terrain. Eutrophic lakes and their inter-connected waterways usually contain these habitat-rich bass kingdoms.
Ripping chatterbaits such as the new Z-Man Freedom Chatterbait, and Strike King Poison triggers exhilarating strikes. Subtler presentations like slow swimming and pumping a swim jig or a weedless Stankx Swimz swimbait through emerging vegetation scores giants. Burning spinnerbaits and lipless crankbaits across the shallows entices aggression. Last but not least, pitching and flipping weedless jigs, creature baits and slither rigs gets to big largemouths that bury themselves into jungles of vegetation and backwater debris. Want to finesse with spinning gear? A weightless Stankx Bait Co. DD Tube,  or a Texas-rigged lizard or stickbait can succeed.
Fishing each of these techniques with baitcasting equipment is about power, aggression and attention. These are among the most effective offerings for habitat-rich largemouth bass waters with diminished clarity.
The spring season can be either a feast or famine period for bass fishing. When faced with the problem of long term cold water, solutions to save your spring fishing trips are available. Success can be as simple as fishing those waters that warm the fastest.     MWO
You can be among the first to get the latest info on where to go, what to use and how to use it!
---

Andrew Ragas splits time between Chicago and Wisconsin's Northwoods. Based in Minocqua, Wis., he specializes in trophy bass fishing and offers guided trips from May through October. While big bass are his passion, he dabbles in multispecies, as well. He may be visited online at northwoodsbass.com
All author posts
---