Don't Miss Spring Fishing
In April, the lake level was only about 6 inches above winter pool, but at the back end of the rainy season we saw more precipitation as time went on and it came up more. Crappies moved shallower to spawn, but a lot of rain we saw raised the water levels fast. There have been days where we caught them pretty shallow and then had a weather change and they moved back out. I expect them to continue moving up soon at least in the upper half of Shelbyville where the average overall depth is shallower than the southern end.
Look around for any type of cover you can find in this water. You can use jigs or minnows. As with any species, weather conditions and water temperatures from day to day can change their patterns, so try different techniques, presentations and depths until you find them. Don't give up—whatever species you're looking for will be biting somewhere.
May's usually a pretty good month for largemouths, as they can spawn anywhere from mid-April to mid-June in Lake Shelbyville. We've been mostly crappie fishing, but I know bass are already being caught. Bass tournaments usually start in April, and if they have favorable weather, good results happen. From May on, if you can fish weekdays the lake is much less crowded. On weekends, it's hard to find a place away from the other boats.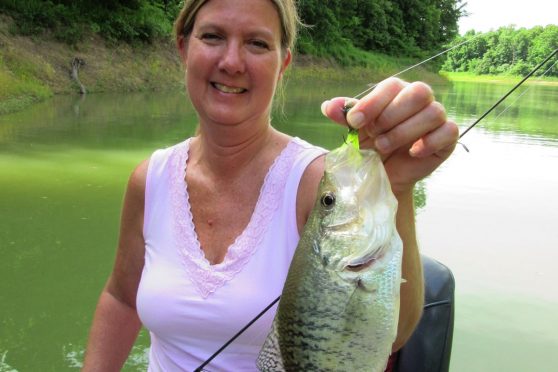 Once the crappies slow down or we just decide to fish for something else, we'll frequently fish crankbaits. May's a good time for this as you can cover a lot of water and you never know which species will hit. We catch a lot of largemouths and a fair number of walleyes. We'll normally use a crankbait that runs 8 to 10 feet deep because you can cast them into shallow water and just crank a little slower. Then, they dive down as they get farther from the bank and closer to the boat.
Are you enjoying this post?
You can be among the first to get the latest info on where to go, what to use and how to use it!
If you want to concentrate on bass, you may choose other baits like jigs or soft plastics to get in and around cover. Or, depending on water temperature, they may be hitting spinnerbaits or even topwaters. In some past springs they've been hitting topwaters, even in April. Don't be afraid to experiment, especially if you're not having success. What worked one day may not work the next.
If you're into walleyes, May and June are usually a good time. Again, we like to just crankbait and take our chances. But a lot of people slow down and try live baits, sit on drop-offs and just wait for them. You can also use a number of different baits specifically designed for walleyes, but for me, concentrating on just the walleyes isn't what I do. However, it's a matter of preference.
This is a prime time of year before it gets too hot, so get out and enjoy a wonderful, natural or man-made resource like Lake Shelbyville, whether it's for food or recreation.
You can be among the first to get the latest info on where to go, what to use and how to use it!
---

Lifelong angler Mary Satterfield is a retired professional bass angler, and has she held titles of National and World Champions and Angler of the Year. She's run the multispecies Eagle Creek Guide Service on Lake Shelbyville since 1989. She may be contacted at: 217-756-3299.
All author posts
---