It's Showtime Again
We love sports shows and have attended, participated and written about them for decades. Written records of shows are in our files from 1902 in Milwaukee, and we suspect that there must be earlier ones that have been lost to history. (Please share any evidence of these if you have any.)
In addition to early programs that supply great details about these historic exhibitions, there are ads and articles providing information for the era.
Often, they take us on tangents and side roads of discovery with their fascinating history. The 1942 Official Program for Chicago's International Sportsmen's Show, which cost 15 cents, was red, white and blue covered with ads from non-endemic sponsors, fishing and hunting organizations and military features.
Chicago's Morrison Hotel advertised the "World's Tallest Hotel." This sent us on a search revealing it was completed in 1925, standing 526 feet high. It was the tallest building ever to be demolished anywhere in the world in 1965.
Added discoveries include the world's first skyscraper, built in Chicago in 1885. The 10-story Home Insurance Building used a novel steel load-bearing frame that became a standard of the industry worldwide.
Chicago and the Midwest was home to a lot of people with good-paying jobs who loved to fish in the natural lakes, running waters and the Great Lakes. There were great tackle makers and tackle stores way before there were reservoirs with good fishing in the South and West.
Names of exhibitors at sports shows in 1940s catalogs include Ashway Line, Abercrombie, The American Fork and Hoe Company, Bache and Brown, Canadian Baits, Coleman Lamp and Stove, Converse Rubber, Creek Chub, Chris-Craft, Chippewa Falls Woolen Mills, Cortland Line, Cycloid Reels, Dearborn Tackle Co., Dinghy Mart, Langley, Dee Lee Electric Fishing Pole, Ducks Unlimited, Eger Bait Co., Evinrude, Folboat, Folsom Arms, Ford, Gephart, Gladding, Great Lakes Bait Co., Hayward Lakes Association, Hodgman, Hudson Boats, W. J. Jamison, Louis Johnson Co., Johnson Motors, Kayak Boats, Kautzky Mfg. Co., Kiekhaefer, Mages Sports Stores, Marathon Lines, Millsite, Montague, Montgomery, National Association of Angling Clubs, Neptune Motors, Nylo Frog, Ocean City, Orchard Industries, Pachner and Koller, Paul Bunyon Baits, Phillipson Rods, Rawlings, Red Head, Schulkin Sporting Goods, Penn, Rex Line Bait Co., Shakespeare, Shockey's Lures, South Bend, Steelstamp, Superior Door Catch Co. (lures), Sunset Lines, Tackle Craft, Trutone Calls, Western Tire, Weber, Wildfowlers Decoys, Wilson Sporting Goods, VL&A, Wright & McGill and Woolrich.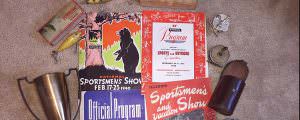 We sometimes hear complaints that there are exhibitors not connected to fishing or hunting in current shows. But check out these exhibitors 60 years ago in the 1940s that help support the shows with booth rentals, while attracting others not yet into our sports: Adams Street Health Club, Addison Novelty Company, Book House for Children, Brown's Gift Shop, Carnation Company, Chicagoland Harley Davidson dealers, Chicago's three newspapers, Fruit Dispatch Co., Glass Shower Door Co., George Halas Co., Happiness Tours, Hagerty Sea Shells, Hartford Auto Insurance, Illinois Central R.R., Jackson Golf Shop, Maytag, Nash, National Billiard Supply, Natural Foods Institute, Pabst, Packard Motor Car, Philco, Rabbits, Saw Mower Sales, U.S. Department of Agriculture and the U.S. Division of Physical Fitness.
Main attractions
In 1948, the Chicago show offered a rainbow trout fishing pond. It was offered on a break-even basis. Anglers could keep all the trout they caught. It was such a hit that it endures as a popular attraction.
One special event that failed twice is a favorite folly. In 1933, sporting goods store owner F.W. "Nick" Kahler objected to being forced to visit hardware shows to see fishing tackle so he "invented" the sportsman show for Chicago.
The "firsts" he offered that year were planned to attract and enthuse attendees. An indoor ski jump attraction led off the floor show. Olympic champions Anders and Lars Haugen began the first show—without practice.
Anders landed in a welter of arms, legs, and skis, ripping out a substantial portion of a main exhibit, necessitating his being rushed to the hospital.
Brother Lars said, "Ay try it." He did and landed flush on his head wrecking the part of the attraction his brother had missed.
Kahler, helping him get untangled, remarked, "We better tear out the jump and forget it Lars."
"Ay tink ay try annuder yump," replied the badly injured Lars.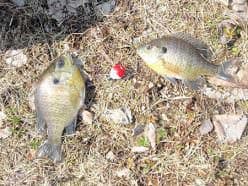 He did and landed safely, but was rushed to the hospital. Indoor ski jumps became very popular at sports shows.
Another event had an even worse ending at the 1942 St. Louis Sports Show in the Kiel Auditorium. Nick came up with an indoor coon hunt contest and placed an ad in the newspapers. Coonhounds totaling 282 of every description showed up with their owners.
Two pretty young girls took the tame coonhounds on a leash through the main floor as the crowd waited in great anticipation. When the doors opened, the hounds—all were not housebroken—were unleashed and took over the auditorium. It was a disaster, with dogs fighting, running roughly through the crowd and leaving smelly presents.
While working at a booth at the Indianapolis Sport Show around 50 years ago, it was owner, the late Harry Renfro, who had the same "great" idea. At the shot of a starter pistol, the hounds descended into the exhibits and crowd that Sunday afternoon only to fight, climb over attendees, relieve them selves and start families. Also, a wild raccoon had been chained to a treetop installed on the main stage at the end of a scent trail. The trail was made by dragging it through the rows of exhibits and spectator seats near the stage. A lead pack followed the scent to the tree, jumped on it and down came the tree with the coon—it took a couple of hours to clean things up.
I can't promise you a show like that, but I will do my best by giving you a tour of the "Evolution of Fishing in America" at my Historical Fishing Display at the top of each hour at the upcoming Chicago Outdoor Sport Show in Rosemont, Wednesday January 20 through Sunday the 24. I'll also have the display at the Milwaukee Journal Sentinel Sports Show, Wednesday, March 2 through Sunday, March 6. I'll also help identify and buy old lures, reels, rods and catalogs.
Dan Basore is a fishing historian and steward of the history of the sport. In his efforts to preserve fishing history, Basore is always on the lookout for information about early lure makers, old lures, pre-level wind reels, manufacturer catalogs, tournament casting items and the like. If you possess information or materials that can help call 1-630-393-FISH (3474) or 1-800-FISH-LAKe that's 1-800-347-4525.
You can be among the first to get the latest info on where to go, what to use and how to use it!
---
Dan Basore is a fishing historian and steward of the history of the sport. In his efforts to preserve fishing history, he is always on the lookout for information about early lure makers, old lures, pre-level wind reels, manufacturer catalogs, tournament casting items and the like. If you possess information or materials of this kind, please contact him at 630-393-3474 or by email at [email protected]
All author posts
---