Deep Spinning for more Summer Walleyes
Summer often means walleyes in natural lakes holding on deep structure. Sunken humps, underwater islands and large points extending out in to the lake all hold walleyes during this time. While these fish are usually easy to find using today's electronics and GPS mapping technologies, sometimes getting them to bite can be a challenge. When this situation presents itself, turning to spinners baited with nightcrawlers can be just the ticket to yield walleye gold!
Spinners excel for deep-water summer walleyes because they fish quickly allowing anglers to put their baits in front of large numbers of fish. My favorite spinner speed, in fact, is 1.0 to 1.5 mph, which allows me to show my offering to a lot of fish in short order.
Not only are spinners great for covering water, but also the flash and vibration they put out is often an excellent triggering mechanism. Several times, I have slowly dangled a lively leech or plump nightcrawler fished on a slip-sinker live bait in front of a school of walleyes and had my offerings ignored, only to switch to spinners and quickly see several fish come over the boat's sides.
While spinner fishing can be fairly simple, there are some things to consider that will increase the odds of success. First, choosing the proper spinner rig is important. The lakes I fish often yield spinner success using #2- and #3-sized Colorado blades. When clear water conditions are faced, I prefer those blades be in silver, gold and blue color patterns. When the water is dirtier, brighter blades featuring chartreuse and orange often excel.
While the mid-sized Colorado-shaped blades mentioned earlier work often, a recent innovation in blade selection has also increased catches at times. Small #0-sized "flicker" blades have become an option when the fish are somewhat reluctant to hit the bigger blades. The presence of post-frontal weather conditions, fishing clear water, and/or fishing heavily pressured fish are three situations where using these tiny blade offerings has helped save the day.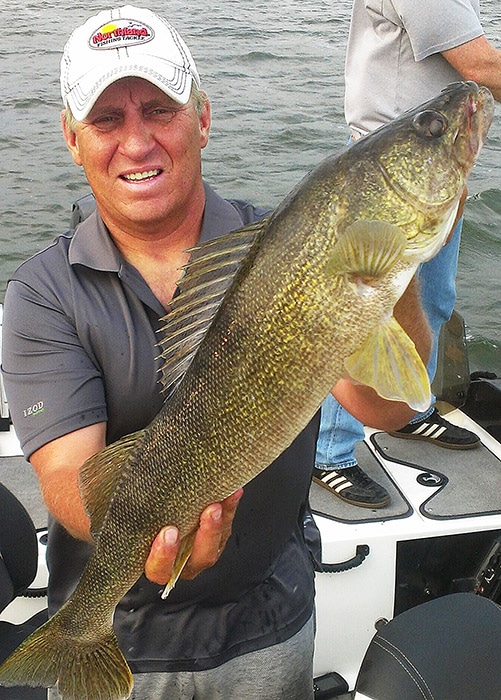 Finding pre-tied spinner rigs with tiny-blades can be challenging. Northland Tackle recently solved this dilemma, however, as they introduced the Micro-Blade Spinner in their new Pro-Walleye Series. These rigs feature #0 blades in all the right colors and bead combinations and have colored Crawler Hauler Hooks for added attraction. Plus these hooks have Snap-Back-Barb Keepers that prevent crawlers threaded on the hook from sliding down.
Are you enjoying this post?
You can be among the first to get the latest info on where to go, what to use and how to use it!
In addition to choosing the right spinner rig, another key to this style fishing is choosing the right bottom bouncer. I prefer to use the "1 for 10 method" in which I use an ounce of bouncer weight for every 10-feet of water depth I am fishing. Since deep spinner fishing often occurs in 25 to 35 feet of water in the lakes I fish, my bouncer often weighs three ounces.
When they see three-ounce bouncers, my guide clients often ask, "Why so big?" My response, "Because a big bouncer allows me to fish the bait fairly vertical."
Vertical is important because a vertically fished bottom bouncer tends to fish over and through rocks or other bottom debris and, a vertically-fished bouncer also stutters along bottom giving an erratic action to the bait which is also a good bite trigger.
Rock-Runner Bottom Bouncer have long been my favorites because they have stainless steel wire feelers that glide over bottom without snagging and they come in a bunch of different sizes allowing me to choose the right size for the conditions fished.
This summer, when the fishing conditions you face involve walleyes holding on deep structure, consider using a bottom bouncer and spinner using some of the suggestions just offered. Odds are good you will be rewarded with some walleye gold of your own!
As always, good luck on the water and remember to include a youngster in your next outdoor adventure!
Mike Frisch is a western Minnesota fishing guide. Follow him on Facebook: Fishinwithfrisch.
You can be among the first to get the latest info on where to go, what to use and how to use it!
---

Mike Frisch is a lifelong angler who has been guiding anglers in western Minnesota for nearly three decades. Mike co-hosts the popular Fishing the Midwest television series and co-founded School of Fish, a leading fishing education program. Learn more by visiting fishingthemidwest.com or following "Fishing the Midwest" on Facebook.
All author posts
---