South Bend's Fishing Reels
What became known as the South Bend Bait Company in its namesake city in Indiana has roots in the home of F.G. Wooden, when in 1895, he started making Buck Tail Worden lures.
He added an employee in 1904, Miss Elizabeth Hoover, who worked after school for 75 cents a week. Later, she married Lloyd Hecht and worked for Mr. Worden and the South Bend Bait Company for over 26 years.
Mr. Worden moved to New York and the firm was purchased and incorporated in 1906 by three men who gave it the South Bend Bait Company name. The business struggled for several years until an employee, Ivar Hennings, took over the business in 1915.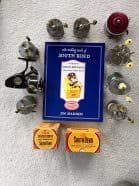 In 1912, they introduced their revolutionary, patented anti-backlash trademark reel, model 1131, made of German silver and selling for $7.50. Then—and now—their products were priced for the working man. And over the next 30 years, its price never exceeded $10.
Surviving for over 100 years, the anti-backlash feature on the casting reel was and is a major selling point. It would sense the line going slack during the cast and would apply brakes to the revolving spool. And an educated thumb has remained a vital partner.
The number of reels South Bend has offered exceeds 300, making it impossible for any collector yet to gather one of each model. This creates a lifelong hunt that is most enjoyable. When you add the variety of their boxes and literature enclosures there are even more collectable items.
Some of the scarcer reels are South Bend's left-handed models. Most questions we get are on their maroon spring-retrieving fly reels. Shakespeare supplied them and has matching green models. Most callers are looking for parts, but we don't have them. A reel repairer might be able to help.
Who made them?
On November 10, 1950, Ivar Hennings died at age 67. He not only was a great leader of this company, but also a leader of the fishing tackle industry. He was succeeded by H.O. Stream.
Until now, Shakespeare has made almost all of South Bend's reels, and many old South Bend reels have been repaired by using Shakespeare parts. Starting in the 1950s, some reels were imported from Sweden and Germany.
There is a wonderful book available now written by Jim Madden, The Fishing Reels Of South Bend. As a long-time resident of the city, Jim was able to talk to many old-time former employees of the firm. He also closely worked with other collectors and has supplied numerous articles for the Old Reel Collector's Association. His book is available at whitefishpress.com.
Dan Basore is a fishing historian and steward of the history of the sport. In his efforts to preserve fishing history, Basore is always on the lookout for information about early lure makers, old lures, pre- level wind reels, manufacturer catalogs, tournament casting items and the like. If you possess information or materials that can help, please contact Dan Basore, Historical Fishing Display, at 630-393-3474 or 1-800-347-4525.
You can be among the first to get the latest info on where to go, what to use and how to use it!
---
Dan Basore is a fishing historian and steward of the history of the sport. In his efforts to preserve fishing history, he is always on the lookout for information about early lure makers, old lures, pre-level wind reels, manufacturer catalogs, tournament casting items and the like. If you possess information or materials of this kind, please contact him at 630-393-3474 or by email at [email protected]
All author posts
---