Seth Feider Talks Hair Jigs for Mille Lacs Bass
According to Bassmaster Magazine, Lake Mille Lacs is rated No. 1 in the nation for smallmouth bass. No better time than June to pick the brain of B.A.S.S. Elite Series angler Seth Feider regarding his favorite tactics now on this prolific central Minnesota fishery. Feider, who grew up fishing the lake with his family, won the prestigious B.A.S.S. Angler of the Year tournament on Mille Lacs in 2016. He's fresh off competing in his first Bassmaster Classic in March.
    MidWest Outdoors: Seth, start off by telling us about your experience as a rookie angler in this year's Classic.
    Seth Feider: It was a really awesome experience. Pulling into that packed arena to weigh in was probably the coolest thing I've ever done in my life. It was a great tournament, but I was disappointed about how it went for me personally.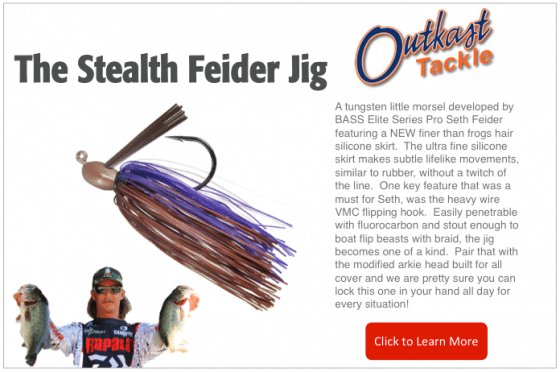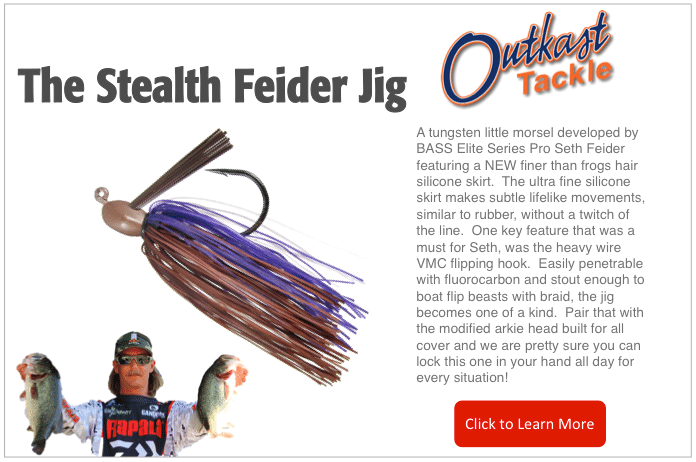 It's the Classic, so it's a "winner-take-all" tournament. Only the guy that wins it is going to be happy. But my parents came out, a bunch of buddies too, so it was a ton of fun. I definitely don't ever want to miss one again—that's for sure.
    MWO: Let's talk about Lake Mille Lacs smallmouth, and focus specifically on the month of June. Why should anglers put this lake on their list of places to visit?
    Seth Feider: The month of June is by far the easiest month of the year to catch fish on Mille Lacs. A lot of people I encounter out-of-state ask me when they should come to the lake, and I tell them June for sure. The main reason is the bass are scattered across all the hard-bottom structure in the lake and you can literally catch them everywhere that you go. You don't have to worry about locating them on specific spots where they might be schooled up. Plus, it's primarily all shallow water fishing, which makes it easy. I generally always focus on 12 feet or less during June.
   MWO: If you had to pick your favorite presentations, what would they be?
    Seth Feider: If I had to pick a couple of presentations to use, the first would be an Outkast Tackle Feider Fly. That's probably the best all-around "numbers" bait there is during June. It's a marabou jig, and the best colors are either black or brown. It's a really easy way to fish, just cast it out and make a slow, steady retrieve. The other go-to lure is a Storm Cover Pop. Although I don't get as many bites on this lure as I do the fly, it's a super fun way to fish just because of the way those big smallies come up and just crush it on the surface. The Cover Pop is just the best popper I've ever thrown. It's silent and enters the water really softly, because the weight's fixed—tail-weighted—and it casts a mile. Plus it walks the dog better than any popper I've ever seen. I love chartreuse bellies on my topwaters for smallies anywhere I fish, and my favorite Mille Lacs colors are the Ghost Chartreuse Shad, Ghost Pearl Shad, and Bluegill.
MWO: What are the conditions when you just know the fishing is going to be lights-out good?
Seth Feider: I love sunny and calm, just because you can see really well, and we also get a lot of mayfly hatches in June. When it's calm you can actually see the smallmouth chowing on bugs. When it's going like that, I'll keep that Cover Pop in my hand and just fire casts to where I see a little ripple or swirl on the surface.
MWO: Describe your set-up for casting topwaters.
Seth Feider: I spool up with 30-pound, Sufix 832 Braid knotted to a 17-pound Sufix monofilament leader, on a Daiwa Tatula SV with a high-speed 8:1 gear ratio to pick up line fast. The bass don't disturb the surface very much when they are keying on mayflys; they just come up and sip the surface, and I'll look for those little disturbances when it's calm. Then I just fire that popper at 'em and hang on. There's a big explosion when they come up for that surface lure.
MWO: Let's talk more about the Feider Fly. You were instrumental in developing this jig in partnership with Outkast Tackle, so talk about what makes it a special hair jig.
   Seth Feider: It's a killer clear-water technique. It's a really subtle deal, without a lot of flash or vibration. Smallmouth are visual predators and they can see extremely well in that clear water. If it's glass calm I'll probably stick to that Cover Pop, but if we get a little ripple or wind I'll switch to the Fly and throw it the whole time. If there's an actual mayfly hatch going on, I throw the brown color, otherwise I just use black most of the time. Nine times out of ten, black is the best color, but if they are keying in on a lot of mayflies, it's brown hands-down. It's a totally different bite than anything else, because they have to eat so many bugs to get full. It's not like when they are feeding on crayfish or perch and gobble up two or three of them to get full. During bug hatches they eat and eat, literally hundreds of times a day. They get really dialed in on the bugs, and that hair jig is absolutely the best way to match the mayflies.
MWO: Interesting information. Talk about some of the subtleties of the Feider Fly Hair Jig, and why it's something you choose to put your name on. Also give us details about how you rig up to cast such a lightweight lure.
Seth Feider: The Feider Fly comes in 1/16 ounce, 3/32 ounce, and 1/8 ounce. The 3/32 is my bread-and-butter, unless I get up super shallow then I'm using the 1/16 ounce, or deeper than 15 feet of water then I use the 1/8 ounce. I throw it on a rod I actually designed for hair jig fishing for Daiwa: the Tatula Elite 7-foot, 6-inch, medium-light with an extra-fast tip. I pair it with any 3000 Series spinning reel, and the key to the whole setup is a very light braid. I spool up with 6-pound Sufix 832 with an 8-pound fluorocarbon leader. Going so light really allows me to get some extra casting distance, which is key. I want the longest retrieve I can get, to keep that Feider Fly in the strike zone for a long time. Another key is a super-slow, steady retrieve. I see a lot of people crank their hair jigs way too fast. It's best if you reel super-slow, and don't twitch the rod or anything, just slow and really subtle. Very important, especially in clear water like Lake Mille Lacs is known for.
MWO: I hear you have another cool tip for rigging with your hair jigs. Care to tell us about it?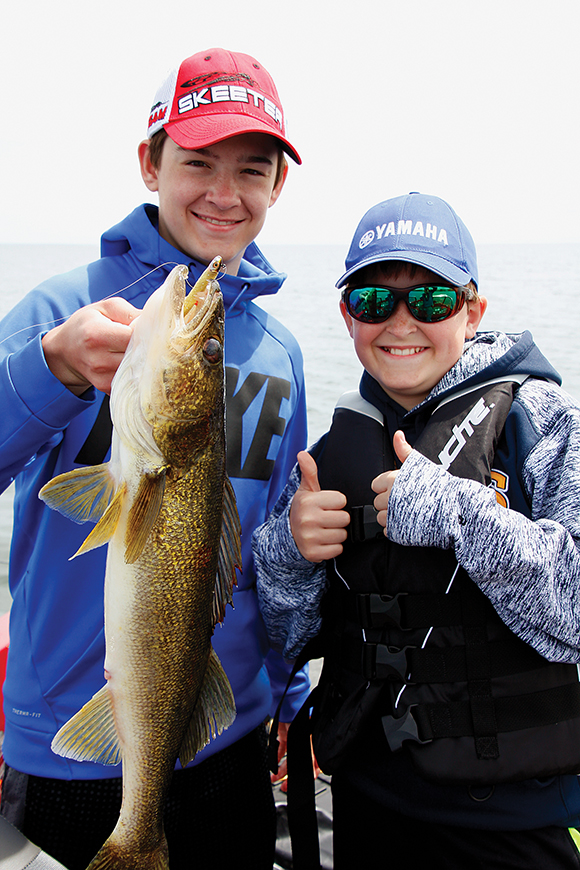 Seth Feider: A couple of things. One, we designed the Feider Fly with a superlight, wire hook, which is key for getting good hook penetration with that light rod. It's a trade-off: a heavier hook on some hair jigs means you need a heavier rod to drive it in, and you give up casting distance. You basically can cast the Feider Fly on a crappie rod, and still get good hooksets, because of that special hook. Another thing we added to the design is a built-in trailer keeper. Some guys like to put a small craw imitator or swim jig trailer on their hair jigs, so the keeper grips and holds the plastic in place. My tip is this: You know how you catch a couple of wacky worm fish and your plastic gets all beat up? I'll save all those torn-up stickworms, and put a little piece on the hook shank, and slide it up over that keeper. It doesn't seem like much, but a lot of stickworms have a high salt content, so there's that benefit, plus the extra weight gives you a lot longer casting distance. For clear water smallmouth fishing, that distance away from the boat is a big key to catching more fish.
    MWO: As an Elite Series tournament pro, you're traveling the country to fish bass, and that's your favorite species, but what do you think about the famous Lake Mille Lacs walleyes?
    Seth Feider: Oh yeah, they're everywhere. Especially if you head up there around the end of May or early June, while bass fishing you'll almost catch more walleyes than bass on those hair jigs. They are feeding on mayflies just like the smallmouth do. During the early season, both species are in shallow water mixed together. Later, as the water warms up, the walleyes slide deeper and you don't catch nearly as many as you do in May and June. But early in the season, I've had days when I've been targeting bass and actually caught more walleyes. Those walleyes really love that black hair jig. I think they have the idea they are eating a leech.
    MWO: In closing, tell us why you consider Lake Mille Lacs such a special fishery, and why it's so important for anglers to respect the resource.
Seth Feider: It's hands-down the best place I've ever fished for smallmouth bass in my life. Just the quantity of big bass is truly amazing. There are plenty of lakes that are known for good smallmouth bass fishing, but the numbers of 4- to 6-pounders you can catch in one day on Lake Mille Lacs is astounding. It's truly world-class. And being this far north, those big fish take a long, long time to grow. An 18-inch smallmouth is over 15 years old. Those 20-inchers are over 20 years old. It's important to handle them quickly and carefully, take a picture, and get them back in the water right away. Taking care of the resource definitely is the way to make it last.
For more information…
To learn more about Seth Feider, Check out this article on Seth Feider fishing Lake Mille Lacs.
You can be among the first to get the latest info on where to go, what to use and how to use it!