The Great Lakes region offers adventure-seeking anglers countless opportunities for wetting a line, and the early summer timeframe is tailor-made for memorable fishing trips. The fishing for gamefish like smallmouth bass is really heating up at this time of year, too, so now is the perfect time to plan a road trip!
Smallmouth bass addicts love their bronze beauties, and trophy-sized smallmouths really get their blood pumping. But where to fish? There are plenty of exceptional choices available to anglers willing to travel. Two smallmouth hotspots that come to mind right away are Lake Erie and Lake Superior. Lake Erie seems like a no-brainer for many people, while southern Lake Superior is less well-known.
Both are great choices, so whether you decide to visit the deep, cold waters of Lake Superior or the relatively shallow shoals and reefs of Lake Erie, there are many excellent fishing opportunities just waiting for you. Now is the time to take the plunge!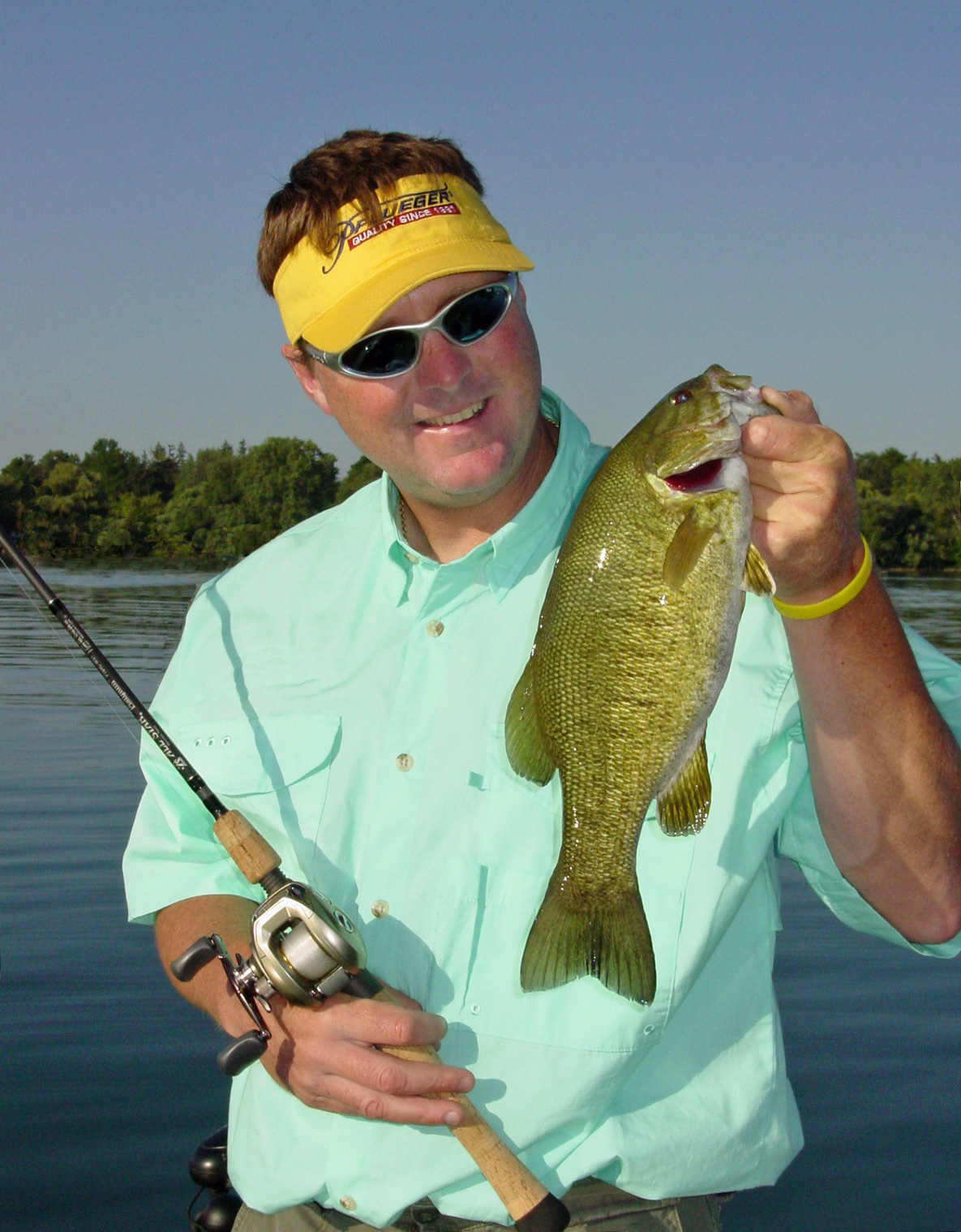 Lake Erie's Bass Island smallmouths
Lake Erie may be known as a walleye fishing hotspot, but walleyes are not the only fish swimming in its depths. Smallmouth bass also call this shallowest of the Great Lakes home, and the burgeoning smallmouth population is among the best in the nation. Besides being home to huge numbers of smallmouth, Lake Erie is also home to plenty of trophy-sized fish.
Serious smallmouth hunters are finding that the average-sized bass here is a very respectable 17 to 19 inches, and many smallies up to 24 inches are caught from these waters every year. Anyone interested in getting in on the action should make the trip now, because the prime time is anywhere from late May until the end of June.
A popular spot for smallmouth bass in Lake Erie's western basin is around the Bass Islands, just north of Port Clinton, Ohio. This is especially true early in the season, like in early June. South Bass Island is arguably the most popular isle, partly because many anglers find lodging right on the island during their fishing trip, and partly because there is good bass fishing all around it.
Put-In-Bay on the north side of South Bass Island is where many smallmouth fishermen staying on the island launch their boats at dawn. They don't have far to go to find productive water, either. The northeast tip of the island, including tiny Buckeye Island, are well-known smallmouth hotspots.
A short run across the channel to Middle Bass Island gives anglers more space to search for bass. Smallmouths love the shallow shoreline areas, and as the fish move deeper in July, several nearby reefs become hotspots. To the east of Middle Bass is Ballast Island, and adjacent to it are Ballast and Buckeye reefs. Other nearby islands include North Bass, Sugar and Rattlesnake islands.
One of the local smallmouth bass experts is Capt. Bruce Ruthsatz from Put-In-Bay Charter Fishing Service (putinbaycharterfishingservice.com). Capt. Bruce agrees the islands are a productive area for fishermen. "In and around the islands is always good," he said. "Anywhere around the Canadian islands and south around each of the islands in the western basin can be hot."
In early June, the bass will likely still be spawning, so concentrate on shallow areas with plenty of sand, rocks and gravel. Many lures are effective in the shallows, but minnow-imitating stickbaits and crankbaits are hard to beat. Reef Runner Little Rippers and Rapala Shad Raps are good, as are soft plastics worked along the bottom.
Are you enjoying this post?
You can be among the first to get the latest info on where to go, what to use and how to use it!
By the end of June, the bass have finished spawning and move out into deeper water. "I look for bass in 24 to 27 feet of water in late June and throughout July," stated Ruthsatz. "They're a little bit harder to target in the deeper water, but they are definitely there."
There are special regulations for smallmouth bass during the May and June spawning period. From May 1, through June 23, 2023, the daily bag limit is one bass per angler, with a minimum size of 18 inches. Beginning on June 24, the limits return to normal (bag limit of five, minimum size 14 inches). However, most anglers practice catch-and-release and then there is no worry about size limit and bag limits.
A great website for fishermen visiting South Bass Island is putinbay.com, featuring info on local lodging, restaurants, boat ramps and more. One popular spot for anglers looking for a cool sports bar to end a productive day on the water is Mr. Ed's Bar and Grille at Put in Bay (mredsputinbay.com).
Chequamegon Bay smallmouth bass
Chequamegon Bay on Lake Superior is the northernmost spot on our list of Great Lakes hotspots for June and July, and the fishing for smallmouth bass here is excellent. Special catch-and-release regulations have had a big impact on the size of the resident bass, and trophy-sized fish are now relatively common.
In June, the smallmouths are still spawning, so finding fish in shallow water is fairly easy. Local fishing guide Nate Baron (Up North Guide Service, upnorthguideservice.net) has been fishing Chequamegon Bay for decades, and he targets shallow sandy areas in early June. "The east end of the bay offers the shallow water and weed cover that make prime spawning grounds for the smallmouth," he said.
Baron searches shallow sandy areas all along the northeastern shoreline, and also probes the depths along the thin sandy spit of land called Long Island that helps protect the bay from northeasterly winds and the cold, deep waters of greater Lake Superior. Kakagon Slough and the sand flats in the northeastern corner of the bay are also good places to try.
"Once the fish move out of the shallows in July," continued Baron, "they move into deeper water and sparse weed beds. The weed beds are relatively small and lie in 14 to 18 feet of water. This is when the bass will be spread out, so continually moving is the key. I use my electric bowmount trolling motor 90 percent of the day in July."
Wisconsin's catch-and-release fishing regulations in Chequamegon Bay require smallmouth bass under 22 inches to be released, and although the daily bag limit allows one bass, almost everyone practices catch-and-release. That helps build the numbers of trophy-sized bass and keeps the average-sized bass an amazing 18 to 19 inches.
Smallmouth fishermen exploring Chequamegon Bay can visit River Rock Inn Bait and Tackle in Ashland (riverrockinn.net). Besides a good selection of tackle and local fishing reports, they also have excellent lodging available. The Deep Water Grille brewpub (deepwatergrille.com) on West Main Street in Ashland is the perfect place to stop for dinner and a beer after an exciting day of fishing on the bay.     
You can be among the first to get the latest info on where to go, what to use and how to use it!
---

A lifelong outdoorsman and award-winning outdoor writer and nature photographer, Tom Berg has been the Executive Director/Treasurer of the Hoosier Outdoor Writers group for the past 14 years. When he is not writing, he would rather be outside fishing, hunting or trapping than doing just about anything else.
All author posts
---