Revisiting Underspins: The Comeback Lure that Keeps Getting Better
For most of us, our introduction to underspins were the tiny chenille and marabou versions most often used by crappie fishermen. They can also be quite effective on clear water or heavily pressured bass, but they were never thought of as a trophy-gamefish lure.
That "panfish" mentality for the underspin completely changed in the spring of 2015 when Casey Ashley won the Bassmaster Classic fishing a "grown-up" version for big-bag limits of bass on Lake Hartwell. Since then, the underspin has owned a legitimate place in many anglers' tackle boxes.
Ashley won on an old-school horse-head design handmade by his father that was tipped with a plastic fluke body. That design still does the job, but the underspin has undergone a facelift. The modern-day under-spin sports a realistic fish head shape that resembles a baitfish and is equipped with a quality hook designed to land big fish. Almost every model now also comes with an easy-spinning ball-bearing swivel to assure the blade spins with the slightest movement of the jig.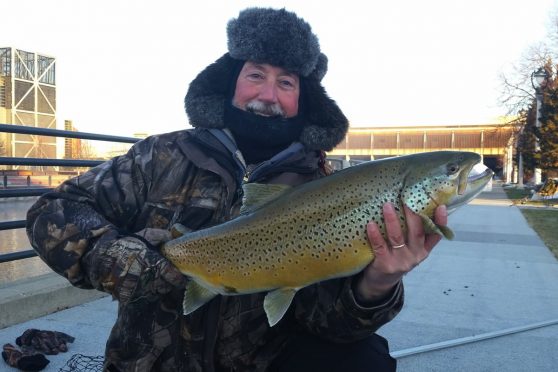 After the bait rushed to the forefront in 2015, I couldn't help but resurrect my thoughts on it as a player in the Lake Michigan shore-fishing scene. I had used underspins or chinspins in past, but only sporadically. But Casey's win legitimized it as a true weapon that needs to be investigated further.
Two years have passed and we've had a lot of situational testing of this bait. And I'm here to give you a report on just how deadly of a presentation the underspin is for Lake Michigan trout and salmon.
For underspins, there are many models on the market including Fish Head Spins, Blade Runners, the Picasso and Buckeye lures. The thing to look for is a sturdy hook—especially since we have a good shot at a fish over 20 pounds. The other feature is a good ball-bearing swivel. You need the blade to spin easily and constantly. Most of the underspins are painted white or a color similar to a baitfish. This is perfect for imitating alewives or smelt on Lake Michigan.
After more testing, we've found that the 3/8-ounce model is probably the most versatile for shore fishing. If you're just getting started, start with 3/8 ounce. I'm using that weight about 90 percent of the time. The second option would be 1/4 ounce for the head, but only if you need to use it in water shallower than 6 or 8 feet.
Look at the blade sizes on these heads too. Willow blades are the rule for underspins, and bigger is not better. The 3/8-ounce models should have a number 3.5 blade while the 1/4 should have a number 3 blade. Anything bigger causes too much torque on the head and it starts to rotate or travel sideways.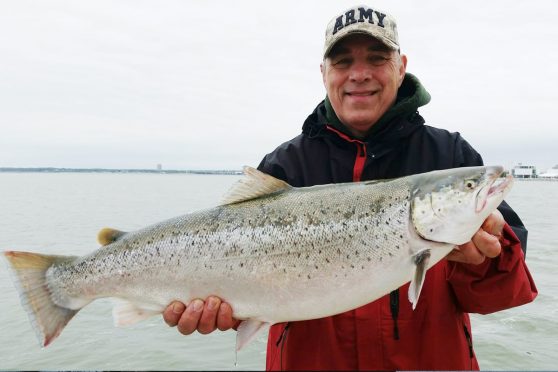 Most of them come with a nickel-silver blade, which is a good match for most of our conditions, but don't overlook a brass or colored blade. If you can't find them in brass you may have to buy some willows and swap them out yourself. Chartreuse blades are also an option when the water is a little murky. And there are those times when the browns just want chartreuse no matter the water clarity. Usually around the spawn or post- spawn, brown trout are just attracted to brighter lures. Keep a few spare blades along to change the look.
Ashley won using his Zoom Super Fluke Jr. in Pearl White. And for Lake Michigan trout and salmon, their Pearl White is also great. Any of the shiner colors like Arkansas Shiner, Smelt, or Rainbow are all good options. Along with Zoom Flukes, Gulp Minnows, Lunker City Fin-S-Fish, Uncle Josh Jerkos, Damiki, Mann's Hardnose, Northland and Yum, there are quality options. For starters, 4-inch baits work all year long with some big trout coming on 5-inch models.
What has surprised me is the year-round versatility of the underspin. These baits work just as well in the middle of July as they do on a 10-degree day in January. Similar to a vibrating blade bait, this is a 12-month lure if you fish it exactly the same every season.
I fish a lot of jigs like tubes or hair jigs with the reel; the reel imparts all the action. The underspin is different. I've found that a slow rise of the jig with the rod tip is the way to go. It's not a ripping lure but more of a sweeping lure. Sweep the rod tip up about 3 feet at a time, allowing it to glide back to the right depth while you take up slack with the reel. Strikes can come on the rise or the fall, though, so always have your rod in position to set the hook. And don't limit your retrieves to the bottom either. This is a great lure to work mid-depths and even at 3 to 4 feet below the surface.
This is a lure you can use in the wind. Most jigs lose their feel in the wind, but the "traction" of the blade's spin helps you stay in contact with the bait and takes the bow out of the line.
I think it took Casey Ashley's win to legitimize the use of underspins to the masses. And I must admit that the coverage it got in that tournament put it back on my radar. In the past two years of putting the underspin in a variety of conditions on Lake Michigan, this bait has a real place in the shore fisherman's arsenal.
The underspin is at home in warmer water. This beast of a brown gobbled up Rich Bartz's underspin on a recent morning in May.
You can be among the first to get the latest info on where to go, what to use and how to use it!
---

Marc Wisniewski is an avid Wisconsin angler specializing in Lake Michigan shore and inshore fishing. He also chases bass, pike, and muskies anywhere he can. He has built custom rods for 35 years and makes lures from wood, lead and soft plastics. Wisniewski has been writing fishing articles for more than 30 years.
All author posts
---