Rainy Lake's Multi-species Bonanza
Perched at the very top of the State of Minnesota, at this time of year the "Ice Box of the Nation" remains locked in the throes of winter, but spectacular Rainy Lake soon will be released from an icy grip to once again provide open water thrills for anglers from all over the Midwest.
As a premier Minnesota "Big Lake" resort destination, it's among the first on the list for avid anglers to visit each spring. For one, the early season shallow-water bite features a strong lineup of species—including walleyes, smallmouth bass, northern pike, and crappies—that can be nothing short of amazing; secondly, springtime beckons fishermen to famous Rainy River, seeking to battle the mighty sturgeon. Third, the communities of International Falls and Ranier offer all of the amenities, services, shopping, hotels and motels, bait shops, outdoor outfitters, gas, boat launches, and restaurants to serve fishermen and their families. Fourth, some of Minnesota's finest resorts and lodges are tucked along the south shore of this magnificent border water. Last—and perhaps most prominent—is the stunning beauty and scenery of Voyageurs National Park in which the U.S. side of Rainy Lake is nestled.
The Rainy River sturgeon bite is highly regulated, and dominated by a catch-and-release season at the end of April. There is also a short "tagged-fish" keeper season; such strict parameters protect this slow-growing prehistoric creature from over-fishing. The best sturgeon angling coincides with ice melt on the various tributary rivers and streams that flow into Rainy. A sudden spring thaw causes rapidly melting ice and results in fast current, which can muddy the river and make angling success more difficult. A slow, steady thaw keeps conditions more predictable and stable, and good sturgeon fishing follows that pattern. For best results, tap the knowledge of the local sporting goods outfitters, guides, and the tourism association and resorts to obtain timely information.
Rainy Lake offers an excellent crappie fishing experience—the lake is loaded with monster slabs—but it's also notoriously underfished and blessedly under-pressured. Spring absolutely is the best time to chase slab crappies in the shallows, and a number of primary bays give up the best catches.
What's more, as the waters warm and the calendar turns to June, it becomes much more difficult to consistently catch Rainy Lake crappies. Traveling to Rainy Lake in May guarantees you the best crappie action of the open water season. Again, local knowledge (from guides, bait shops, and resorts) is the best source to tap for updated fishing reports. You'll quickly learn current hot spots located in remote, back bays, or discovered by navigating tributary streams that trickle into the main basin.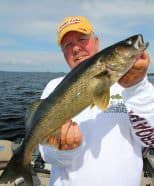 Rainy Lake is vast. Over 1/4 million acres of waterways, framed by majestic pine forests and Canadian Shield granite, provide a beautiful backdrop to boating and angling on one of Minnesota's finest fisheries. About 80 percent of the lake rests across the border in Ontario, but if you want to fish the U.S. side of the lake exclusively, there are countless great fishing spots and many miles of shoreline to explore. Detailed charts and paper maps are available, plus the LakeMaster GPS chip ("Woods/Rainy" that covers this lake, adjacent border lakes, and massive Lake of the Woods to the west) is the ideal boating partner to assist you as you explore all the hotspots.
For more flexibility, and to fish the Ontario side of Rainy Lake, consider applying for an CANPASS Remote Area Border Crossing Permit from the Canadian government (visit cbsa-asfc.gc.ca/prog/canpass/menu-eng.html for more information). The RABC permit is affordable and is valid for a calendar year, and this document allows you to cross the border in a watercraft to fish the Canadian side of the lake. You also must possess a valid Ontario fishing license (also available online).
Across the border by road, in the Canadian town of Fort Frances, you can also visit Immigration and Customs to obtain documentation as well stop in town for a fishing license. Be sure to reasearch the rules and regulations of international border crossings prior to your trip.
The vast majority of anglers and families visiting the Minnesota towns of International Falls and Ranier to enjoy Rainy Lake stay on the U.S. side and explore U.S. waters exclusively. You'd need ten lifetimes to learn all of the great fishing areas, and this dynamic fishery does not struggle with weak populations of any of the gamefish species.
In spring, giant northern pike are still roaming the shallows, and are easily fooled by slow presentations like wobbly topwater lures and fluttering soft plastics. You'll want to plan your pike fishing trip to arrive as soon as the lake is free of ice. There is no closed season for the northerns. The pike will hold shallow for a few weeks at most before vacating the skinny water to migrate. First, to rocky main lake points on the outside of spawning bays, and next, to main lake basins where they will suspend for most of the open-water season.
During the summer, it's not unusual to be catching walleyes from the deep reefs (20 to 45 feet) and have these same northerns attacking small walleyes as you reel them up from the depths.
Rainy Lake is a world-class destination for smallmouth bass. Because of the short growing season, a big smallie on this lake may only be 18 inches, but DNR scale samples indicate a fish of this size can be 18 years old. Bigger bass—exceeding 20 inches—prowl these waters, but it's not the size so much as the incredible numbers of bass you can catch that is the main draw to this fishery for anglers. While "100 fish per angler" days can happen here, more modest catch rates are the norm, especially for novice anglers or folks unfamiliar with the overall waterway.
Are you enjoying this post?
You can be among the first to get the latest info on where to go, what to use and how to use it!
A tackle box full of tactics will catch Rainy Lake smallmouth, and of course in springtime it's hard to go wrong with a surface lure or popper to attract voracious strikes. Fly anglers enjoy good success casting poppers in the shallows as well. Other bass lures that work well for spring fishing on Rainy Lake include #3 or #4 inline spinners (especially in a gold or bronze color pattern), small shallow-running lures like ScatterRap Shallow Cranks, and suspending jerkbaits like Husky Jerks and X-Raps. Stick to smaller lure sizes in spring, like #8 or #10 size, when you choose slender body baits from your tackle box.
Any baitfish darting in the shallows during the early season will be tiny (primarily fry-size), and while you won't be able to toss a lure as small as minnow fry, you definitely want to downsize as best you can. Soft plastics also have their place in your arsenal—a variety of tube, jigworm, or craw-style options rigged on a #3 or #4 hook—or lightweight jig head—will produce results.
While the shallows of Rainy Lake feature plenty of mud bottom areas and spots to fish emerging vegetation for crappies and northern pike, and while these areas can occasionally hold smallmouth and walleyes, it's the dominant rock structure that plays a key role during springtime for both smallmouth bass and walleyes. Even if not targeting walleyes specifically, you'll catch quite a few walleyes while casting for bass. Jerkbaits can be killer for spring walleyes, and these hungry predators will gobble their fair share of spinners and plastics intended for bass as well.
The main draw to fishing Rainy Lake is the excellent walleye fishing. According to the MNDNR, catch rates for Rainy Lake walleyes are well above historical averages, and multiple strong year-classes are available from many of the past 15 years. About 40 percent of the walleyes caught here fall within the protected 17- to 28-inch slot size, and must be immediately released.
That being said, on most days it's easy to catch your limit of smaller fish for the frying pan. Then again, on some days all you're doing is landing the big ones. That's one of the beautiful things about Rainy Lake—great fishing, great average size, abundant numbers of fish.
During the midsummer months through fall, enjoy a successful Rainy Lake walleye outings by fishing with live bait presentations on any number of the dozens of main lake reefs that dot the basin of the lake. Start by "spot-hopping" to scour each reef with your electronics to mark schools of walleyes. Once you've determined that a spot holds fish, drop a 1/4- to 3/8-ounce jig baited with a minnow, leech or nightcrawler over the side and you'll soon be netting walleyes. Color patterns in green, chartreuse, and glow are particularly effective in this stained water. Alternatively, use a slip-sinker live bait rig (3- to 6-foot snell tipped with a #6 to #8 hook and small attractor bead) and experiment with leeches, crawlers and minnows to see what the walleyes prefer that day.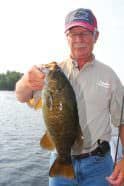 In spring, the excitement comes from catching walleyes while casting lures. Anyone who says walleyes "don't fight all that hard" should feel the thrill of a 25-incher crushing a jerkbait on the retrieve, and the resulting fight from that fish in shallow, cold water. On lighter casting gear, the fun never stops. However, most shallow water walleye angling success comes from pitching light jigheads tipped with a subtle soft plastic or live bait, worked delicately and nimbly throughout gravel and boulder-strewn shorelines. Again, the multi-species angle always is in play on Rainy Lake, and you'll catch your share of smallmouth bass, northern pike, and even some perch if you employ this tactic trying to catch walleyes.
On many Midwest lakes during the midsummer months, walleyes can become more difficult to catch. In mature lakes with weed growth and ample populations of bass and panfish, walleyes can become weed-oriented and "bass-like" in their behavior. Trying to hook walleyes with live bait rigs and jig/minnow combos can be a chore when dealing with vegetation. At the very least, attempting to run a spinner/crawler harness along a weed edge and deliver precise boat control that keeps the hooks on the outside of the weedline can be challenging.
Spring walleye fishing on Rainy Lake doesn't include much weed fishing. The main structure is rock, and as long as you focus your efforts on shallow shorelines that feature an abundance of broken rock (as opposed to slab granite), you'll hook fish. Boulder-and gravel-strewn areas hold more baitfish, and attract more predator species.
Other variables to consider as you seek the best fishing spots are wind direction and water temperature. Often the warmest shallows produce the best fishing, but there is a point of no-return: once water temps creep into the 60s and stay there, most walleyes and pike will vacate the area, and only some smallmouth bass will remain. As for wind, the most productive areas will be windswept—or at least have some gentle current rolling through.
There is moving water throughout this sytem, as this region is above the Laurentian Divide, and all water is flowing generally north. Rainy Lake water has flowed here from the adjacent Minnesota Arrowhead to the east, and the entire Rainy Lake basin empties into the Rainy River, flowing 70 miles west to Baudette where it spills into Lake of the Woods before continuing northward to Hudson Bay.
Rainy Lake beckons as a destination not to be missed in an angler's lifetime. Some of Minnesota's most spectacular scenery and best fishing await you. Exploring Voyageurs National Park and Rainy Lake, and enjoying the many activities in this wilderness as well as in the nearby communties, is a perfect vacation idea to enjoy with family and friends, so start making your summer vacation plans now. Watch MidWest Outdoors television for upcoming feature segments highlighting Rainy Lake.
You can be among the first to get the latest info on where to go, what to use and how to use it!