Many Walleyes in Missouri Waters
Anglers in the Mid-South call them "jack salmon" and restaurants in the upper Midwest have "walleyed pike" on their menus. Some call them "marble eyes" because of their oversized eyes. Whatever you call this overgrown member of the perch family, most folks would rather wrap their lips around a fried walleye fillet than any other fish.
Walleyes are native to most river systems and many lakes north of the Mason-Dixon Line and into Canada. However, there are large populations of big fish in the Mississippi and Missouri river systems, and the White River system in Arkansas.
There was a time when Greers Ferry produced fish over 20 pounds several years in a row. Overfishing for new world records has greatly reduced the big fish in that system. In some natural lakes of the upper Midwest, overharvest has created the need for restocking.
Sauger, the "kissing cousin" of walleyes are sometimes called Jack salmon, spotted Jack and sand pike. They are found mostly in the Mississippi and Missouri rivers and suitable tributaries, as well as the Eleven Point River in southern Missouri, mainly in flowing water and swift current.
Walleyes were native to the Osage River system but dams for major reservoirs prevented natural migrations to their traditional spawning grounds and harmed populations in reservoirs like Lake of the Ozarks. Foresight and determined restocking efforts by Missouri's Department of Conservation (MDC) has resulted in excellent populations at Stockton, Truman, Lake of the Ozarks and others.
Plenty of fry to go around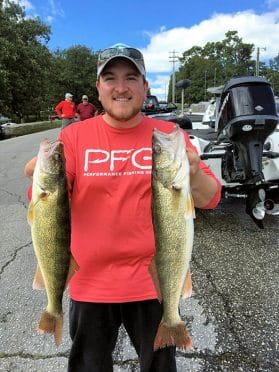 In fact, the MDC annually takes enough eggs and sperm from Lake of the Ozarks fish to provide stocker fry for other lakes in the area. Some females are large enough to produce a quart of eggs.
Stocking is not limited to reservoirs. In 1998, MDC implemented a statewide walleye management plan that included stocking only the Black-River-strain in the Current, Black, Eleven Point and St. Francis rivers to keep those fisheries healthy.
Like many species, walleyes are most vulnerable in the spring when the make their annual spawning trek upstream in reservoirs. After spawning, they move to points and humps near deep water. Oversized eyes allow them to feed heavily during low-light periods and at night. Natural forage includes crawfish, leeches, shad and other small minnows, in fact, crappie anglers often catch post-spawn walleyes on minnows and small jigs.
Are you enjoying this post?
You can be among the first to get the latest info on where to go, what to use and how to use it!
Favorite angling methods include jig-and-minnow combinations, bottom bouncers with a floating harness baited with a leech, minnow or nightcrawler. Trolling crankbaits, with or without side planer boards, over main channels or nearby flats early, late and at night can produce excellent results.
Harboring a reputation for being finicky eaters, walleye anglers sometime resort to using only the most lively minnows, fattest nightcrawlers and diminutive lures to imitate small forage. Others vertical jig over lazy, fat fish.
River anglers frequently use jigs and bottom bouncers tipped with minnows. They lower the jig into the water and use their bow-mount electric trolling motor to point the boat into the current, letting the boat and jig slip downstream at the same speed. The jig bumps along the bottom directly under the boat until it confronts a hungry walleye.
Noisy motors send fish running
Professional walleye anglers believe outboard engines frighten fish causing them to move away from the noise. So, they use side planer boards to troll a lure from 20 to 40 feet outside the wake. Some use the main outboard while others use electric or gasoline 'kicker' motors for trolling.
A quality lake or river map showing underwater contours and weedbeds is invaluable for scouting potential hotspots before arriving at the fishing destination. Once on the water, GPS fishfinders with side and down imaging can significantly increase the chances of catching fish.
Throughout most of the state, walleye-fishing season is open year-round. The length limit is 15 inches with daily limits of four fish and possession limits of eight. Limits apply on all waters except on areas with special regulations.
From Feb. 20 through April 14, walleyes and saugers can be taken only between half an hour before sunrise and half an hour after sunset. This restriction applies to all streams except the Missouri and Mississippi rivers. Since this applies to streams, it includes the headwaters of reservoirs. So, anglers must know where the lake ends and the feeder river begins. Sea level altitudes determine that location. For instance, the normal pool sea level of Lake of the Ozarks is 660 feet. Any location above that is considered the river and falls into the no-night-fishing restriction.
As a palate pleaser, old whiskers fans will tell you there is no better meal than pan-fried walleye fillets, boiled or pan-fried small red potatoes, green beans, fresh tomatoes and cornbread. If you like to experiment, many recipes can be found on the internet.
You can be among the first to get the latest info on where to go, what to use and how to use it!
---
Darrell Taylor has fished for more than 65 years. During the past 25 years, Taylor has generated more than 2,000 published articles, columns and fishing reports. His writings received 14 peer-level awards from outdoor writer organizations, including the Association of Great Lakes Outdoor Writers "Excellence in Craft" Golden Glow Award, their highest recognition.
All author posts
---