Little Things Make a Big Difference in Ice Fishing
Back in the old days, ice fishing was no more than taking a rock, stone axe, or mastodon tusk, breaking a hole in the ice, lowering bait of some type on a stone or bone hook and then waiting for something to happen. This was about as elementary as it gets. Fortunately, today we have power augers, such as the efficient gas- or battery-powered StrikeMaster units making the process of drilling through several inches or feet of ice a relatively simple process.
Okay, so we have the hole drilled, now what? The answer, of course, is to lower something into the water to attract the fish. The number of ice fishing lures, baits, hooks, etc., has expanded exponentially in the recent decade. So much so, until the novice ice angler became overwhelmed. During the past 2 to 3 years, I have become familiar with a technique that has proven to be just as important—if not more so—than the choice of lure or bait an angler offers fish.
While there is no given name for this technique, it involves using the standard two rods through the ice—one rod actively jigged while the other rod is dead sticked. Once both lures are dropped, any fish in the area will be looking toward the dead stick, which acts as a decoy. The bait-tipped lure to be jigged—a Tingler Spoon, Little Cleo, Jigging Rap, or whatever—is dropped to the desired depth closer to the bottom. While the bait-tipped dead lure—a Puppet Minnow, Buckshot Jig, etc.—is left a few feet higher in the water column. Fish at 20 to 25 yards away may not see the deeper lure being jigged, but they will hone in on the "still" lure. "Tap" the rod with the higher lure once in a while to impart the slightest of action. More times than not, the fish will come in on the still lure.
Several Great Lake and inland fishermen have been experimenting with this technique and have had great success. As mentioned in last month's column, it takes a leap of faith to fish this way when we are so accustomed to jigging both rods, but try it. I think you will like it.
An angler can't get a fish through the ice if he can't get the hook set into its jaw. I learned that lesson last winter on Lake Erie when I was fishing with pro angler Mark Brumbaugh.
After I missed two or three good walleyes, Mark said, "Let me see that rod."
Are you enjoying this post?
You can be among the first to get the latest info on where to go, what to use and how to use it!
Sure enough, I had hurried getting my gear together at the last moment for what promised to be a great trip onto the ice with a friend. I had packed two rods spooled with monofilament line—rods that I normally would have used for bluegills back home.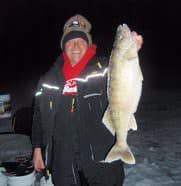 "Here, try this," he said, handing me a rod spooled with Berkley FireLine.
You guessed it. I began to securely hook my fish and brought a few walleyes through the ice. Mark was kind enough not to mention that this was a rookie mistake, but I knew it was. Why? Braid and/or fluorocarbon are not stretch lines that offer the strength to put a hook in a walleye's hard mouth. FireLine saved the day and I learned another lesson: Take the time to carefully prepare before leaving the house.
Safety is paramount on the ice and something I discovered last year from Frabill came in very handy.
The Frabill Safety Pack has one small plastic container, and packed inside is a pair of stretch-on safety studs to fit over your boots. There is also a pair of efficient ice picks to anchor you in case of an unfortunate dunking, and a whistle on a lanyard to signal for help. Of course, common sense dictates that we should avoid unsafe ice and never fish alone, but having safety items such as these go a long way toward making a person feel secure.
One of the big bugaboos involved with ice fishing is carrying live bait—running out of it or just forgetting to bring it. If this happens, rather than cursing your luck or just cursing in general, toss a few packs of Berkley PowerBait Waxworms, or Berkley Gulp Alive Red Waxies in your tackle bag. These little "look, smell, and taste alive" artificial baits have saved many a trip from being a complete washout. Tip your spoons, jigs, etc., with one to three of them and use them just like waxworms. Here's another tip: They worked just as well in the summer months for a variety of panfish. Gulp Alive also offers a variety of artificial minnows to tempt reluctant biters.
You can be among the first to get the latest info on where to go, what to use and how to use it!
---
John Bennett is a retired history teacher, historical re-enactor, father and grandfather. As a four-season outdoorsman, his passion is waterfowl hunting and fishing for smallmouth bass. He lives in Ohio and spends quite a bit of time in his primitive log cabin, which he built.
All author posts
---