Late-fall, Early-winter Shore Fishing
By this time of the year many anglers have placed their boats in storage, so it's time to hit the shore. As it gets later the ice will eventually come, but there have been many years lately when the snow is on the ground and open water is still being fished. The best locations are the smaller lakes and ponds, which can produce a variety of fish. While some species may be in the shallows on a warmer, sunny day, many are already heading to deeper waters, finding weed beds and wood cover.
Because of the fish being farther from shore, casting techniques need to be for the "long shot." For this, I use very long rods of 8 1/2 to 10 feet. The 8 1/2-foot rod is a Buzz Ramsey Steelhead Air casting, used with a Revo reel and 12- to 14-pound-test Trilene Armor Coated line. Two of these are rigged for bass: one for Blitz Blades and Rat-L-Traps and one for soft plastics and jigs. For panfish, a 10-foot Berkley C-Series Rod with a Pflueger Supreme UL Spinning Reel and 8-pound-test Nanofil is ideal.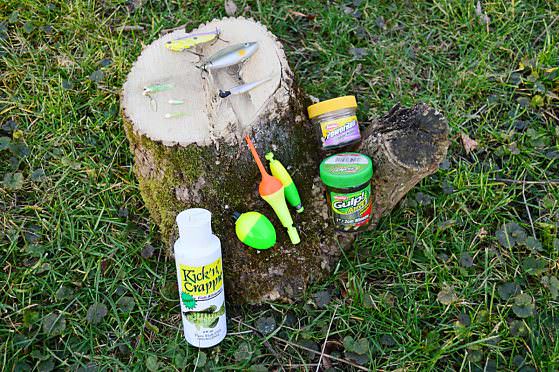 During late October and into early November, the water is still warm, but has fairly cool areas. Now is when Rat-L-Traps, jig combinations and soft plastics are at their best; Casey's Road Runner Heads with a 3-inch PowerBait Power Minnow can also work. Kick'n Bass Attractant in Java, Anise Shad or Crawfish odors is also added to the jigs, while soft plastics and the Power Minnow body are put on the Road Runner.
From mid- to late November, the water, if it's still open, definitely is colder and may have "skim" ice earlier in the day. At this time, the Blitz Blades are taking the lead on strikes. I like using the Table Rock Shad color in the 1/2 ounce and retrieving it quickly across the tops of submerged weed beds while slowing it slightly as it gets to the open water.
Once the water gets much colder, the 10-foot panfish rod comes into play. With this, I'll rig a Slab Daddy Jig with a Crappie Nibble or waxworm under a Mr. Crappie Rattlin' Pear Float or a slip float or a Bill Lewis Rocket Bobber. This rig will not only catch crappies and bluegills, but also the bass. This also works especially when fishing on a windy day and letting the jig drift over the tops of weeds with an occasional "tick" of the tops.
Very late, and when there is some ice along the shore, the fish will definitely be going to almost a full "winter mode." This is when the only rig I'm using is a 10-foot panfish rod with Custom Jigs & Spins ice jigs, like the Ratfinkee in a number 6, 8 or 10, as well as with a Crappie Nibble or a waxworm. I also fish a Panfish Road Runner with a Crappie Nibble, but use it with a slow, constant or pull-and-pause rocking retrieve. The Ratfinkee is preferred for windier days to allow the float to drift and apply jigging action while the Road Runner is used on calmer days and not as much drift or wave action is present.
Again, Kick'n Bass Attractant is used on all of the panfish lures mentioned, with the preferred being the Kick'n Crappie or Java. It doesn't take much, and reapplication isn't necessary on every cast. In fact, I would say you could go for 10 to 20 casts before reapplying, unless there is a missed strike or fish caught.
We may once again be fortunate enough to still have open water in December. If so, continue with the late-November techniques. It may also be necessary to hit the winter "holding areas," where a person would normally be drilling holes through the ice. During years when open water stays around longer, don't sit waiting with the drill ready, go out and give fishing from the shore a try. You may find some of the best fishing of the year.
If you have any further questions about this or any other fishing subject, drop me a line through the Dan's Fish 'N' Tales® website at dansfishntales.com, or Facebook page at facebook.com/dansfishntales.
You can be among the first to get the latest info on where to go, what to use and how to use it!
---

Dan Galusha has fished all of his life, worked more than 45 years in the outdoor/media industry, and was inducted into the Fresh Water Fishing Hall of Fame as a Legendary Communicator.  Direct questions through dansfishntales.com, facebook.com/dansfishntales and facebook.com/shootnplink.
All author posts
---