Kayak Fishing Options
Kayaks are currently the fastest growing segment in the fishing boat market. This is in large part due to manufacturers using rotomolded polyethylene to produce low-maintenance, impact-resistant kayaks at a more reasonable price than previously possible. With kayaks now offered at every price point, the allure of kayak fishing has taken off across the country.
From an angler's perspective, kayaks offer multiple advantages over other vessels, including their superior stealth in approaching fish, an extremely shallow draft to get through impossibly skinny water, minimal size and weight, which allows them to be launched in areas far removed from improved boat landings and their versatility to be customized for multiple uses. In addition, kayaks offer anglers a sense of tranquility and a connection with the environment that cannot be attained while being rocketed across the water at 70 mph by a 350-hp outboard engine.
Buying your kayak
To get started in selecting the right kayak, multiple factors come into play. Foremost are your budget and available storage space. New kayaks retail from as little as $300 to more than $3,000. Used versions cost considerably less and are within most everyone's budget. As with most purchases, if you are committed to the activity, it pays to spend more upfront and get a better quality product. If your interests change quickly or you intend to use the kayak sparingly, the lower price range may be more appropriate to get you started in the sport.
Storage and hauling issues are important with any boat purchase, including kayaks. If you are a college student living in a third floor studio apartment, a 17-foot tandem kayak may not be your best option. But a nimble kayak like the Old Town 10-foot Vapor weighing less than 50 pounds may do the trick. Equally important is the ability to load and haul your kayak. First, make certain your vehicle can accommodate your desired kayak and you can easily load and unload it. Larger kayaks, like the Old Town Predator XL, are serious fishing machines and weigh considerably more than the trimmed down Predator ML. Select one based upon your physical ability to load it and haul it to the water on your own. Once at your location, wheeled handcarts are available from multiple manufacturers to easily shuttle your yak to the water.
Other considerations include your body size, intended style of fishing, type of water to be fished and your desire to fish from a seated or standing position. Recreational kayaks are separated into two general categories: sit-inside and sit-on-top models. For those anglers fishing primarily in frigid cold or even extreme conditions, sit-inside versions will keep you drier and your lower body more protected from the elements. However, for most anglers, a sit-on-top model is more appropriate as they are easier to get on and off, they are self-bailing with scupper holes that drain through the hull and they are less confining, allowing you to sit up higher or stand up for a better vantage point while fishing.
Go with the flow
The water you intend to fish has a major impact on the specific hull design and length you need. Fishing waters can be divided into moving water (fast and slow) and still water (large and small). For those fishing fast current, a shorter 10- to 12-foot kayak with a flat bottom and an upward curvature (rocker) at the bow and stern is preferred. These attributes make the kayak more nimble and allow the angler to quickly steer around boulders, downed logs and through ever-changing current seams. With a flat bottom and less of the hull resting on the surface of the water, the kayak can quickly be pivoted to change directions without any added resistance. Wider widths (31-35 inches) add to their stability when making quick directional changes. While this, added width and stability, is beneficial in most fishing situations, it does reduce the speed of the kayak and increases its weight. Accordingly, one trait may be beneficial in certain settings and detrimental in others.
At the other end of spectrum where long distances must be covered to fish large still-water lake settings, a long narrow kayak in the 14- 17-foot range with less rocker is preferred. The added length and v-shaped hull or sharp keel line allows the kayak to track (hold its straight line position) better in the wind and waves. This keeps the kayak from spinning like a top on big water and is more efficient for paddling long distances. These are generally narrower at 26 to 30 inches. These include the Ocean Kayaks Trident 15 Angler with an optional rudder system for greater maneuverability.
For most lakes, ponds and rivers with moderate to slow current, a kayak with characteristics somewhere in the middle will perform best and offer the most versatility. These range from 10 to 14 feet long and have widths varying from 28 to 36 inches based upon the angler's size, fishing style and personal preference. In addition, if you intend to spend a considerable amount of time standing and casting, you will benefit from a wider kayak that is more stable. You will also need to decide if you want to paddle, pedal or use power as your mode of propulsion when selecting a kayak.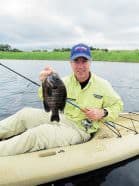 Paddle options are numerous with nearly all manufactures making such models. Focus on models designed for fishing to provide the most appropriate standard features such as rod holders and tackle storage. (Hobie and Native Watercraft offer pedaling options.) They shift the burden to using your legs instead of your arms to power the craft. However, they do not offer true hands-free operation, as you still must use your hands to control the rudder and steer the kayak.
For true hands-free kayak fishing, or those looking to minimize physical excursion or extend their range or trolling time beyond paddling or pedaling capabilities, several electric motor options are available. The first, Ocean Kayak's Torque, has an integrated motor, wiring and battery compartment built into the kayak. The other is Old Town's Predator XL, which includes a removable center console 45-pound thrust, saltwater-grade Minn Kota motor and foot operated rudder system for hands-free operation—no rigging or special customization is required with either of these systems.
The Old Town Predator XL is a serious fishing machine equipped with everything to keep you comfortably fishing for hours, or days. For those old enough to recall Bill Murray's classic movie Stripes, the Predator XL is the equivalent of an EM-50 Urban Assault Vehicle equipped with everything but the spatula to get you undetected into secluded waters, and with the horsepower to muscle through waves and take on trophy fish in big-water settings.
The Predator XL's also features an Element Seat System to maximize comfort and efficiency on the water. For more stability, when quickly traveling from spot to spot while under power, the seat drops down for a lower center of gravity. Once at your fishing location you can raise the seat to the high position for a better vantage point to see. The seat also folds down flat out of the way when you are standing and casting. The Predator XL also comes with six removable mounting plates to make customization easy without drilling into the hull and has a tri-hull design for maximum stability and tracking. There is virtually nowhere that this ultimate fishing vessel can't take you.
Using a 'smartkayak'
After you have selected your kayak, outfitting considerations are necessary. A few essential items include a comfortable personal floatation device (PFD), a paddle leash (the kayaker's motto is "leash it or lose it"), a true waterproof case like the Plano Guide Series box for your wallet and smartphone, a safety whistle, a pair of rod holders, a crate for storage, an anchor trolley system and a fish locator. One of the more innovative and compact fish locator systems is Vexilar's Sonar Phone T-Box system, providing Wi-Fi Sonar transmission to your smartphone so there is no need to mount a permanent sonar unit to your kayak, just the compatible device or smartphone serving as the display unit. RAM makes a flexible transducer arm mount especially for kayaks compatible with the T-Box. Other waterproof fish finder options include the Humminbird 385ci (sonar/GPS combo that comes with a kayak mounting kit and battery dry bag) and the Lowrance HDS-5 GEN2 (sonar/GPS combo with transducer kayak scupper mount kit and skimmer transducer).
For anglers planning to spend considerable time fishing big water, the following additional items are also recommended: VHS radio to communicate with the Coast Guard and other boaters, smoke flares to signal for help, navigational and running lights for operating in low-light conditions and a safety flag to make your vessel visible to other boats from a distance and in choppy conditions.
To get a better taste of what kayak fishing is all about, check with participating dealers regarding scheduled "Demo Days." These events allow for on-the-water model testing. These events are a great way to determine what model serves you best and gives you an opportunity to check out the latest features and accessories—and once you start into kayak fishing, you will be hooked.
You can be among the first to get the latest info on where to go, what to use and how to use it!
---
MidWest Outdoors works with more than 200 outdoor experts each year, who contribute articles based on their areas of expertise. MidWest Outdoors magazine offers more fishing and hunting articles than any other publication!
All author posts
---