Jumbo Perch on Big Stone Lake
A Short Trip for Minnesotans Can Yield Some Big Catches.
"I am seeing fish down there already," said my son as he was lowering a Tungsten Tubby tipped with two red spikes down his hole through roughly 20 inches of ice. "Go get 'em," I said as I was finishing cleaning out a hole for my dad to fish in. By the time my dad had a bait down and I was getting myself set up, Parker had a 10-inch perch up in the house. "Nice one," I said, followed by, "Got one?" as my dad set the hook. Dad and Parker had three, 10- to 11-inch perch in the bucket by the time I was able to hook up. Our flashers were lit up with fish near the bottom, and we were catching (and missing) fish for about 15 minutes before our Humminbirds went empty.
"I'll head outside and get the dead sticks set during the lull," I told the guys. "Give me a holler when the screens light up again." That is mid-winter perch fishing. A flurry of activity as fish move through and get active, and then a lull as the fish either move on or drop to the bottom and go inactive for a while.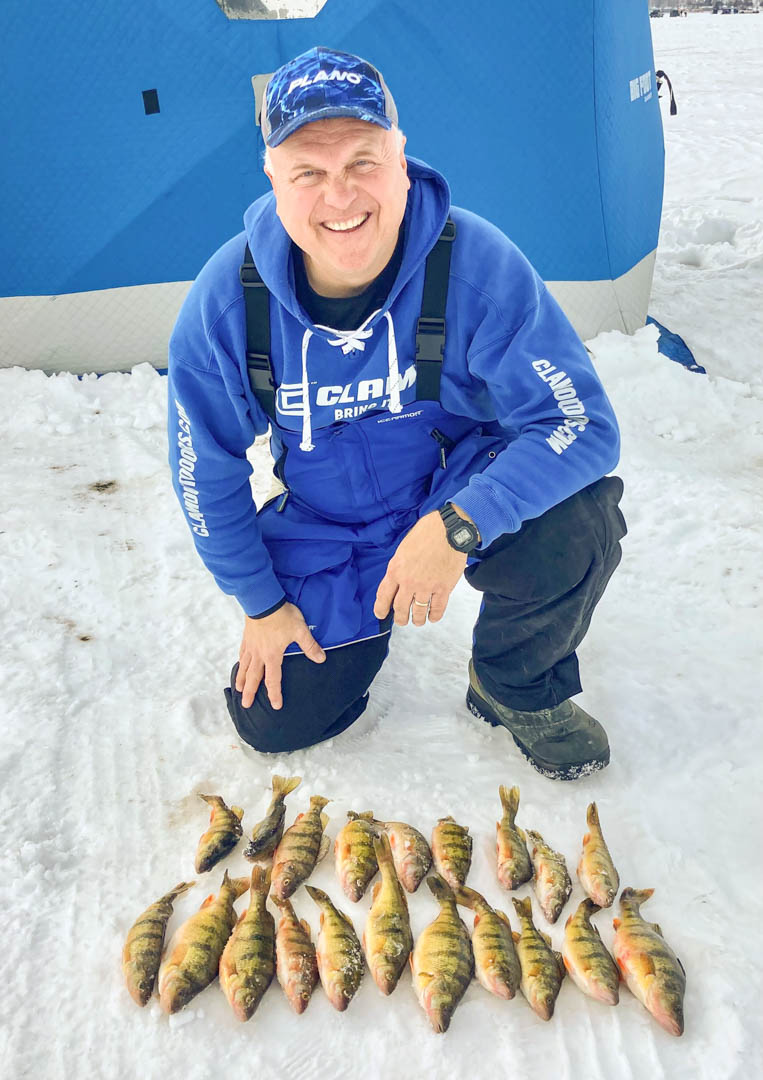 We were on western Minnesota's Big Stone Lake in mid-January. We were looking for jumbo perch out in the lake basin, in some of the deepest water in the lake. Big Stone is on the MN-SD border and is part of the headwaters of the Minnesota River. This border lake is a great fishery for many species, but it is jumbo perch that has been bringing ice anglers to the lake in winter for the past decade or so.
Big Stone has a good walleye population, some nice pike and some big crappies. Lately, the perch population has increased dramatically, and the fish are reaching nice sizes. While Big Stone may not be the top destination for huge fish of fourteen inches and larger, it is a great Midwest destination for large numbers of 8- to 12-inch perch, with a few 12- to 14-inchers mixed in. Limits of great eating-sized fish are very frequent during January and February.
Bluegills are also present in reasonable numbers and can be caught through the ice as well. The attraction for anglers with Big Stone's sunfish is that 10- to 11-inchers are a regular occurrence. Perch and big sunfish are caught in open water on Big Stone as well, but there is just something about jumbos through the ice that attracts large numbers of anglers to the lake each winter.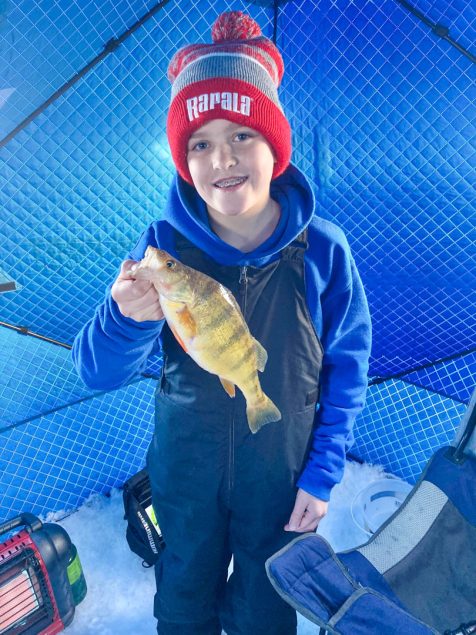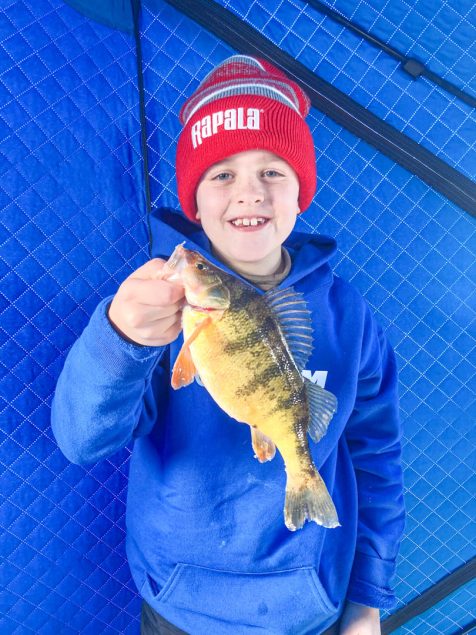 On that January weekend with my dad and son, it was cold—and was forecast to be so both days of our weekend trip. There are different approaches to chasing mid-winter jumbo perch. You can drill a lot of holes and hole hop, trying to follow roaming fish. When your hole(s) go inactive, you can move to other holes, use your sonar to find one with fish under it, and repeat this process as the fish move around.
We like to use a different approach. We set up a hub shelter in an area where we have consistently caught fish in the past. We each fish one line in this "base camp" where we can stay warm and eat lunch. We then set I-Fish Pro's with small minnows on a vertical jig, and dead stick noodle rods with the same presentations we are jigging in the shelter. We scatter these in roughly a circle around the shelter. Often, we go with a group of guys, and may set up two or three shelters spread out, and then the dead stick offerings surrounding the shelters. This allows us to stay comfortable inside, and still have lines spread out over a large area of lake basin where perch are roaming.
Are you enjoying this post?
You can be among the first to get the latest info on where to go, what to use and how to use it!
A lot of the time, one or more of the shelters, and some of the dead sticks, are where perch are and are experiencing action. If you are willing to wait out some lulls, this is a very effective technique, especially when it is very cold to sit outside, or there is a lot of snow on the ice preventing moving far off plowed roads.
As far as equipment goes, we set up our Clam hub shelters or Fish Traps to fish out of the cold. We drill our holes with a Strike Master Lithium 40V electric auger and use Humminbird sonar and GPS units to find and watch fish. We use 24- to 28-inch, St. Croix Legend Black ultralight rods with stainless strike indicators to jig for perch inside of the shelters. These rods are paired with Fish 13 Descent inline ice reels spooled with 4-pound test Berkley Fluorocarbon tied to a small, panfish-sized horizontal jig like a VMC Tungsten jig, tipped with two or three red spikes.
I always go with tiny offerings for panfish during the type of cold front we were fishing in the opener, but over the past few years, we have found that the perch on Big Stone seem to prefer this tiny offering most of the time. We have had limited success jigging spoons with a minnow head or fluttering a Jiggin' Rap or ultralight Rippin' Rap. Even the big donkeys (we have caught several 13- to 14-inch jumbos and 10-inch-plus bluegills on Big Stone the past few years) seem to prefer the smaller offering most of the time.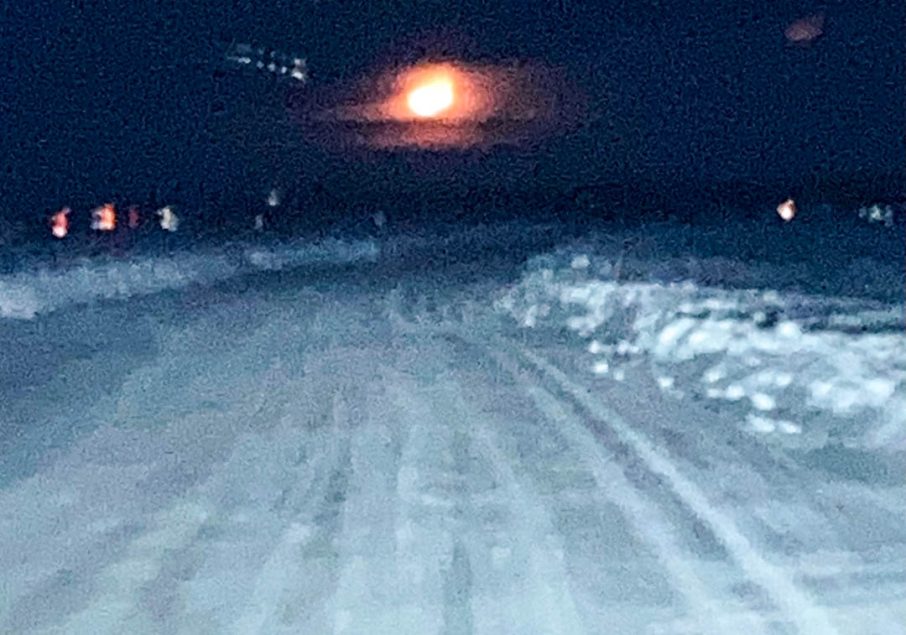 Outside, we use two approaches to spread lines. We use the I-Fish Pro tip-up but set it differently than we would for walleyes or pike. We use a stouter crappie or walleye rod and reel combo for this rig, with a 4-pound test fluorocarbon leader at the end, tied to a small vertical jig tipped with the smallest crappie minnow we can find in the bucket. We set this rig with the bail closed, not open, on the reel, and about 12 to 18 inches of slack line from the rod to the line clip on the I-Fish Pro. This way, when a perch (or crappie or bluegill) grab the minnow and take off, they can swim a short distance after tripping the flag, swallowing the minnow, before the line pulls tight and the rod loads up, setting the hook. The drag is set just loose enough so if a large panfish or walleye takes the bait, the drag can slip until we get to the hole to reel in the fish.
We also use a second type of deadstick rig outside of the shelters to spread lines. For this rig, we have a 30-inch noodle rod (very soft action) with an inline reel spooled with 4-pound test fluorocarbon. This is tied to the same tiny horizontal jigs we are jigging with in the shelter, tipped with red spikes or a waxworm. We put this rod in a holder sitting on the ice next to the hole. When it is cold, we cover the hole with a cover I created consisting of a 5-gallon bucket lid on top with Styrofoam for insulation underneath. This has a slit cut from one edge to a hole in the center for the line to go through, and to be able to take the hole cover off and clear the line to bring in a fish.
We then clip the wire hook on a round bobber over a loop in the line between the two eyelets closest to the rod tip. Even a light wind will move this bobber around, "jigging" the bait below, and when a fish strikes and pulls the line tight, it will slip out of the bobber, allowing the bobber to fall to the ice and indicate a fish. The soft noodle rod will load up slowly, allowing the fish to get the bait into its mouth before the hook gets set. We catch a lot of panfish of all species on this rig in the winter.
If you like catching, and eating, jumbo perch, or want a shot at a true trophy bluegill, make the drive out to Big Stone Lake this winter. Ortonville, Minn., and Big Stone City, So. Dak., have hotels and restaurants to accommodate anglers, and resorts are located on both sides of the lake. Artie's Bait in Ortonville rents Ice Castle fish houses, books day and overnight stays in these deluxe shelters, and has guides to help put you on fish. If you want to freelance with your own equipment, Artie's will get you accurate reports and information, and has all the bait you will need. Artie's, as well as some of the resorts, plow roads on the lake, and some of the resorts rent shelters and have guides for hire as well. Give Big Stone a try, you won't be disappointed.
You can be among the first to get the latest info on where to go, what to use and how to use it!
---

Troy Smutka is a central Minnesota fishing guide (greatdayonthewater.com) and a walleye tournament angler. He is also a member of the Lund Boats, Mercury Outboards and Johnson Outdoors Pro Teams, and hosts and produces Fishing and Hunting the North Country on YouTube.
All author posts
---