Jerk and Swim with a Spin
Fishing swimbaits and soft plastic jerkbaits has been extremely productive over the years. Using the normal methods will always remain the primary way of fishing these lures, but adding a "spin" can certainly be a big plus, and may become an anglers favorite way of fishing them.
Adding a "spin" is as simple as using one of three Blakemore Road Runner heads: Original Casey's Runner and Randy's Swim-n-Runner. The original has a smaller hook and is available in Colorado and willow blade models. Casey's Runner has an original style head in a 1/4-ounce size, with a lager hook, ball bearing swivel and willow blade. Randy's Swim-n-Runner is about like the Casey's head, only with a longer nose, which will extend the blade out farther from the body.
Bodies used are fairly much anything of a minnow design in jerk and swimbait models that are 2 1/2 to 5 inches. My selections are made up of the PowerBait 3- and 4-inch Minnows, Ripple Shad and Twitch Tail Minnows, 2 1/2-inch Pro Minnows, 5-inch Jerk Shads and the B-Fish-N 3- and 4-inch Pulse R and Moxis.
Each head is used with different bodies. For the original head in the 1/4-ounce size, I will use any of the aforementioned bodies in the 2 1/2 and 3 inches, except for the Twitch Tail Minnow, which has a little thicker belly that takes up too much of the smaller hook's throat area. The Casey's head is used with everything 3 inches and over, except for the 5-inch Jerk Shad and Ripple Shad, since the larger belly interferes with the blade's action. Anything that has the thicker or deeper belly is to be used with Randy's Swim-n-Runner.
A possible modification for the Swim-n-Runner would be to change to a larger blade, depending on how much flash and vibration is needed. However, always go with what the manufacturer uses until it is an absolute must to try something different. Most lures, such as the Road Runners, have the selected blades for a reason, which is normally proper balance. The balance can vary with the bodies being used.
While on the subject of balance, it is extremely important to have the body hooked so that it sets straight in line with the hook. Also, when looking down at the top, the hook should be directly in the middle and not off to the side. If it is off-center or not straight, the lure will not run properly.
Casey's Runner was designed to be used with a Super Fluke Jr. and with a slow retrieve in deep water. The majority of my fishing is done in shallower water with submerged weeds and/or brush and wood. Because of that, a faster retrieve was needed, which is the reason for the aformentioned body selection.
Are you enjoying this post?
You can be among the first to get the latest info on where to go, what to use and how to use it!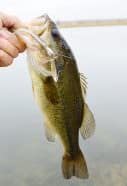 Using these combinations is extremely simple, and can catch fish, from the beginner to the expert. All that is needed are about three different retrieves: straight and constant reeling at different speeds, stop-and-go with periods of "stops" and speeds of "gos" varied until finding one that works and a pump that allows the blade to flutter downward.
One way that's effective over submerged brush and weed beds is to retrieve the lure steadily over the areas, and as it is reaching the edge, let the lure fall a bit before starting whatever other retrieve is then desired. Many times the strike will come on the initial fall, or just as the lure is started back up on the retrieve.
One more thing is to apply Kick'n Bass Attractant to the lure, normally in the anise shad scent. But the crappie and walleye scents will also work. I prefer this selection since the whole idea is to replicate baitfish.
If you want a different, productive method of fishing a soft plastic minnow-style body, give it a whirl, or in this case, a "spin" with a Runner head.
    If you have any further questions about this or any other fishing subject, drop me a line through the Dan's Fish 'N' Tales® website at dansfishntales.com, or Facebook page at facebook.com/dansfishntales.
You can be among the first to get the latest info on where to go, what to use and how to use it!
---

Dan Galusha has fished all of his life, worked more than 45 years in the outdoor/media industry, and was inducted into the Fresh Water Fishing Hall of Fame as a Legendary Communicator.  Direct questions through dansfishntales.com, facebook.com/dansfishntales and facebook.com/shootnplink.
All author posts
---