Get Your Head Around the Ned
Over the past few years, a set of little lures called Ned Rigs have brought Midwest finesse techniques into the bright lights of the bass fishing world. Many have heard about these diminutive offerings and have found them to be great for catching fish. Still, others have tried one and discarded it as an over-hyped fad on its way out. There are others who even refuse to throw them.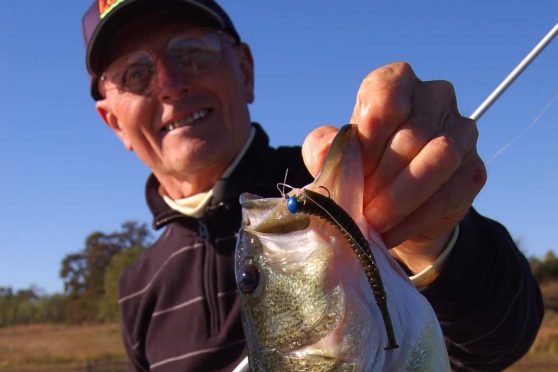 WHAT'S A NED?
There's some confusion about what exactly a Ned Rig is. It could be defined as an open-hook jig of 1/16 ounce or lighter that's adorned with a soft plastic lure of 4 inches or less. You can fish smaller lures on heavier jig heads and they look just like a Ned Rig. But they don't always act like one in the water.
My friend Steve Quinn, editor of In-Fsherman, deserves the credit for naming the Ned Rig after a longtime contributing outdoors writer Ned Kehde, who once wrote a short story about it. Kehde, now 77, is a retired archivist living in Lawrence, Kan. and fishes four or five times a week. He exclusively tosses the lures that have now fallen under the Ned Rig/Midwest-finesse umbrella.
THE NED RIG'S ROOTS
The whole phenomenon really started after Kehde fished at a Missouri writers' junket put together by Strike King with bass superstar Kevin VanDam back in 2006. KVD was showing the effectiveness shaky-head jigs using Strike King Zeros, the 5-inch soft stickbait/worms modeled after the popular Yamamoto Senkos. The Zeros were—and still are—made of a durable soft plastic called ElazTech. VanDam gave Kehde a pack. Shortly after that, Kehde, already a big fan of small lures and light line for bass, cut one of the green pumpkin-colored Zeros in half and rigged it on a red, 1/16-ounce Gopher Mushroom Head. His partner rigged the other half., and then the two anglers proceeded to catch 100 bass in just four hours on a small reservoir near Lawrence.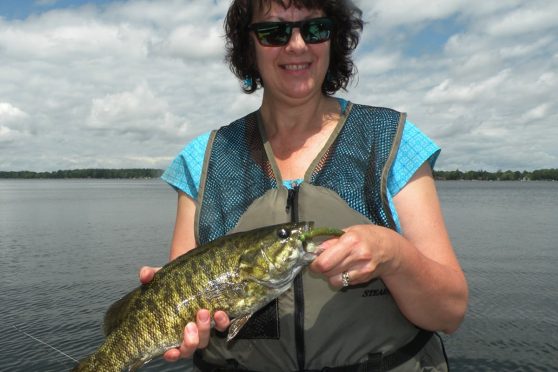 FISHING WITH NED
AND THE NED RIG
Last year, on the 10-year anniversary of that event, I fished with Ned Kehde at the same reservoir where he caught 100 fish in four hours and I learned a lot. Ned's method for fishing the rig (he's actually a little embarrassed it's called a Ned Rig) is to use light jigs—usually 1/32- and 1/16-ounce Gopher Mushroom Heads. He describes his technique as "no-feel," meaning the best offerings are almost neutrally buoyant, sinking slowly to the bottom. Sometimes they're allowed to rest on the bottom and sometimes they're slowly reeled back with no added action. Sometimes the angler shakes the rod tip to add some action. Any retrieve can also have pauses to allow the lure to sink. The point is, there's no checking bottom composition—the rig is just too light.
LOVING THE NED RIG
Yours truly has been a longtime fan of small lures for bass, so the Ned Rig was immediately in my wheelhouse. A few decades ago I started throwing a 2-inch Toledo Tackle flat-tail worm that often caught bass when other lures failed. So when I heard about the Ned Rig and Midwest finesse techniques, it was a small hop for me to get on the bandwagon.
Baits made from ElazTech by Z-Man—which also makes Zero and Super Finesse Worms for Strike King—are so popular because they last a long time on a jighead before you have to change them. In fact, Kehde and his partner caught all those bass (and some other species that included a toothy walleye) back in 2006 without either angler replacing the little half of a Zero. In the spring of 2016, I counted 54 bass on the same shortened Hula StickZ—including a fat 20-incher—before a pike bit it off.
RIGGING THE NED
No glue is necessary with many jigs that feature molded-in barbs like the Gopher Mushroom Heads or for the barbs that are soldered onto the Z-Man ShroomZ heads. Additionally, some "garage-lure gurus" use a mold that sticks a metal "keeper" into the lead jig head. Those keep the soft plastic flush to the lead head phenomenally well. On jigs without a keeper, a tiny drop of super glue gel adheres the nose of the plastic to the lead head for a long time.
Because Z-Man is the only company to offer ElazTech and because so many different fish peck and chomp down on smaller lures, this patented material is favored because you can use the same soft plastic on the same jig head all day, for several trips. Be mindful, however, that some Z-Man baits have a lot of salt and can corrode a hook shank in a matter of days. With ElazTech, though, you can just take the plastic off the jig and put it back in the bag with the unused baits (which is why it's best not to use glue). The used one will still stick on a barbed jig head, and the more a lure gets chewed the better it works as it gets progressively softer and more supple.
MAINSTREAM NED RIG PLASTICS
The most widely accepted lures among the tools of Midwest finesse are the T.R.D.s, half ZinkerZs, Finesse ShadZs, Finesse WormZs, Hula StickZs and the Strike King Super Finesse Worms and Zeros.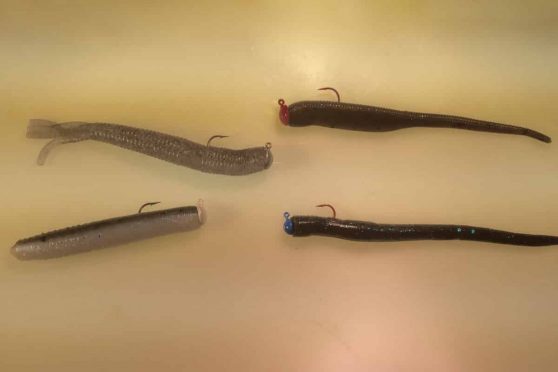 But a second tier of lures from Z-Man and several other companies are worth having along. Z-Man baits include the 3-inch MinnowZ, the diminutive, 2 1/2-inch Slim SwimmerZ and the StreakZ. Also effective on bass are the 1/16-ounce jig heads like the Keitech 4-inch Swimbait (I like taking an inch off the nose) and the new Gene Larew Inch Worm, shown in the picture of Ned Kehde here. One I'm looking forward to trying is the Jackall Rhythm Wave at 2.8 inches.
WHY NED RIGS WORK
Quite a few years ago, Lonnie Stanley of jigs and spinnerbaits fame introduced a down-sized spinnerbait.
"A huge part of a bass' diet are small minnows and crayfish," Lonnie told me at a press outing. "Small lures might not get the super reaction strikes, but bass still strike them because they're the size of something they're used to eating."
Here's a "Stupid Fish Theory" (SFT) that takes the small-prey observations a step further. Until we can do some sort of Star Trek-Mr. Spock-Vulcan mind-meld with a bass and learn what he's actually thinking, this SFT will remain pure speculation: Ned Rigs can get more bites than a lot of popular bass lures because they act more like what bass eat. Think about it. When you throw a 5/8-ounce, chartreuse, double-willow-blade spinnerbait, it usually enters the water with a clacking splash and then produces lots of flash and vibration that lets every bass in the area know it's there. Same with most crankbaits, which can have audacious colors and rattle as they practically beg the bass to come eat them or, of course, produce reaction strikes when they whiz through a fish's strike zone.
That's not how most baitfish and crayfish act most of the time.
The primary food choices for bass in most places are minnows and other small baitfish as well as crayfish, and all of these go about their business quietly. As soon as we get a Vulcan mind-meld with a minnow I bet they're going to be constantly thinking about just surviving the next minute—and they don't do that by calling attention to themselves. And that's the deal with all finesse presentations: They don't call a lot of attention to themselves. When you cast a 2 3/4-inch T.R.D. on a 1/16-ounce head, it hits the water with just a tiny plip, and usually not enough sound to startle any bass in the area as a larger lure would (in fact, many strikes, especially from bigger fish, occur less than a second after the lure hits the water). Then, as you reel it back, it doesn't produce a lot of rattles or big vibration.
BASS EASILY FIND A NED RIG
Bass are supremely equipped to detect small vibrations in their environment through their lateral lines. Think of the side of a bass as a big transducer that's ready to detect vibrations from a minnow flipping its tail. After using Ned Rigs just about every time I fish, I'm convinced that they not only get reaction strikes, but they also incite bass to hunt them down. A lot of bites come right at the end of the retrieve when you speed the Ned up to make another cast.
The Ned Rig, when thrown on light spinning gear, isn't the end-all answer to catching bass. But it is a good tool for most of the season and for getting bites when bass seem to be ignoring the other lures.
You can be among the first to get the latest info on where to go, what to use and how to use it!