Fishing the Spawn, or Not
The sight of smallmouth and largemouth bass hovering over their circular scoops of the lake bottom in shallow water is too much for most bass anglers. Whether they want to take those fish to a tournament weigh-in or just have them stretch the string for a quick minute before being released, it's darn hard not to cast at those bass, which are pretty much sitting ducks.
I know I can't resist.
Now, it would be tempting to argue the ethics of whether or not a bass should be removed from a bed, even briefly, but anglers are going to have to make up their minds. What I will say is that on many great bass lakes, tournament anglers have caught bedding bass for decades, but I don't want to start an argument.
Bedding fish, especially in a tournament, can be a gamble. They don't always bite and you can spend a lot of time trying to get a single fish to take your lure. That time could have been better spent employing other techniques and catching the other bass in the lake that are either done spawning or not yet on a bed.
The first step is finding fish on the beds. Largemouths can be in 2 feet of water and smallmouths in places, like Lake Michigan's Grand Traverse Bay, can be guarding the nest in 20 feet. You'll find fish in all sorts of depths in between.
For sight-fishing bass, a quality pair of sunglasses is ideal. The lenses that work best for me are green/mirror, which cut the water's surface glare and let in sufficient light to see fish on cloudy days and the work well in bright sun. Polarized shades with amber lenses for really dark, gray days would be best, green lenses would work best for partly sunny days and gray or blue for bright days. The green lenses are a good compromise. Also, a hoodie helps, as this eliminates light from behind you reflecting back into your eyeballs off the inside of the lenses. You'll be amazed how much better you can see with a hood up.
With beds and fish spotted, the lure that works best for me is a Texas-rigged tube. I rig the tube on a 2/0 Shaw Grimsby Lazer Sharp HP Hook from Eagle Claw, which features a clip that holds the nose of the tube in place. I peg a 1/4-ounce tungsten bullet weight against the nose of the tube with a bobber stop. Then I add a small swivel a couple feet up the line because a Texas-rigged tube can twist your line like nobody's business.
Staying as stealthy as possible, I toss the tube on 8-pound-test fluorocarbon (leader made from the same) up beyond the bed and bring it back so it's sitting right in the bowl. Use a tube with some buoyancy so the tentacles wave up and that the head is downward. A tungsten weight can actually dig a little into the bottom sand of the nest, letting you shake the tube so it looks like a baitfish just gobbling the eggs of a bass.
In clear water with a light bottom, I like a natural looking tube colors like green with some flake or maybe some purplish hues to mimic the color of bluegills, the fish bass hate to see around beds. If the bottom is dark, a white or chartreuse tube can be just as appealing to a bass wanting all foreign visitors out of its domicile, and a lot easier for you to see. Often, you won't be sure where the bass is, but when the light-colored tube disappears, you better set the hook.
Here's the deal on most Midwestern lakes: The bass don't all spawn at once. Groups of them spawn about a month apart, coming up to the beds when the moon is waxing to almost full. Water temperature plays a role in when bass start, but most years, from mid-Michigan on down, a few bass start spawning with the April full moon and continue through June. Farther north, they might spawn in June and July.
Many anglers (myself included) believe the biggest bass are part of the early wave and the best time to catch them is before they get on the beds. Basically, your job is to find their spawning areas and intercept them on the breaks as they start to move up shallow. Use a swimbait, a Texas-rigged worm or a jig. Or, toss your Texas-rigged tube into the weeds—it can be absolutely deadly, falling like a dying bluegill.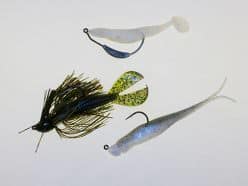 Sometimes, when covering the break or the flat, a jerkbait is your best option, and sometimes even a smaller surface lure such as a Pop-R is the real deal. Square-billed crankbaits and spinnerbaits work too, along breaks or right up on the flat.
You've got lots of options, and one program will probably work better than the others on any given day—you just have to find it.
The other bass this time of the year are males guarding fry, and they're usually in shallow, warmer water around the boat docks. Again, swimbaits, swim jigs and jerkbaits can get those fish to bite, but a wacky-rigged Senko or similar soft plastic lure can be devastating. I have no idea what that male bass guarding his kids sees in this wiggling chunk of slowly descending soft plastic, but whatever it is, bass don't like it being around fry and will do their best to crush it. I like rigging it on a circle hook, a size 1. An O-ring snug on the Senko body holds the hook and lets the soft plastic last longer than if you impale it. The circle hook almost always hooks the fish in the lip. You just have to remember not to set the hook, but reel it tight so that the hook slides up through the fish's mouth and then around into its lip.
The best part now is the warmer weather and the active fish. And in my home state of Michigan, we can now catch and release them year 'round. Now can be the best time to catch a bunch of fish. And, you don't have to target fish guarding beds to do just that.
Tournament angler and avid outdoorsman Buck Mallory, of Lawton, Mich., is a regular contributor to MidWest Outdoors, specializing in bass fishing.           
You can be among the first to get the latest info on where to go, what to use and how to use it!
---
Tournament angler and avid outdoorsman Buck Mallory of Lawton writes Michigan-specific bass fishing articles for MidWest Outdoors.
All author posts
---