Multi-species Magic on Less-traveled Waters
Opening Day. Breathe it in boys—a fishy smell is in the air.
Each May, anglers in the Midwest can't wait for the big day. I remember a few years back that we hit Lake Geneva on the opener. Well, first we waited 45 minutes in line at the bait shop to get our licenses, then we waited another two hours at the boat ramp and every spot we tried to fish had a half-dozen boats on it—definitely not a memorable trip, to say the least.
Sometimes the only way to beat the rush is to rush to less traveled bodies of water. Those rivers that you have been fishing up until the opener will still hold fish, and they will be less pressured. Maybe the walleye bite is off, but you can tackle white bass, smallmouths, catfish and even carp.
The Mississippi, Fox and Rock rivers offer excellent opportunities. Blade baits like B-Fish-N tackle B3 Blades are great search lures for active fish. Walleyes, white bass, catfish and pike can be caught on these hard-wobbling baits. One hot technique is to rip the blades in the deeper holes in the river bends. If that doesn't pay off, they can be cast up to the dam, into the riprap shores and at the mouths of creeks. In many northern rivers, the white bass are on the spawn this month and blade baits are a white bass killer.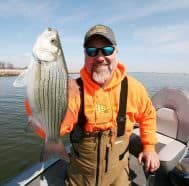 A B-Fish-N H2O jig tipped with a minnow will still catch the occasional walleye, smallmouth or catfish. We like pitching jigs early in the morning and evening. During the day, you can fish the bridges or deeper holes. Slipping is a hot technique. You drop your jig to the bottom and allow drift downstream while keeping your jig at the same speed as the current and the boat.
Catfishing really heats up on the river now, especially flatheads, blues and channels. Cut bait, like shad, suckers or smelt is popular. We like to cut the bait up the night before fishing and then marinate it in Rippin Lips Scent Trail. This super-stinky scent really jacks up the fish to striking. I'll use 1 to 2 ounces of weight on a slip sinker with a 36-inch leader. Then I use a small bobber to keep the bait off the bottom and a 7/0 Rippin Lips circle hook. We add cut bait in 2- to 3-inch chunks.
To battle these monsters, you'll need a stout rod. Rippin Lips has heavy-duty catfish rods from 7 1/2 feet in a medium action to 12-foot monster tamers. These rods are S-Glass blanks, which are stronger and lighter the E-Glass or fiberglass, but with plenty of backbone. I'll usually set up behind a wing dam or bridge pylon or upstream of a deep hole for big ones.
Illinois anglers should remember there is no closed season in Illinois, and waters like the Fox Chain O'Lakes are on fire this month. As the water warms, a fish's metabolism speeds up causing it to eat more and be aggressive. You can start your search on the Upper Fox River by launching your boat at the State Park Ramp. This is a great ramp with plenty of parking and it's located smack in the center of the Chain.
If you are looking for walleyes, the Fox River is a great. You can head upriver and start trolling Shad Raps, Flicker Shads or Hornets. Stick to the main river channel (about 6 feet to start), and as you head upriver you will notice a few deeper holes in the bends. If you see fish on the locator, you can fish the holes with 1/16- to 1/4-ounce H20 jigs tipped with large fatheads. Other walleye spots to focus on include any current areas, especially after a good rain. Walleyes really get excited about an increase in the current. The best are around the bridges in the Lower Fox River below Pistakee Lake or the bridges in channels between lakes. Little-known current areas are culvert areas in the back channels. We've popped nice walleyes from these by flipping Custom Jigs & Spins' big size 4 glow Demons tipped with large fatheads into the culvert or ditch in high water.
Crappies are still quite catchable, as they will be hanging out in the main lake areas right in front of the channels they just spawned in. All the major lakes, like Channel, Catherine and Marie, have good crappies. The best action occurs in early morning by flipping small bobbers and Ratfinkees tipped with fatheads. You can try the no-bait route with a Shrimpo below a bobber or a Ratso. Best colors are the Chartreuse, Pink/White and all the Glow colors.
Catfish will start picking up too. Rippin Lips Bootleg Sweet & Sticky Catfish Dip Bait works well. Set up a simple slip sinker rig with a tube worm and dip the worm into the jar, stir around with a painter stick and you're ready to fish. In the morning, the catfish will be shallow in 2 to 4 feet, and later in the day you can try 6 to 15 feet. Popular lakes for channel cats are Pistakee and Fox, as well as the river.
Probably, the fastest action now is with bluegills. You can find them in the channels or in the main-lake shallows. Channel, Catherine and Pistakee lakes are your best bets for bigger bluegills. But again, the little, out-of-the-way channels will really produce at times. Any pier is a potential hot spot too, offering warmth, because wooden piers absorb heat. Piers also offer shade. Those lowest to the water are best since they offer the most. Finally, the piers offer shelter and a food supply of bugs and small minnows that usually hang shallow.
We still use our ice jigs for bluegills, even though it is open-water season. Size 8 Ratsos and Shrimpos and Nuclear Ants are our favorites. We like to tip them with spikes, maggots and butter worms for even faster action. However, when a good bunch of fish is found, no bait is necessary.
So this year, try something a little different on opening day. Head to the river or to an out-of-the-way spot that doesn't get the pressure of the big-name lakes. By fishing for species like white bass or catfish, you won't have to deal with fishing against anglers on the prime spots. The results can be fantastic.
    Walt Matan and his father Poppee are the chief lure designers for Custom Jigs & Spins. For more information on ice fishing and to see all of Custom Jigs & Spins tackle log on to customjigs.com or call 800-831-5535 for a free, all-new catalog. You can also log on to frabill.com to check out the Ice Hunter Series rod and reel combos and the Sentinel one-man tents.
You can be among the first to get the latest info on where to go, what to use and how to use it!
---

Walt Matan has been a writer and television host for MidWest Outdoors for 30 years. An avid ice and open-water fisherman, he currently lives in the Quad Cities on the shores of the Mississippi River. He is the product developer and brand manager for Custom Jigs & Spins, B-Fish-N Tackle, and Rippin Lips Catfish Tackle. For more information visit customjigs.com.
All author posts
---