Erie Walleye Treasure: Great Day on a Great Lake
There is little doubt in an angler's mind that Lake Erie is the walleye capital of the world. Recently, that point was reinforced to my companions and me in a big way.
My opportunities to fish this phenomenal lake are rather limited, so when one presents itself, I jump at the chance. When the call came through from my friend, walleye ace, Todd Sokolow, my previous plans for the day were dropped or postponed and I got in the truck and headed north.
The plan was for Todd and his fishing partner, Troy Walwood, to fish the lake in Michigan waters on Saturday and then have me join them in the boat Sunday. It had been many months since I had caught any walleyes in warm water, and I was pumped.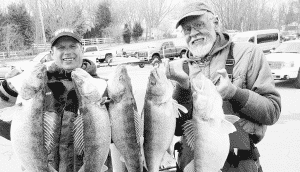 Troy runs the Fishbound IV Charter Service, and guides for salmon, perch, and walleyes throughout the Great Lakes, but this day we were to fish out of his fully equipped walleye tournament boat. Todd and Troy have fished many tournaments throughout the Midwest, but today was for fun.
Saturday had proven to be somewhat disappointing for these Michigan anglers, with only two fish coming over the side of the boat. However, the first tipped the scales at slightly over 9 pounds—not a bad start, but still somewhat disappointing. I met the pair at 6:30 a.m. in Port Clinton, Ohio. We consumed breakfast, talked over plans for the day and soon we were at the launch site. We were greeted with 29-degree air temperatures and stiff winds, which froze the lake spray to the side of the boat. Luckily, I had donned my ice fishing clothing and slipped into a pair of rubber/leather snow pacs.
Thanks to Troy's skillful navigating, we stayed dry on the trip out and soon reached our destination—the "cans" near Niagara Reef. The water temperature was 39 degrees, not optimum, but we were there, and so were the fish. The unit showed that at the "C" can we were fishing in water between 30 to 32 feet and that the fish were suspended at 15 feet, which was definitely a good situation for trolling crankbaits. We put out 20 feet of line, attached a 1-ounce snap weight and let out 30 more feet of line. The lures, trolled with planer boards, were Rapala Husky Jerks in Pink Lemonade and a Smithwick Perfect 10 in a Purple Darter and an Emerald Shiner that had been custom-painted.
We trolled at speeds of .9 to 1.3 mph in an S-hook pattern in waves at 2 to 4 feet. I guess this adds credence to the old saying, "If you want to play outside, you have to take what Mother Nature throws at you." By careful maneuvering and by wearing proper clothing, we stayed dry and began to catch fish.
The first one was one of the biggest of the day—a 28 1/2-incher that tipped the scales at 10.4 pounds. I can say that I caught it, but in reality, the behemoth attacked the Rapala, Todd grabbed the rod, handed it to me and I fought the fish to the boat. This was the routine for the remainder of the day: Todd and I alternating, landing the walleyes while Troy was content to put us on the fish.
As the morning progressed, we had three fish in the livewell. Not bad, but then again, not great. So around the middle of the day we made a move into water that was a couple degrees warmer and found more active fish. I'd call this a definite indication of just how finicky a walleye can be. We were now near the "F" can, and in 28 feet, targeting fish suspended at 10 feet.
By 3 p.m., we had seven fish in the livewell. But due to time constraints, we were about to quit.
Let's look at the results: The smallest was about 4 pounds, the next was around 7 pounds and the other five were 9- and and 10-pound hawgs. We were pretty happy and everyone went home with some fish for a few meals. We all had another great day on this Great Lake.
You can be among the first to get the latest info on where to go, what to use and how to use it!
---
John Bennett is a retired history teacher, historical re-enactor, father and grandfather. As a four-season outdoorsman, his passion is waterfowl hunting and fishing for smallmouth bass. He lives in Ohio and spends quite a bit of time in his primitive log cabin, which he built.
All author posts
---