Buzzin' for Bigmouths
Topwater fishing is one of the most exciting ways to catch largemouth bass. Buzzbaits cover water, provokes aggressive strikes and put nice bass in the boat.
There are many styles, sizes and colors of buzzbaits, including single- and double-bladed as well as inline buzzbaits. The classic inline buzzbait can be used in semi-heavy cover. A single hook and a weed guard help it come through cover. (Blue Fox made the classic Floyd's Buzzer. One thing about inline buzzers: You must reel fast to keep them up on the surface. When the fish are aggressive, inlines produce aggressive strikes and catch nice fish. Fish the bait through the outer fringes of lily pad fields or reed beds. They also catch their share of toothy critters like northern pike and muskies.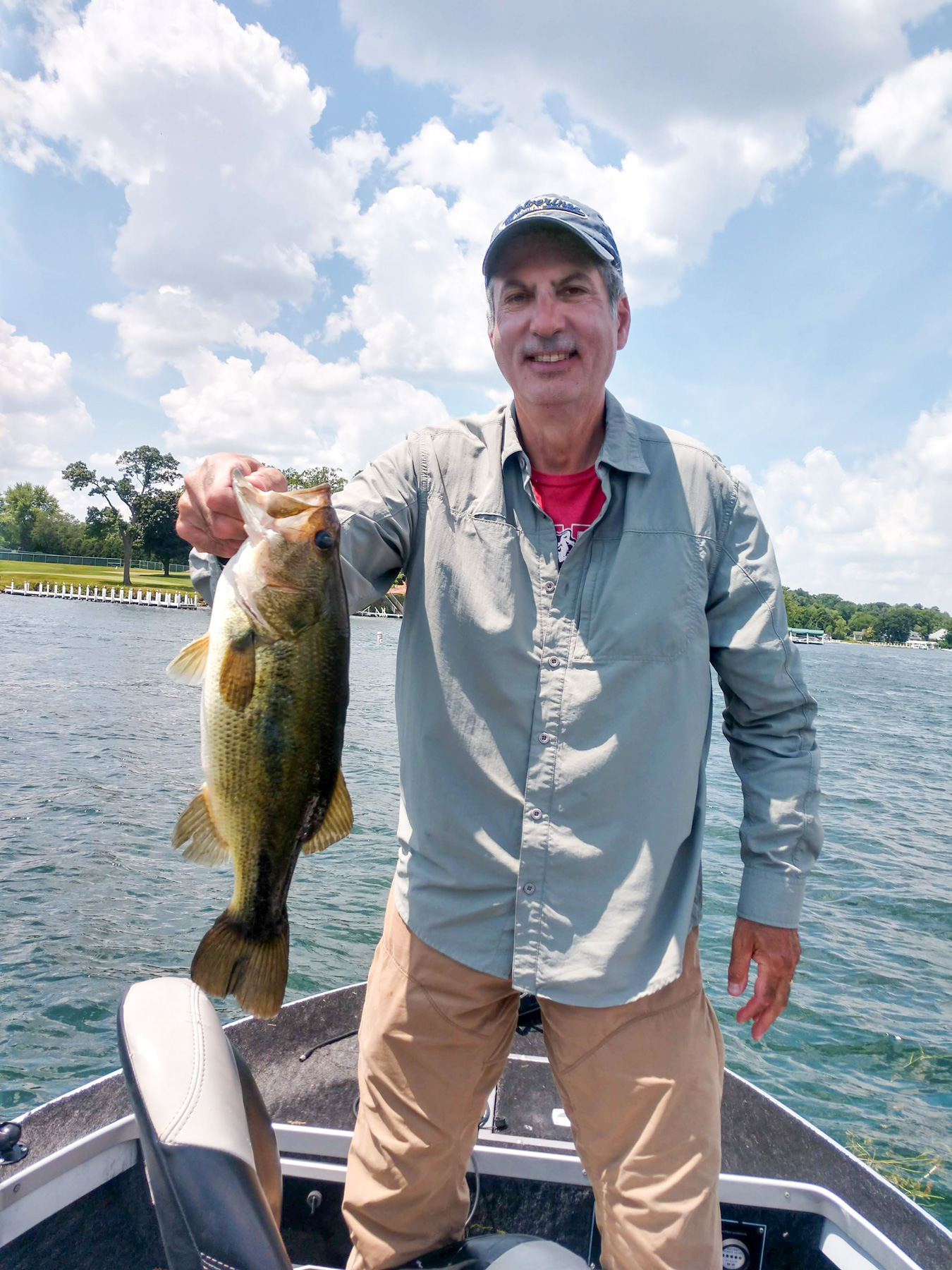 For most buzzbait situations, the single buzz is the way to go. You can cover a lot of water and find active fish. You can fish them around shoreline cover such as fallen timber, boat docks, boat lifts, seawalls, overhanging trees and all sorts of weed cover.
There are mini versions available in 1/8-ounce made by Strike King and Booyah which work really well in pre-spawn, spawn and post-spawn situations. These tiny morsels have a subtle sound that is perfect in early season. Despite their small size, they can really catch nice-sized bass.
Day-in and day-out, the standard size model is the way to go. The 1/4-, 3/8-, and 1/2-ounce models consistently put the most fish in the boat. You may need to play with size and color to fine-tune the bite as you go.
The sound a buzzbait makes can also be a factor. Some are relatively quiet; other models are quite noisy. Some blades have a "clacker," which is nothing more than a metal flap that rides on the shaft and makes contact with the blade as it rotates. This sound can be very appealing to a bass and triggers lots of fish. On other models, the blade contacts the lead head, which also produces aggressive strikes. The Cavitron by Lucky Strike is designed with holes in the blade. This gives the bait a different sound, which is very effective some days. The Cavitron can be retrieved very slowly and still stay on the surface; that can really put nice bass in the boat.
As buzzbaits get used a lot and the blade starts to wear, they start to produce a squeaking sound; the more the bait squeaks, the more fish it starts catching. With some tinkering, you can get your bait to start squeaking right away. The first thing you need to do is crimp the rivet on the end of the shaft so it can't rotate. Next, take a pliers and rough up the flat surface on the rivet. Next, as you are traveling from spot to spot in your boat, have your partner hold the buzzbait up in the wind, so the blade rotates at a high rate of speed. This will cause the blade to wear into the rivet and produce that deadly squeaking sound. Some guys even tie them to their side view mirror of their vehicle and have them spin as they are driving to the lake. When they arrive, their buzzbaits are good to go.
Bizz Baits lure company makes the Moab and the Beater, which are two different models that make two different noises. The Beater is one of the loudest models on the market.

Other companies like Jackall are experimenting with different blade shapes and designs, like the Gargle with a free-swinging blade arm and a uniquely shaped blade; and the Firecracker Model that has a prop on the main shaft ahead of the head, which makes contact with the blade. All these different models and designs have their time and place. Here in the Midwest on high-pressured lakes, a different sound and design can be the ticket to boating more bass.
Are you enjoying this post?
You can be among the first to get the latest info on where to go, what to use and how to use it!
Other designs, like a blade within a counter-rotating blade, or a tri-wing blade which will stay on top of the water at slower speeds, all have their time and place. Experiment with different brands and models for the best success—especially on highly pressured waters.
The third design is the double buzz buzzbait. Blue Fox, Northland and Strike King have all made versions. This bait excels under prime fishing conditions when the fish are active. They can be fished fast and make a ton of commotion and noise. Bend the arms slightly together—just enough so the blades contact each other. Then you can fish fast and cover water. Expect some exciting and explosive strikes. The double buzz buzzbait is especially attractive to large northern pike and muskies as well, which can be very exciting. This is an awesome bonus and can be heart attack time.
Most buzzbaits come with a rubber or silicone skirt. Some inline models come with bucktail. Other models, called BuzzToads, come with a plastic frog or toad trailer. These have been really effective in the past several years—especially on the major bass tournament trails. They have an additional action along with the blade to add to the effectiveness.
You can remove the skirt from any model buzzbait and add a frog or plastic trailer. Plastic swimbaits make good trailers. Berkley makes a trailer designed by MLF Bass Fishing Pro Skeet Reese called The Deal which makes a great buzzbait trailer. Experimentation will pay big dividends.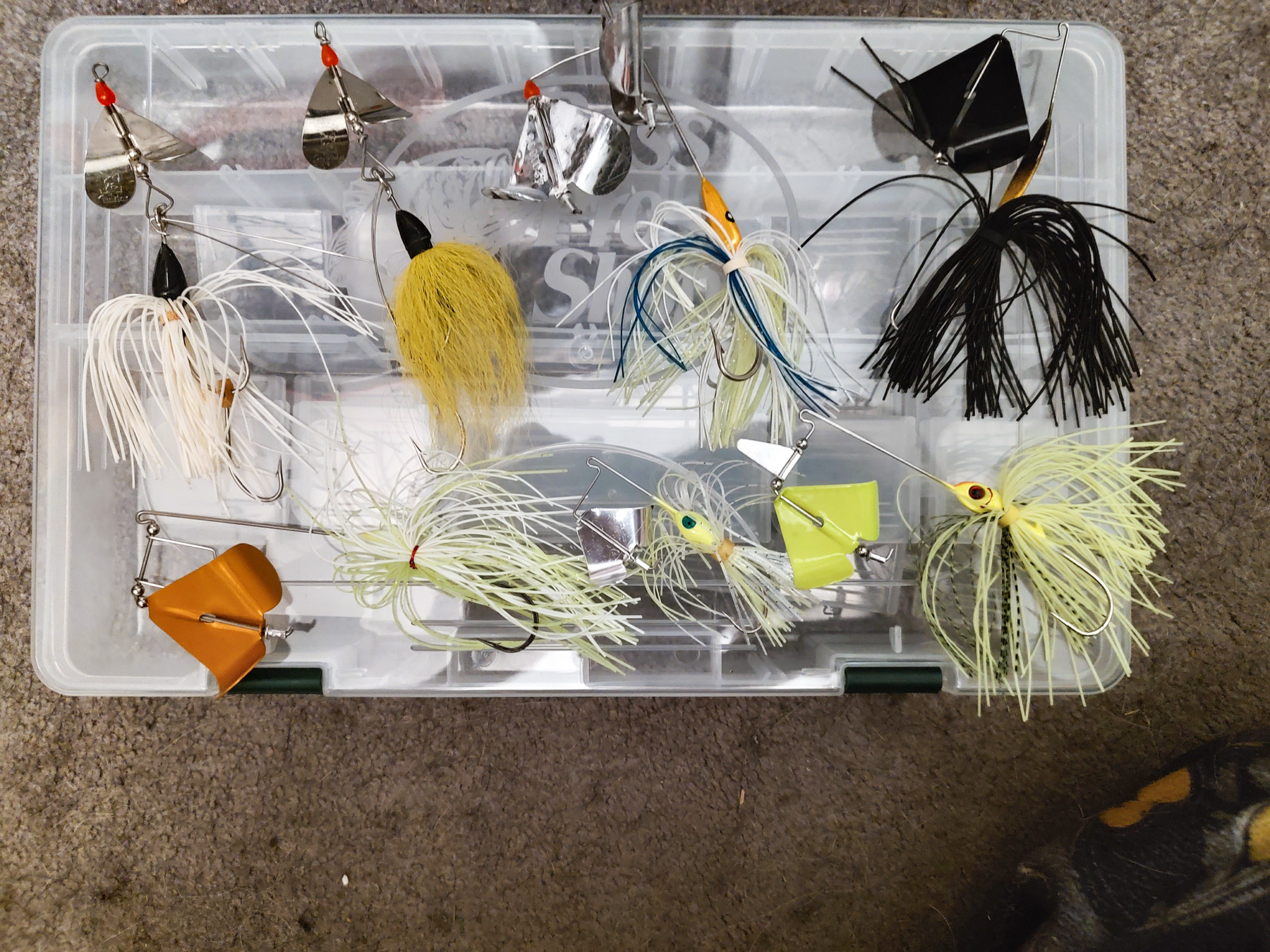 Buzzbait fishing can be deadly on cloudy and windy days, but they can also be effective in the middle of a bright, sunny day as well. Shallow weedy lakes, farm ponds and backwaters of major river systems like the Mississippi produce buzzbait fish all day long. Tournaments have been won by mid-day buzzbaiting.
Boat docks have always been a major attraction for largemouth bass. Skipping baits under docks has always been a deadly presentation. Senko-style baits and jigs were the traditional baits of choice, along with frogs. Just recently, MLF Bass Fishing Pro Andy Montgomery designed a buzzbait for Strike King Lures called the Skip'N Buzz. This bait comes rigged with a toad trailer and is designed to be skipped under boat docks or overhanging trees. Bass are not used to seeing presentation.
Buzzbait fishing is an extremely effective and exciting presentation to putting a lot of nice bass in your boat, along with some lunkers. Add buzzbaiting to your bass fishing arsenal and you will catch more bass.
You can be among the first to get the latest info on where to go, what to use and how to use it!
---

Phil Piscitello has 45 years of experience as a multispecies angler on ice and open water. He is a fishing guide, master charter captain and seminar speaker guiding in northern Illinois and southern Wisconsin. Picitello is also a regular guest on Chauncey's Great Outdoors radio show and MidWest Outdoors TV show. He has fished all five Great Lakes and many major rivers, lakes, and reservoirs throughout the Midwest.
All author posts
---