Accelerate the Motion and Fire Up the Commotion
A recent fishing trip to central Illinois reminded me that the classics never go out of style, and sometimes, there's no need to reinvent the wheel.
In May, my brother Mark and I fished Lake Evergreen north of Bloomington with our friend and local guide Paul Center, chiefly for saugeyes. I've never had much opportunity to fish for saugeyes, and this one had been on my bucket list for a long time. We made a few casts for muskies late in the day but had no takers. No problem. Putting a couple dozen saugeyes in our boat throughout the day, along with a mix of crappies and bass, made me a happy camper. Note that Paul marked an Evergreen lake map in last month's Illinois edition. Just sayin'…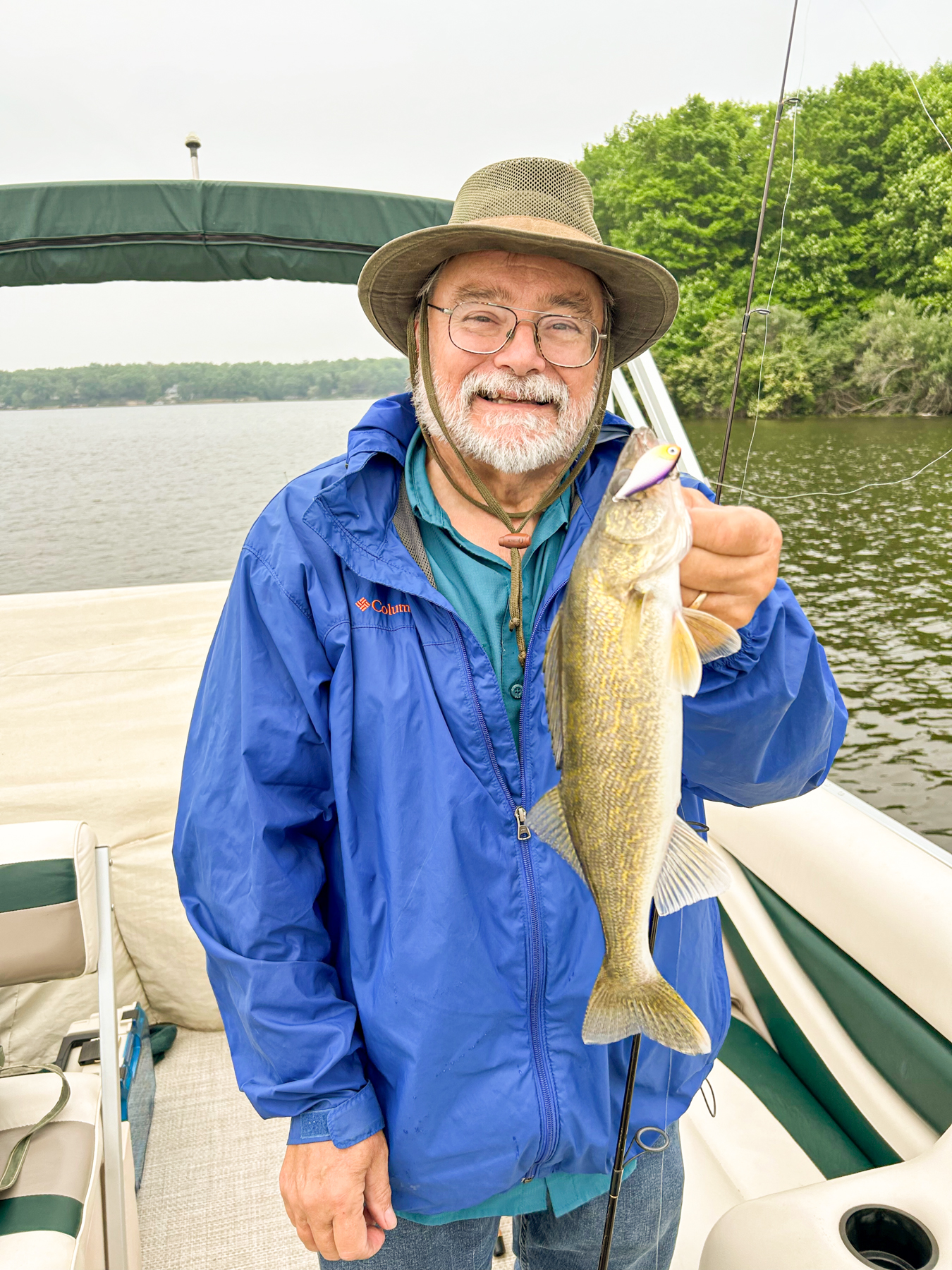 The next day, Mark and I fished Lake Bloomington, where he lives. It's the water supply lake for nearby Bloomingrton-Normal, and supports a good mixed fishery of largemouths, walleyes, bluegills and crappies, wipers, catfish and even the odd pike.
Lying in an agricultural region, both impoundments have a fair degree of water color which results in fish being caught fairly shallow. Definitely not your typical up-North, clear-water, natural lake environments.
We caught most of our saugeyes on Evergreen by vertically jigging small crappie jigs or tiny rattling crankbaits like #5 and #6 Rapala Rippin' Raps. Saugeyes are stocked here, and you work your way through a lot of smaller "stockers" in search of a few bigger ones.
On Bloomington, we usually flip fallen trees with jig/plastics or toss spinnerbaits in the thicker stuff for largemouths. Or parallel cast riprap or seawalls with crankbaits. And jig around brushpiles for crappies. All pretty typical stuff for darker-water reservoirs.
Are you enjoying this post?
You can be among the first to get the latest info on where to go, what to use and how to use it!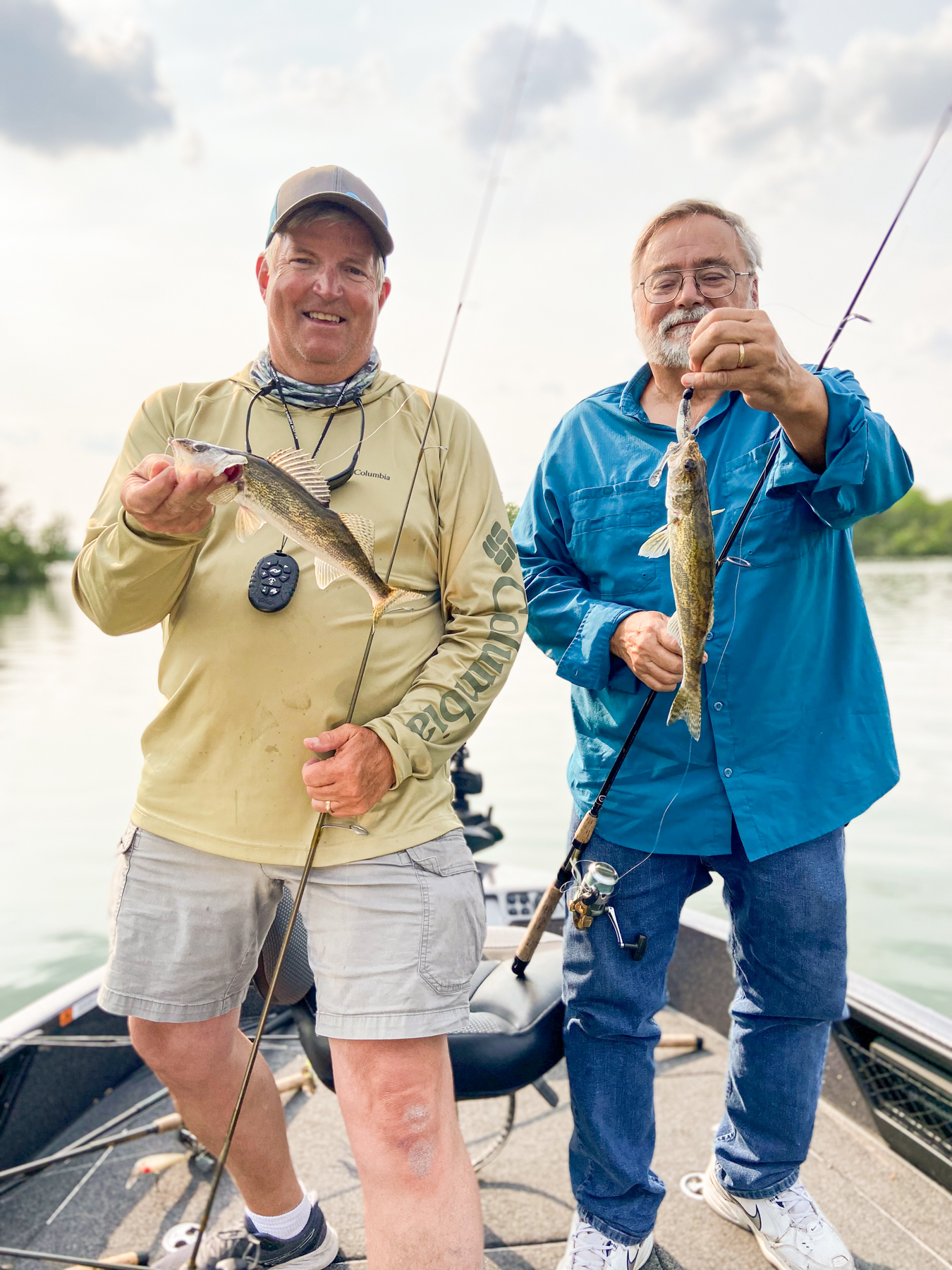 This time, however, we also opted to do something different and troll shoreline structure with crankbaits and small bladebaits. In the past, we'd reserved that style of fishing here for open-water trolling for white bass. This time, we were going to go old-school, Spoonplug-style trolling: The first passes at 2 to 4 feet, the next at 4 to 6, then 6 to 8, etc.
And we caught walleyes much shallower than you'd probably guess, which is not something most folks think about when fishing central Illinois waters. Not monsters, but what was available to catch. Walleyes tend to strike free-running baits a lot more than bass, which are often triggered by lures deflecting off bottom or cover. Interestingly, we caught fish on the same lures we'd been vertically jigging for saugeyes the day before. Except this time, we were trolling them somewhere around a couple miles an hour, maybe a bit more, and fishing much shallower. Not at blazing speed, but in mid-May, you don't need to churn and burn. In June-July-August, however, picking up the pace would be advised.
As we trolled along, my thoughts drifted back to Buck Perry, inventor of the Spoonplug and his associated trolling system for mapping lakes, locating fish and making them strike. Back in the '50s, Buck and his buddies trolled their way through the Chain of Lakes in northeastern Illinois, sending shockwaves through the pages of local outdoor columns with unheard-of photos of limits of big bass and pike. He preached his theories about structure fishing and fish migrations to anglers eager to learn a new way to fish. And the world of fishing was never the same.
Except, even 70 years later, it kind of is! We can still catch fish trolling structure with vibrating lures, at speeds that cover water, map structure and trigger fish to strike. Especially in the warmer water temperatures of summer. Even without fancy, mind-boggling electronics that lift the veil of what goes on beneath the surface. Something that anyone can do on a budget, with minimal tackle. While the fish we caught didn't rival Buck's legendary catches in numbers or size, they nevertheless made me smile, thinking that what goes around still comes around, and some things never go out of style.
This summer, if you have a chance to fish in darker-water lakes and impoundments, consider giving old-style, full-contact, bang-the-bottom trolling a try using crankbaits, bladebaits or even some of Buck's old original Spoonplugs a try—if you can find them. A quick Google reveals that they're still sold by bucksspoonplugs.com in North Carolina. While it's always nice to learn something new, it's just as nice to remember—or be reminded—that something old still produces, and fishing tradition lives on.
You can be among the first to get the latest info on where to go, what to use and how to use it!
---

Dave Csanda has enjoyed 40 years in the fishing communications industry at In-Fisherman, Angling Edge and now, as editor of MidWest Outdoors. He is an inductee of both the Minnesota and National Fresh Water Fishing Halls of Fame.
All author posts
---