A 'Two-fer' Fishing Opportunity
Imagine a place where you can put in a boat huge sturgeon that wear out your arms and shoulders, walleyes that make you sort through them to find ones that fit in the slot and big black slab crappies found through the ice in another area on the same day. There is no place like Lake of the Woods. I recently did all this and more.
Here's how you can do it too.
Lake of the Woods straddles the U.S. and Canadian border between Minnesota and Ontario. If you ever looked at a map of the state of Minnesota, you have seen that it has this weird bump on top of it. That bump (called "the chimney") on the state's most northern part is the result of a mistake made hundreds of years ago, when it was thought that the Mississippi River might originate in that area. It's called the "Northwest Angle" and it has a rich history of voyageurs trapping beaver and trading furs. There's a restored fort, St. Charles, on one island and on another island, Massacre Island (Canadian side), there is a monument to the 21 men who were killed by Sioux natives in 1736.
There are 14,582 sprawling islands with Canadian Shield lakes, with its boulder-lined shorelines holding millions upon millions of big black crappies. For reasons not fully understood, a small population of the crappies found in one area of the lake just 20 years ago has exploded into an amazing crappie fishery.
The crappies were once sought after in the spring and fall when they could be counted on to be concentrated in predictable areas. But now, a late-winter fishery has been discovered that has the resorts of the area rethinking their spring closing dates.
Walleyes rule the Northwoods, so most of the resorts would close down when the walleye bite slowed and the ice showed signs of spring breakup. But just as spring is starting to peek around the corner, the big crappies go on a feeding binge. While the resorts are putting away the bombardiers that tote walleye anglers around during the winter season, crappie hunters on snowmobiles and ATVs have the lake to themselves for about two to three weeks while the ice is still safe and the crappies are eagerly gulping in their lures.
The last two weeks of March and the first week in April make up the window of opportunity for crappie anglers to experience this fantastic bite. Not only is the fishing great at that time, but the weather also has moderated from the below-zero temperatures of deep winter. Daytime highs are commonly in the 40s and 50s, but the final ice-out day is still a month away. Average ice-out for this part of Lake of the Woods is about May 1.
I fished with veteran guide Dan Schmidt, whose excitement for this fine crappie fishing shows as a glimmer in his eye even after four months of hard labor drilling holes for walleye anglers. Dan guides out of Sunset Lodge on Oak Island, a fine resort with an up-north rustic feel, but with meals and lodging fit for a king.
The snowmobile rides to the fishing location is part of the adventure, and if you have not fished through the ice before, the sight of seeing an auger dig its way through 3 feet of ice and then pulling a slab crappie up through that hole is something everyone should experience at least once.
Are you enjoying this post?
You can be among the first to get the latest info on where to go, what to use and how to use it!
There are several resorts on the islands on the U.S. side that cater to ice fishermen, and some of them are starting to take notice of the increasing numbers of anglers wanting to experience this unique crappie fishing adventure. You will be staying at a lodge in Minnesota, but you will drive across the "imaginary line" to do your fishing in Ontario, Canada, so you will need an Ontario fishing license that can be purchased online. Crossing into Canada each day is simple; your guide will call Canadian customs and check in each person in the party. That's all there is to it.
In addition to the crappies, you will most likely pull in a delicious walleye or two, some perch and possibly a northern pike. Sunset Lodge will feed you well and your guide will fillet and package your fish for the trip home. Or, you can have their fine cook fix them on the spot.
This is a trip that every serious crappie angler should experience at least once. Put it on your bucket list and go do it.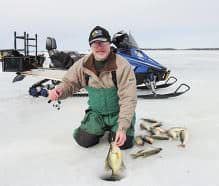 But wait. When I had my fill of crappie and walleye fishing through the ice, I made the drive down to the south side of the Lake and stayed at Borderview Lodge before my big day of fishing the Rainy River.
The following morning I met my guide Darrell Hoag, who specializes in the big sturgeon that are found on the river. While the lake is still frozen over, Darrell uses his big jon boat to follow the open water downstream while fishing the deep holes for these giant, dinosaur-like fish.
Fishing for sturgeon is all about being in the right place, and Darrell is a master at anchoring the boat in just the right spot. A big circle hook is baited with a couple nightcrawlers and some shiners. A sliding weight is 18 inches above the bait and the whole works is simply casted out, so it sits on the bottom where the sturgeon can find it with their amazing senses.
And find it they do. The average size will run 45 to 50 inches long and 60-inchers are not uncommon. They fight hard, even in this cold water, so be prepared for a workout. Some days will find you wrestling with a dozen or more.
You will often catch walleyes while sturgeon fishing, or if your shoulders get tired from hauling in the giants, you can tie on a jig and readily fill out a limit of nice eaters.
There is a window of opportunity from about the last week in March to the first week in April for this fishing, so it overlaps with the last ice crappie fishing at the Northwest Angle. I was able to experience both the ice fishing and the river fishing on consecutive days, which makes for a memorable trip. This ice-fishing and river-fishing "two-fer" is an adventure that everyone should have on his or her bucket list.
You can be among the first to get the latest info on where to go, what to use and how to use it!
---
Bernie Barringer has hunted big game with a bow in more than a dozen states and in multiple Canadian provinces. Passion drives him to learn more and hunt new places, and this column is your ticket to his travels. The author of 13 books and thousands of articles, you can find even more from him at bowhuntingroad.com and BowhuntingRoad on YouTube.
All author posts
---