Getting Spring Fever on the St. Joseph River
Old Man Winter is lightening his grip at the end of February and the slow warming trend is beginning. This is the time when steelhead and brown trout fishing starts to really turn on in the St. Joseph River. Good fishing will continue through March into the middle of April.
Warming water temperatures and stronger water flows from the snowmelt will bring fresh run fish in from Lake Michigan. These conditions will also make existing trout in the river more aggressive and more apt to feed, creating excellent fishing.
Start fishing the deeper runs the end of February and early March concentrating on areas with slower current. The two best methods we use as guides are slipping, also called back trolling. This is where you face your boat into the current and put out plugs such as flatfish, Hot 'N Tots, wiggle warts, and various other diving plugs. Color patterns in some form of metallic gold work best for me, but silver will work as well. You will then work your boat slowly downstream—remember, slower is usually better. I usually keep the anchor just off bottom so if you hit a fish you can drop it quickly. Work the plugs close to structure such as logjams, gravel bars, and wherever there's a current break. When a steelhead or brown trout hits a plug there will be no doubting the hit; they will usually slam the rod and the fun begins.
The other method is fishing spawn or roe, usually steelhead at this time of year but salmon spawn will also work. Anchor above the run you want to fish and slowly work the bait through the runs. Usually I will back-drift a couple of spawn rigs and leave a couple more out in a still position.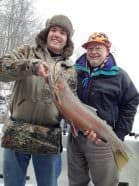 The spawn rig is basically a three-way with double swivels for your dropper to the sinker and a 2- to 3-foot leader to your bait.
Unlike the bight on plugs, the spawn bite will normally be less aggressive. The trout will usually pick at the bait first before they decide to take it. Be sure to let them take off with the bait before you set the hook or you just end up with an empty hook.
Adjust your sinker to the amount of current. Your spawn rig must be on the bottom for it to be effective.
By mid-March, the water temperatures will be warming up and the trout will begin moving into faster and shallower water areas, and many times well away from the shoreline. Many steelheads will move to spawning areas that are shallow, rocky areas with a lot of current. The same two methods will still be used. Unlike salmon, steelhead don't have a set lifecycle and don't always die after spawning, but actually will stay in the river for a while and then make their way back to the lake.
We had an excellent fall last year with an abundance of steelhead in the river. Now we are looking forward to a great spring. For those of you who haven't experienced the thrill of catching a steelhead on the St. Joseph River, it's definitely something you should put on your list.
There are many guides on the river, such as me, who offer their fishing expertise and knowledge. The boats we use are fully enclosed and heated for comfort during those colder days, with all bait and tackle included, as well as fish cleaning.
Now is also the time to get your Lake Michigan charter reserved as prime dates go quickly. On Lake Michigan I run a 36-foot Tiara with all the latest electronics, such as radar, a fishing graph showing temperature, speed and depth, as well as GPS. The boat is also equipped with a generator, with heat in the spring and air conditioning on those hot summer days we're looking forward to. All fishing tackle, bait, as well as fish cleaning, is included on all charters. Fishing is excellent in the spring on Lake Michigan with limit catches quite often. I hope to see you on the St. Joseph River or Lake Michigan this spring.
For more information …
Capt. Russ Clark guide service is Sea Hawk Charters He has been guiding on the St. Joseph River and Lake Michigan for over 20 years. You may contact him at 269-429-6110 or his website: fishseahawk.com.
You can be among the first to get the latest info on where to go, what to use and how to use it!
---
Capt. Russ Clark's personal guide service is Sea Hawk Charters. He has been guiding on the St. Joseph River and Lake Michigan for over 20 years. You may contact him at 269-429-6110 or visit his website at fishseahawk.com.
All author posts
---