Price County, Wisconsin, an Outdoor Paradise
Located in north-central Wisconsin midway between Hayward and Minocqua, Price County is home to a variety of natural resources. With hundreds of miles of motorized and non-motorized 4-season trails, 150,000 acres of Chequamegon–Nicolet National Forest, 30,000 acres of State Forest land, 92,000 acres of County Forest land, MFL land, and 18,000 acres of water, including 174 lakes, several trout streams, three major rivers and six county parks – it is not difficult to understand why your next vacation destination should be in Price County.
Price County is the fifth largest land area among the state's 72 counties. The 31-mile by 42-mile area contains 806,840 acres or 1,268 square miles. Approximately 18,000 acres are covered by water. The vast areas are public, with the Chequamegon-Nicolet National Forest accounting for 151,626 acres, with state-owned property at 28,500 acres. In addition, managed forest and the forest croplands owned by private entities account for 128,733 acres.
Area business owners are dedicated to taking care of your lodging, dining, shopping and service needs. Your opportunity to have a fun and affordable vacation in Wisconsin's Northwoods awaits.
A recreation haven
Price County has now taken its place as one of Northern Wisconsin's most popular recreation counties. Woods and water combine to make it attractive. A fine system of roads, and abundance of public lands, a variety of recreational facilities – such as public boat launching sites, snowmobile trails and cross-country ski trails, bring visitors and summer residents in increasing numbers.
Price County, during its 126 years, has experienced its great years and made the most of its lean years. It has contributed its share to state and national efforts. Today with its diversified economy and its energetic citizens, it ranks as one of the leaders in Northern Wisconsin.
'Ruffed Grouse Capital of the World'
Wisconsin has one of the largest ruffed grouse populations, and Price County is right in the center of the Northwoods, with over 300,000 acres of huntable land. Park Falls claims to have the most habitat for ruffed grouse anywhere, making it the "Ruffed Grouse Capital of the World."
The grouse are found throughout the forest with populations in young and old aspen trees. Aspen is common in the Chequamegon-Nicolet National Forest. Clumps of evergreen trees interspersed among the aspens provide ideal hiding places for the grouse. Miles of mapped hunter walking trails have been developed. The trails are seeded, mowed and gated to exclude motorized vehicles. With acres of managed habitat developed in conjunction with the Ruffed Grouse Society, there's no better place to hunt them than in Price County. You'll also find white-tailed deer, black bear, wild turkey, small game and bird species.
Fishing, canoeing and kayaking
Price County may offer the best multi-species freshwater fishing in the country. Walleyes, muskies, northern pike, largemouths and smallmouths roam the waters with trout and panfish. In September, you'll even have the unique opportunity to fish for sturgeon.
With 98 lakes that comprise 18,000 acres of water, there are plenty of opportunities to explore the waterways. Also, the canoeing and kayaking opportunities here are endless. For paddlers looking to wet a line, you'll find that the rivers have low fishing pressure.
The North Fork and South Fork of the Flambeau River provide the perfect setting for those who want a leisurely, flat-water paddle. Or, one can step up their adventure and whitewater with a canoe and kayak. Canoe campsites are also provided at strategic locations only available to the river travelers.
The Jump River offers quiet water, seclusion and a chance to explore less traveled waters. Price County's lakes and flowages offer paddlers an opportunity to explore both developed and undeveloped landscapes.
Ice fishing
Winter fishing makes up nearly a quarter the annual catch in Wisconsin. People enjoy it for the solitude and the challenge. Fishing action can be fast and furious. Through the ice, crappies, bluegills, perch, walleyes and northern pike are the most sought-after species. This winter, be aware of cloudy ice or any ice formed by freezing of slush. New ice is stronger than old ice, and river ice thickness varies according to strength of current beneath.
Other winter activities
With 500 miles of meticulously groomed trails and fewer riders, this location offers unique ways to enjoy a snowmobile adventure in the Northwoods. For the skier, there are nine groomed cross-country ski trails, offering almost 80 miles of trails. Several trail systems here cater to those who wish to explore the region upon snowshoes.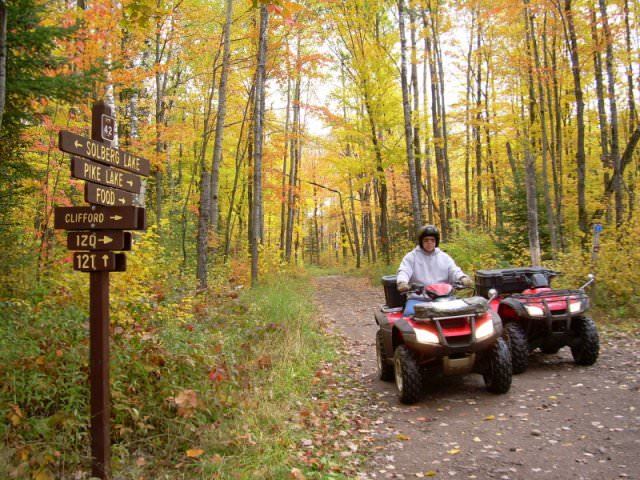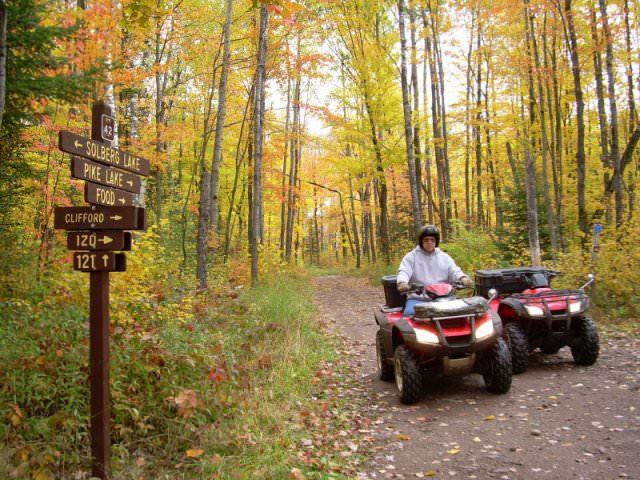 Other recreation
This area is an outdoor recreation paradise, and you can explore trails for hiking, bicycling, cross-country skiing, snowshoeing, using an ATV, UTV or snowmobile. You can ride 200 miles of scenic off-road vehicle trails or motorcycle trails in the county. The roadways consist of lightly traveled state, county and forest roads, which provide picture-perfect scenes.
For those looking for a more relaxing venture, there is the solitude of the miles of hiking trails, some of which are old logging roads. There are also country roads and wilderness areas that provide opportunities for seeing many wildlife species native to the area.
With so much to offer, your next vacation destination should be in Price County.
You can be among the first to get the latest info on where to go, what to use and how to use it!
---
We believe being outdoors is good. With more than 1,000 articles each year, MidWest Outdoors magazine is all about sharing outdoor experiences with you—where to go, what to use and how to use it… whether you're close to home or on that trip of a lifetime.
All author posts
---