Muskie Paradise Found on Thaddeus Lake
Have you ever wanted to catch a muskie and didn't know where to go or how to catch one? Well, I've just found a lake that is relatively small (approximately 5,000 acres) and is loaded with fish that can stretch to 50-plus inches. I recently came home from Thaddeus Lake, which is located near Dryden, Ont. in Canada. It was absolutely fantastic.
There are few places that I know where you have a very good chance of catching a monster muskie, limits of walleyes, drag-burning pike, and tons of fighting smallmouth bass, all within seeing distance of the lodge—no fighting big waves or making big runs to where the action is happening. And, it's very convenient when you want to go back to the camp to take a break, have lunch or take a quick nap without burning a ton of gas or time.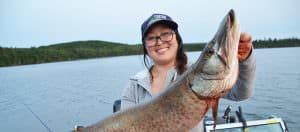 Perry and Eric Parks from Bellevue, Neb., own Thaddeus Lake Lodge, located on the shores of Thaddeus Lake. They are also owners of SkinzIt, the electric fish skinner that is creating a stir amongst all who have ever cleaned/skinned an eating size walleye, perch, or crappie.
Thaddeus is located smack-dab in the middle of the finest bear territory in Ontario. In 2015, there was a 100 percent success rate for the multitudes of bear hunters in camp. My daughter Kristi and her new husband, Nate were both successful in their efforts to bag their first bears. In addition, there is superb grouse hunting available close by as well.
Although the walleye fishing is second to none, I was truly impressed with the ferocity and the number of muskies we saw and caught during my stay. We only targeted muskies for three days, and the six anglers who actively fished them saw over 40 fish and boated eight muskies, with four other fish that bit but threw the lures when they leapt out of the water. Along with their bears, both Nate and Kristi caught their first muskies ever, with Nate boasting the biggest of the week at a whopping 49 inches.
The muskies were actively patrolling the outside edges of the weeds at approximately 13 to 15 feet. The most productive lures were Venom spinners, jerkbaits, and glide baits. We would stay off the edge of the weedlines and cast at and over the weeds. Several of the boated fish struck at boatside during figure eights. It is important to wear polarized sunglasses to spot a following fish and immediately go into a figure eight to get the fish to bite.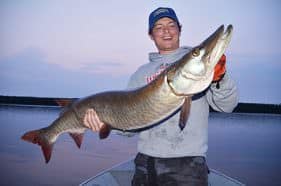 The figure-eight technique is one where, at the end of your cast, you push the rod tip down towards the water and work your lure to the left or right and swing it around in a figure-eight pattern. This change in direction and speed is often the trick to get relatively inactive fish to actually strike. Make an attempt to figure eight at the end of every cast, as you never know how far back the muskie is lurking from your lure.
We were visiting in August, but September and October are excellent months to get up to Thaddeus Lake in order to get into the muskie action. The walleye fishing is good almost anytime of the year, with limits of fish up to 30 inches long.
We spent one day walleye fishing, and although we didn't get into any monster fish, we caught limits of great tasting eyes with the biggest at 26 inches long. Most of these fish came from the sandy/rocky points that are located in various areas of the lake. I'm sure if we took the time, we could have found them in and around the weeds as well. The technique that produced the most walleyes was live bait rigs tipped with live minnows and chubs.
So, take my word for it, this is a sleeper lake that is a gem of a lake if you are looking for a big toothy, scaly or fur-bearing critter. There's something for almost everyone.
You can be among the first to get the latest info on where to go, what to use and how to use it!
---
Ted Takasaki is an International Fishing Hall of Fame professional angler who has been featured in many national outdoor magazines and television shows. Takasaki has appeared in front of thousands of angling enthusiasts and is considered one of America's top walleye and multispecies anglers. Follow him on his Facebook page.
All author posts
---