Michigan is a Winter Wonderland, Especially for Ice Fishing
Michigan offers some wonderful outdoor opportunities throughout the year, including world-class fishing. While some anglers head for the indoors when the temperatures dip, others look forward to winter's most popular angling activity—ice fishing.
Many anglers and families look forward to the opportunities ice fishing provides them during these colder months, with some proclaiming this the best time to go fishing. For many people, ice fishing is quite a social event, and it's common for ice anglers to share information about how they're doing and what is working for them. Others prefer the solitude that this wintery sport can offer. Either way, there are numerous benefits to going ice fishing—including the fact that ice anglers can get to just about anywhere on a lake, whereas a boat is needed during open-water months.
The ice fishing season offers many species of fish to go after. Maybe you'd like to look for panfish while hook-and-line fishing, such as bluegills, yellow perch or crappies. Larger baits with heavier-action rods or tip-ups will help you target larger gamefish like northern pike, walleyes and trout. Or consider going spearing for some monster pike or muskellunge. Please note there are regulations to follow when spearing (for instance, muskellunge harvest is limited to one per angler per season and a harvest tag is required). Read the 2015 Michigan Fishing Guide (available online at michigan.gov/fishingguide) for more information.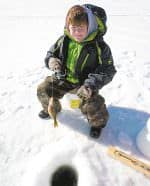 No matter what type of ice fishing method you choose, remember this simple tip: especially on lakes with clear water, fishing action is typically best around dawn until mid-morning, and from late afternoon until sundown.
Good places to fish
Now what about locations? Well that depends on the area of the state you're most interested in fishing. Check out below for suggestions.
Southeast Lower Peninsula
Saginaw Bay: Anglers should fish early and late ice near shore for yellow perch and deeper areas for walleye at this popular destination. The best walleye fishing is miles offshore, so a snowmobile or ATV, along with a compass or GPS, is necessary. Anglers should be mindful of expansion cracks that form in mid-winter and do not cross those that are active.
Lake St. Clair: This lake provides ample access with opportunities to catch many different species, including yellow perch, walleye, northern pike, bluegill and pumpkinseed. Nearshore vegetation, canals and marinas are good areas to each early ice yellow perch and other panfish. As ice conditions improve through the lake, anglers can find success targeting yellow perch throughout Anchor Bay, as well as further south out from Lake St. Clair Metropark and the Clinton River cut-off. This lake is fairly shallow with an average depth of about 10 feet, which lends to many high quality areas from which to target northern pike, especially by spearing. With five DNR access sites, many municipal and private owner access sites, there is ample access to this wonderful winter fishery.
Southwest Lower Peninsula
Coldwater-Marble Chain of Lakes (Branch County): This is one of the most popular ice fishing destinations in southwest Michigan. The chain consists of several interconnected lakes with a combined area of around 2,700 acres. DNR boat launches on Marble Lake (north end of chain) and Coldwater Lake (south end of chain) provide public access. Both lakes have broad, shallow flats and steep drop-offs leading to deep basins (up to approximately 60 feet on Marble Lake and 90 feet on Coldwater Lake). Northern pike are abundant in this system and fish larger than 30-inches are common. These lakes produce a variety of other game species, including bluegills, pumpkinseed, yellow perch, black crappies and redear sunfish.
Northeast Lower Peninsula
Fletcher Floodwaters (Alpena/ Montmorency counties): This 8,000 plus acre shallow impoundment often freezes fairly early in the winter and is an extremely popular winter fishing location. Anglers can target northern pike, yellow perch, bluegill, pumpkinseed and black crappie. No spearing for northern pike is allowed on this lake, but anglers often use tip-ups or jig for them. Panfish anglers do well at first and often last ice.
Northwest Lower Peninsula
Higgins Lake (Roscommon County): This is a 9,900 acres ice fishing bonanza! Higgins Lake offers excellent fishing opportunities for yellow perch, northern pike, lake trout, herring, whitefish, rainbow trout and smelt. Winter access is available at many locations; including road endings and two state parks. In a typical winter you can expect Higgins Lake to be ice covered by mid- to late December and travelable by machines in January.
Eastern Upper Peninsula
Munising Bay (Alger County): When ice is established in Munising Bay, the fishery is comprised of splake, coho salmon, lake whitefish and ciscos. Also available are smelt, yellow perch, lake trout and burbot. Popular spots to hit in Munising By are Sand Point, Murray Bay, just off the mouth of the Anna River, City Dock and the West Channel. When ice conditions are favorable, Trout Bay off Grand Island provides an opportunity for deep water access for coho salmon and lake trout.
Southern Upper Peninsula
Big Manistique Lake (Luce/Mackinac counties): This 10,000 acre lake has a maximum depth of about 20 feet. In the shallow areas of the lake the substrate at the bottom consists of sand, gravel and rock – while in deeper areas it consists of sand and organic matter. Aquatic vegetation is rare and can be found in the lake's shallow sections and in scattered submerged beds. The primary winter sport fisheries revolve around walleye, yellow perch and northern pike. Principle prey species consist of white sucker, bluntnose minnow, spottail shiner, yellow perch and ciscos.
Western Upper Peninsula
Lake Gogebic (Gogebic County): This 13,000 acre inland lake offers anglers good opportunities for walleye, northern pike, black crappie and yellow perch. Safe ice develops early on this lake. Numerous bait shops around the lake provide minnows and tackle that are appropriate for the type of fish anglers are targeting. Lodging is available through area resorts and motels.
Before you go
The Michigan Department of Natural Resources recommends ice anglers follow these six simple rules: (1) Never fish alone. (2) Tell someone where you're going and when you expect to return. (3) Always test the ice with a spud (a long shank with a chisel-like end). (4) Take the appropriate emergency items, such as ice picks and a life jacket. (5) Take a cell phone (enclosed in a plastic bag) with you in case you need to call for help. (6) Lakes tend to be a safer choice during the early winter; streams or rivers, even when iced over, have current, which makes them less safe at times.
Don't miss your chance to experience Michigan's outstanding winter fishing opportunities and to get your family outdoors. Start planning your next fishing trip at michigan.gov/fishing.
You can be among the first to get the latest info on where to go, what to use and how to use it!
---
We believe being outdoors is good. With more than 1,000 articles each year, MidWest Outdoors magazine is all about sharing outdoor experiences with you—where to go, what to use and how to use it… whether you're close to home or on that trip of a lifetime.
All author posts
---