The Joys of Fishing Lake of the Ozarks
In Missouri, when people say they're going to the lake, they're usually referring to Lake of the Ozarks (LOZ). This famed body of water is unquestionably one of the true gems of the Show Me State, and a great example of its fine, multi-species fishing. LOZ is one of Missouri's biggest family vacation destinations, and it's also a summertime party hot spot, but we'll explore its hot year 'round fishing opportunities.
Black bass
The lake's bass fishing rates good for both numbers and big fish. Largemouth bass make up the majority of the catch for our team guides in most areas, but spotted bass are also abundant. When fish are active, it's hard to beat a big spinner bait, but cranks and top-waters also take bass when fished quickly to trigger reaction strikes. When the action slows down, bass in a neutral or negative feeding mode will respond better to jigs, as well as Texas- and Carolina-rigged soft plastics with bulky craw tubes and freak baits are some of the best. Look to cover for the lake's big bass. Docks, laydowns, stumps, and rocks will hold these fish. The best spots have a shallow water shelf, flat, or gradually tapering shoreline, with sharper drop off to deep water nearby.
Panfish
Crappies and bluegills are another big draw for anglers. The lake produces numbers of good-sized crappies, and big bluegills will hold the interest of young children and experienced anglers alike. One of the most preferred methods for taking these feisty panfish is to rig a small panfish tube on a 1/32- to 1/8-ounce tube jig. This bait is usually suspended under a small float. The rig is slowly dragged over and along rocky banks, flats and points with wood cover.
Temperate bass
Linesides are another big draw to LOZ. The lake has populations of stripers and white bass to provide feverish action. It's not uncommon to catch several hundred of these beautiful, hard fighting bruisers in a day. Many times, when we get on top of some big schools of these pelagic fish, we'll catch a fish on every single cast, sometimes dozens of times in a row! One cast may produce a scrappy white bass while the next cast can yield a big striper. What's more is that largemouth bass, spots, walleyes and other species will mix in with the temperate bass species and feed with them! At times, it's almost like saltwater fishing, as you never really know what you'll catch next. Lake of the Ozarks holds the Missouri state hybrid striper record that weighed in at over 20 pounds! Pound for pound, they're some of the hardest fighting fish in freshwater.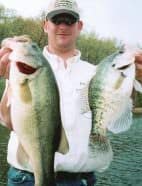 Stripers and whites can be taken on a variety of presentations throughout the year. These fish roam around the lake a lot and they feed almost exclusively on baitfish, so lure choices should revolve around baitfish imitations. Spinners, spoons, jigs and blade baits take lots of fish all year 'round. Crankbaits, minnow baits and surface lures have times when they excel for these fish.
Other species
Catfishing is one of the lake's oldest pastimes. LOZ is truly a world-class cat fishery, offering blue cats, flatheads, and channels of enormous proportions and lots of them. Snagging for spoonbill during the season is another big draw for big fish. The lake has coughed up the state record muskie, over 41 pounds, the state record drum, over 40 pounds, and some pig walleyes over 30 inches.
Get out there
It's easy to see that Lake of the Ozarks is a fantastic fishery in more ways one. If  interested, book a guided fishing trip to Lake of the Ozarks with a member of the Colby Simms Outdoors Team. Of course, the only real mistake that any of us can make, is not taking the time, the time to disconnect, from this overly connected and fast paced society of today, and get out into God's great outdoors to allow the magnificence of the natural world to restore us.
Colby Simms is a professional fisherman, media personality, guide and owner of Colby Simms Outdoors Group. He runs a guide service, sells tackle and books on guided fishing and hunting trips. Contact: colbysimmsoutdoors@hotmail.com, at 618-521-0526, 573-358-5948, or "Like" and message Simms at Facebook at /ColbySimmsSportFishingPro and at /ColbySimmsOutdoors for fishing and outdoor sports news and information.
You can be among the first to get the latest info on where to go, what to use and how to use it!
---

Colby Simms is a professional fisherman, media personality, guide and owner of Colby Simms Outdoors Group. He runs a guide service booking guided fishing and hunting trips, and sells tackle. Contact him at colbysimmsoutdoors@hotmail.com, Facebook @ColbySimmsOutdoors and @ColbySimmsSportFishingPro, or 618-521-0526 or 573-358-5948.
All author posts
---