Disconnect in Saskatchewan
Not that long ago, traveling to Canada meant isolated wilderness—leaving home and living in remoteness for a week, long weekend or for however long your fishing vacation happened to be. While I don't consider myself that old—my kids probably do—I can remember a time before cellphones, traveling with my CB radio and talking to truckers to find out traffic patterns, border backups, location of police speed traps, etc., then upon reaching the border having to turn off the radio because of licensing policies. From then on there was no contact with family, friends or work for the remainder of the trip, outside of a one-time call to family to let them know things were good.
Now, current times have us connected via the internet and smartphones to anything and anyone at any given moment. Most Canadian lodges and resorts have wireless connectivity of some kind. They have to; it's the way of the times. However, on a recent trip to Saskatchewan I chose to grab a taste of yesteryear and disconnect from "connectivity" for the week.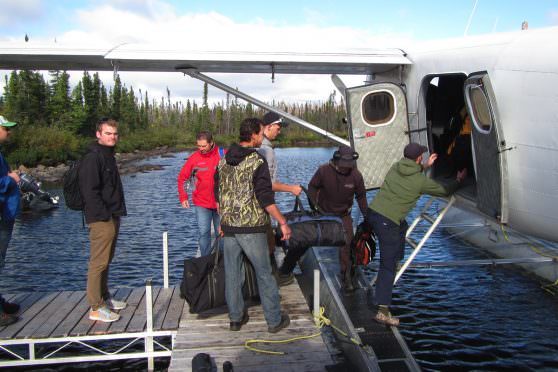 We arrived at Points North Landing Airport in northern Saskatchewan from Saskatoon. The Points North terminal is basically a two-wide trailer home with an open waiting room consisting of folding chairs and tables, a payphone, a television, Wi-Fi and restrooms. The runway is a gravel-sand mix that requires a special pilot's license to land on. The town of Points North is made up of miners and local transient workers living in trailers and "bunk" houses, and a cafeteria. It's one of the farthest towns accessible by road in the province. And when they say "road," it's more rustic than you think—no pavement, with only gravel and dirt. This is washboard-type traveling through the Canadian wilderness with the nearest town 500 kilometers away. You definitely feel "north" when in Points North.
However, this was not our final destination. From Points North, a floatplane ride over an hour more would lead us to northern Saskatchewan's Milton Lake Lodge. Milton Lake Lodge is a beautiful five-star lodge that sits on what seems to be "the top of the world" in the upper areas of this province. You would not expect to see someplace this comfortable so far north. The lodge is the only one on the 2,000-acre lake, and it sits among prime fishable waters. Milton Lake, like many northern Saskatchewan lakes, is home to giant lake trout and pike, two species the area is well known for. The lodge sits in a pristine setting towering above the small northern pines in the middle of nowhere, and yet is a place that is definitely "somewhere," and where many would like to be.
Northern Saskatchewan bills itself as one of the "last great frontiers." Saskatchewan has nearly 100,000 lakes, and not all are fishable, but many have great reputations for the trophy fish they hold. You can explore areas and waters that few have even seen or touched. With its boreal forests and Precambrian Shield rock and land formations, there is no choice but to stand and be in awe of this rugged and wild country.
Being this far up, the summer fishing season is a short one running from mid-June (sometimes right after ice-out) through August. The lodge only has room for about 16 people per week. If the lodge is completely full over the season, less than 160 people will get to fish the lake. That means you can fish truly virgin waters and experience one of the last untouched areas. And the best part was that we were able to do it in comfort with private rooms, hot/cold running water, a beautiful lodge, five-star meals and available Wi-Fi.
Everything at Milton requires keen logistics, from planning from food and getting supplies to transporting vacationers to getting gas or any number of things that happen to come up over the course of their vacation season. It is unfathomable for me to think of what Maxine, Milton's owner, has to do on a regular basis just to keep her customers content. Now add comfort, and it means a whole lot more.
The normal day at Milton is a hearty breakfast served at the lodge, a full morning of fishing, then a break for shore lunch featuring your fresh catch from the morning, and more fishing throughout the afternoon. Arriving back at the lodge, it's a refreshing shower, appetizers in the lodge, a nap if you choose, exchanging stories of the day with other guests over refreshments and a gourmet supper with complimentary wine. After supper, we were free to sit around the lodge next to the fire, enjoy a Jacuzzi or visit with the other guests.
Over the course of our week, we caught and released hundreds of fish with the biggest being a 45-inch monster pike. We ate outstanding meals and enjoyed all the amenities that make Milton Lake Lodge special. However, the most important thing I came to realize on the last day of the trip was how the absence of radio, television, internet, emails and the feeling of being unconnected, was absolutely outstanding. My cellphone rested on my bedside table for five straight days. The biggest questions of the day were: Do we fish for giant pike or lakers? Do I want to throw my Silver or Gold Little Cleo? Should I fish with my Abu Veritas Rod or use the Vendetta? Should our fresh shore lunch fish be fried or baked? Red or white wine with supper?
These simple questions and the needs of the moment were the most relevant, and the only things that mattered. We were able to focus on the day's activities without distraction, and truly get what should be out of a vacation: to get away and relax. Thoughts were about having conversations with guests, spending time with those along on the trip and actual face-to-face communication. We had time to make new friends at the lodge rather than retreating to check business or emails and work-related items after a day on the water. And even better, I managed to sneak away for a few moments each day and sit by myself in order to just take in the beauty of the Saskatchewan landscape. In retrospect, this vacation not only was a vacation, but also a retreat.
Northern Saskatchewan is still a remote wilderness paradise where you can explore areas and waters that few have ever seen. There are many places like this throughout Canada. Sometimes it just takes putting the smartphone or the computer away to actually realize it.
Milton Lake Lodge—although miles from anything—is a special place to visit. With five-star service and amenities, they give you an outstanding experience right in a location where you can find adventure and relax and enjoy the best of Saskatchewan.
For more information on Saskatchewan adventures visit fishsask.com or check out Milton Lake at miltonlakelodge.com. 
You can be among the first to get the latest info on where to go, what to use and how to use it!
---

Larry Ladowski is a regular host on MidWest Outdoors TV and has been writing for MidWest Outdoors magazine for more than 25 years. Ladowski enjoys any time on the water and in the field, no matter where it happens to be and no matter what species he is fishing or hunting.
All author posts
---