A Fly-in Jewel in the Canadian Northwoods
Pushing toward the end of July, the cool, serene Tuesday morning broke with utter calm accentuated by flitting chickadees. A blanket of fog had settled over Forde Lake Air Base located just west of the sleepy hamlet of Hornepayne, Ont. Eager to begin our adventure, my fishing buddy of over 30 years and I had arrived before the crew. As the crew arrived, our anticipation grew when we were given the go-ahead to load our gear onto a freight wagon to be weighed, ensuring it did not exceed the 120-pound weight limit—no problem there. With the gear stowed, we eagerly waited to board. After the engine of the 1953 de Havilland Beaver had idled for several minutes and the fog had lifted, we were instructed to board the craft for the surprisingly short, 12-minute flight.
Climbing inside, we noticed the spartan interior of the four-seater and a plethora of gauges, dials and levers up front. After buckling into our harnesses and with all the safety checks completed, the Beaver eased away from the dock, glided across a seeming sheet of glass and lifted easily into the cobalt sky. Our level of excitement climbed with the altitude. All the way to the horizon was an endless jigsaw puzzle made up of the great northern Canadian forest and myriad of inland lakes. As the powerful engine droned, we could only imagine the wildlife hidden beneath. The sheer immensity of what lay below us was truly humbling.
It was uncanny. Being two retired high school teachers, we couldn't help but have pictures of Gary Paulsen's classic novel Hatchet comes to mind. We had utilized the story in our sophomore English class numerous times to co-teach a survival unit set amidst the wonders and perils of the North American wilderness. Images of "Brian,"—the main character desperately wresting the controls from the heart attack-stricken pilot before the plane plummets into a remote lake—were only too vivid in our memories. We imagined the stunned Brian frantically trying to extricate himself from the bush plane and swimming for air. After having taught the novel for so many years, it was inevitable all of its drama would come flooding back to us.
Ah well—that was fiction. This, this was real. We were both safely aboard one of Canada's most important modes of transportation—the bush plane—that was expertly piloted by the very professional Paul Smart, owner of PK Resort. With over 11,000 stunning acres of crystal-clear water on both Granite Hill Lake and the adjoining Obakamiga Lake, opportunities abound for any level of fisherman. Soon, Granite Hill Lodge loomed directly before us and Paul made an impressively soft touchdown, and with a quick taxi, he brought us up to the dock. We were soon unpacked, introduced to the entire staff by the very personable Kareen Smart,Paul's wife and were on the lake fishing inside an hour of touchdown. Amazing.
We skimmed across the lake in an exceptionally clean, deep-hulled 16-foot Lund outfitted with a quiet four-stroke 20-hp Yamaha. It would easily meet our needs for trolling or getting across the lake in a hurry so we wouldn't miss one of the resort's delicious meals. The cushioned swivel seats assured that we were going to be comfortable and secure when fighting the big ones. The shore crew had attended to every detail: The bait bucket was well stocked with minnows, the depth finder was in working order and all safety gear was neatly stowed. We were loaded for "bear" or should I say … fish?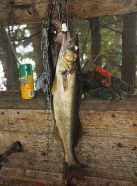 In addition, the staff was eager to advise when and where to fish. Following their suggestions, we used light-action rods and reels with 6-pound-test. We employed the basic setup of a #6 hook with a minnow hooked right behind the dorsal fin and a split shot about 18 inches above that. Spoons such as Little Cleo's were also in our arsenal. It was not long before we were hooked into a wealth of walleyes and northerns, and it became one of those moments that a fisherman always dreams about. Could this be real? There we were on a pristine lake, surrounded by unspoiled forest under an azure sky catching fish after fish. We couldn't help but grin and wonder: Does it get any better than this? Yes. Yes it could, as that evening we were treated to a feast of succulent pork tenderloin. What a way to draw the day to a close.
We fished all Wednesday with great success once again. Flocks of loons constantly kept us entertained during the few times we weren't busy taking fish off our hooks. A couple of monster pike tightened our lines that afternoon along with several sizeable walleyes. That evening, the staff surprised us with a Thanksgiving dinner with all the trimmings.
The next morning, we located the deep channel that one of the crew told us about and landed even bigger walleyes. After non-stop action, our stomachs told us it was time to head for the shore for lunch on Picnic Island. Mouth-watering aromas of food over an open fire greeted us as the lodge crew had a heaping pile of home fries already sizzling over the campfire. Baked beans bubbled away while our fresh walleye fillets were placed in the huge cast-iron skillet, quickly turning a golden brown. Words cannot express how delectable the food was in such a stunningly beautiful setting. The friendly, attentive staff made it taste all the better as the conversation and ideas flowed freely. For the more adventurous, lunch could be topped off with a leap off a 20-foot cliff into the deep waters below. We politely declined partaking in this pleasure, as we were eager to get to the last of our fishing. Luckily, it proved to be the most fruitful fishing of the trip as the fish were voracious. In the evening, after chowing down on a fabulous New York strip steak dinner, we took in the splendor on the balcony with a couple of ginger ales and the ever-present loons.
Accessible only by air, the log and plank Granite Hill Lodge lays hidden among towering spruce, cedar, pine, fir and poplar trees. For those seeking a sense of seclusion from the rest of the world, they will find solace and comfort in their private cabin at PK with their "Housekeeping Plan." Each is furnished with all the modern amenities: 24-hour electricity, refrigerator, propane oven and grill, a wood-burning stove and bathrooms with linens, towels and bedding. The available "American Plan" provides guests with rooms in the lodge, cleaned on a daily basis. A scrumptious breakfast is made-to-order, a sack or sit-down lunch is provided and mouth-watering dinners top off the day, replete with delectable deserts. Shore lunch is also offered for those who wish to enjoy the fruits of their labors—don't plan on dieting during your stay. It's easy to see that the staff enjoys their jobs, as they go beyond the "call of duty." Fish cleaning is available, as are freezers for taking home that trophy-size fish.
That Friday, as we prepared for our flight back to Hornpayne, we reminisced about the wonders of the past few days. Granite Hill Lodge is everything one could look for in a fly-in fishing experience. Paul, Kareen and their staff expertly blend the comforts of home with the thrill of superb fishing. Any visitor will "want" for nothing, as services are provided with genuine hospitality and make one feel like they're visiting old friends. From the spectacular angling to the restful, balmy evenings on the balcony overlooking the lake while being endlessly serenaded by the loons, the resort is a jewel in the Canadian Northwoods that will not soon be forgotten.
You can be among the first to get the latest info on where to go, what to use and how to use it!
---
MidWest Outdoors works with more than 200 outdoor experts each year, who contribute articles based on their areas of expertise. MidWest Outdoors magazine offers more fishing and hunting articles than any other publication!
All author posts
---