Ohio Division of Wildlife Stocks 76,000 Lake Trout
In May, the Ohio DNR's Division of Wildlife chartered a ferryboat with the Miller Boat Line in Put-in-Bay to stock 40,000 yearling lake trout from the U.S. Fish and Wildlife Service's Allegheny Fish Hatchery in Warren, Pa. An additional 36,000 lake trout were stocked off of the Fairport Harbor boat ramp.
The fish were all fitted with tiny wire-coded tags implanted into their snouts. This will allow Fisheries biologist to be able to document migration, growth and survival rates when the fish are recaptured and scanned. Despite extensive attempts to reestablish lake trout populations in Lake Erie through annual stocking in their Eastern Basin summer range since 1979, there has been little evidence of any successful recruitment through natural reproduction.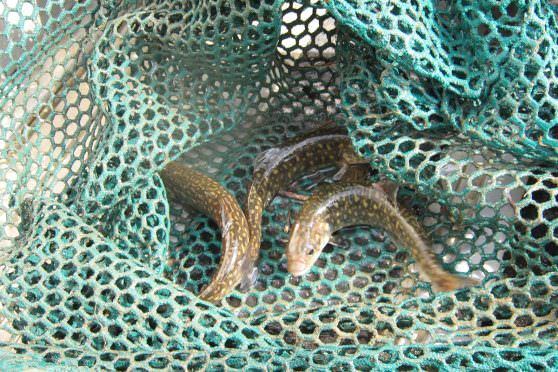 Since 2012, yearling lake trout have been stocked in Ohio near the Islands and at Fairport Harbor in an attempt to re-establish a spawning population in other areas of the lake. Some Western Basin reefs were historically used by Lake Erie's lake trout, leading to the decision to begin stocking the area near the Islands.
They also expected that the survival rates of the young lake trout would be greater if stocked in a manner to avoid island and nearshore high densities of predatory fish and double-crested cormorants, while they disperse. Similar, remote stockings have shown promise in other Great Lakes.
Lake trout are a coldwater species native to the Great Lakes, including Erie, and is listed in Ohio as a species of concern. They typically spend their summers in the deep water of Lake Erie's Eastern Basin, between New York, Pennsylvania and Ontario.
Stocking is part of ongoing efforts to rehabilitate populations decimated by the explosive growth of sea lampreys after their invasion into the Great Lakes, beginning in the 1880s with the completion of the Welland Canal from Lake Ontario to Lake Erie. By 1965, sea lampreys and pollution eliminated the remaining lake trout population.
Rehabilitating the trout numbers are considered a key ingredient to restoring a healthy cold-water ecosystem. They are not expected to become numerous enough to compete with forage fish typically consumed by nearshore fish species, such as walleyes, yellow perch, smallmouths, black or white bass.
Beginning in 1969, Pennsylvania began modest stocking efforts with 17,000 yearlings. A more formal restoration effort was started in 1982 by the U.S. Fish and Wildlife Service with a goal of 160,000 yearlings per year to be stocked.
Unfortunately, survival rates remain very poor, due to ongoing, robust sea lamprey populations and reduced productivity in the lake that has led to reduction of prey densities.
Competition for smelt with steelhead and walleyes concern some sportsmen, but Ohio Fisheries biologists point out that the stocking size of 76,000 is very small compared to the 400,000-plus steelhead that are planted into Ohio streams each year that do not appear to be competing with walleyes.
Furthermore, walleyes and lake trout are both native species, coexisting for thousands of years, and their range overlap is small. The desire to rehabilitate the species to strengthen the ecosystem outweighs unfounded concerns about competition with steelhead or walleyes. When smelt are not abundant, steelhead trout readily consume spiny water fleas, the walleyes target emerald shiners and shad and lake trout feed upon round gobies. It all continues to work out, since each species continues to exhibit good growth rates and body condition.
Except for the period of time that it will take to reach their summer range, habitat overlap with walleyes is minimal. In the meantime, fishermen are reporting catching some of the fingerlings and have also seen them show up in the stomachs of large walleyes.
Lake trout fishing has shown growth over the past several years, and is becoming a little more popular in Pennsylvania and New York too. The Lake Erie state records for lake trout include a 41 1/2-pound, 42 3/4-inch fish for New York in 2003 and a 29-plus-pound fish for Pennsylvania in 2012, while Ohio's is a 20 1/2-pound, 34-inch fish in 2000.
John Hageman retired as Manager of Ohio Sea Grant's Stone Laboratory Biology Station and was formerly an ice guide on Lake Erie at Put-in-Bay, Ohio.
You can be among the first to get the latest info on where to go, what to use and how to use it!
---

John Hageman was manager of Stone Laboratory, Ohio Sea Grant's Biology Station at Put-in-Bay, for 25 years and formerly a licensed Lake Erie ice-fishing guide. He is active with the Outdoor Writers of Ohio and several sportsmen's conservation organizations. He may be contacted at [email protected]
All author posts
---