B.A.S.S. Returns to Minnesota
B.A.S.S.returned to Minnesota to end their season this year. For a second year in a row, the Bassmaster Elites fished on Mille Lacs Lake for the Angler of the Year championship tournament in September. Minnesota's own Rapala pro Seth Feider won last year's event with a 5-pound average for 15 smallmouth bass over three days of fishing.
Shimano pro Keith Combs from Texas won this year's event with a total of 72 pounds, 5 ounces for his three-day total. Rapala pro Brandon Palaniuk of Idaho won his first ever Angler of Year title by having the most points from all the events fished this year. He finished 12th in the Mille Lacs tourney.
This was the last event of the year for the Elite anglers to be able to qualify for the 2018 Bassmaster Classic. However, a few years ago another opportunity began for those who just missed qualifying. The first eight Elite anglers that did not make the cut to fish in the 2018 Bassmaster Classic got a second chance to fish in an entirely different format to gain one of the last spots in the 2018 Bassmaster Classic. This event is called the Bassmaster Classic Bracket and is set up as a match-fishing contest wherein one angler competes against another angler. There are quarterfinals, semi-finals and the championship round, with the angler who wins all three of his matched heading for the Classic.
Anglers had 6 hours, catching fish that a judge in each boat weighed immediately. The angler with the five heaiest fish won his match. This event took place on Pokegama Lake in Grand Rapids.
The eight anglers were Mike Iaconelli, Dave LeFebre, Ish Monroe, Jacob Powroznik, Steve Kennedy, Kelley Jaye, Jonathon VanDam, and Adrian Avena. In the quarterfinals it was Iaconelli versus Avena, VanDam versus Monroe, LeFebre versus Jaye, and lastly Kennedy versus Powroznik. Monroe, Lefebre and Powroznik all cruised to the semi-finals by beating their competitor by over ten pounds. Iaconelli and Avena, both from New Jersey, had a much tighter battle that only a few pounds separated at the end of the day. Iaconelli ultimately won the round to face Monroe in the semi-finals, while Lefebre faced off with Powroznik. The tightly contested match ended up less then a pound separating the two anglers with Powroznik getting the advantage and advancing to the championship round. Iaconelli jumped onto an early lead and fought hard to maintain it all day but Monroe slowly and consistently chipped his way back into it. Monroe then blew the doors off by catching a 5-pound smallmouth bass, which gave him more than a 3-pound lead late in the day. That proved to be too much to overcome for Iaconelli and Monroe advanced to the championship.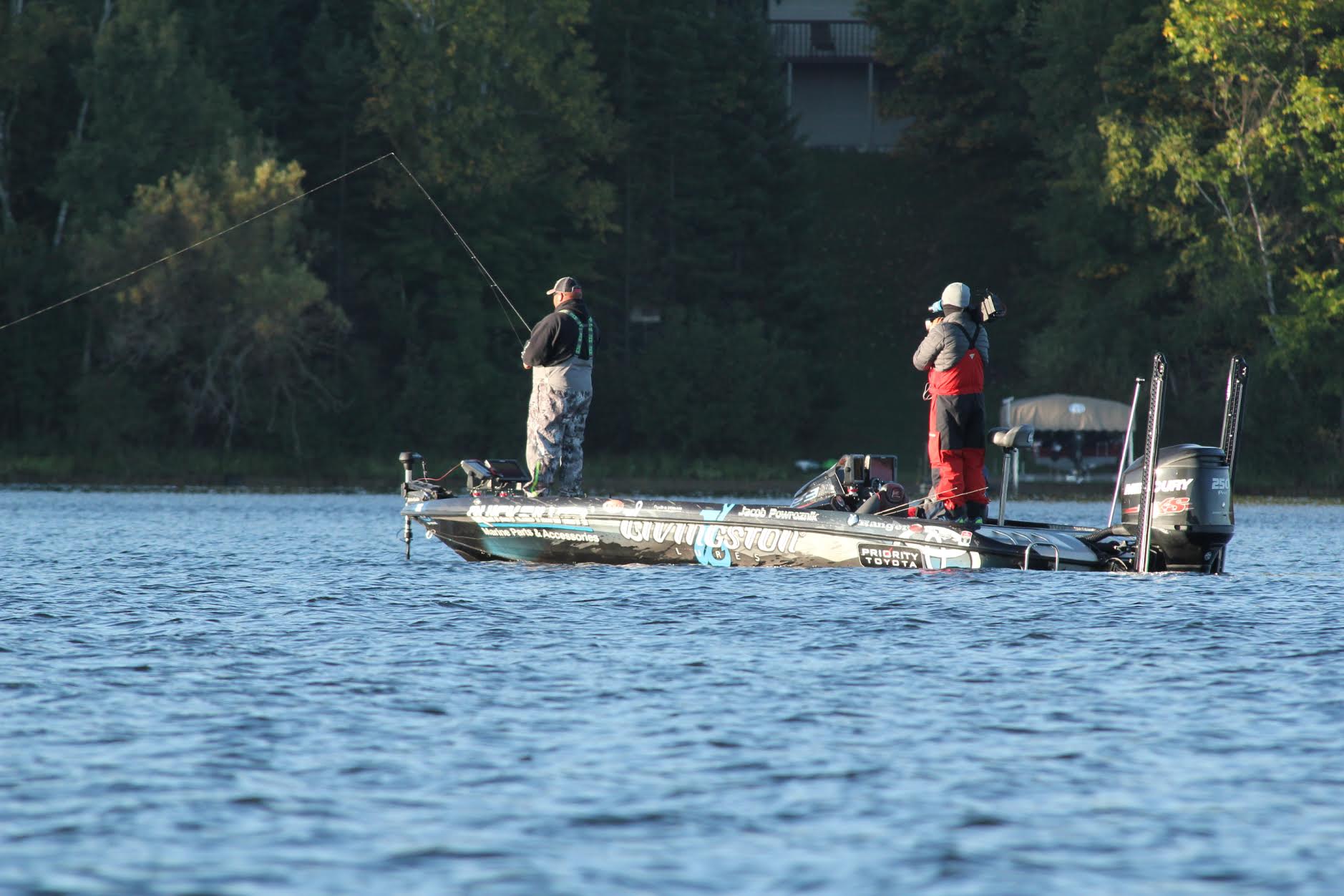 Both Powroznik and Monroe had been fishing strong and figured out the bite on the lake. On championship Friday, Powroznik caught a 3-plus-pound fish on his first cast and never looked back. He won the event with an impressive catch of both largemouth and smallmouth bass. He was able to master both the shallow water largemouths and then adapted to fish the deeper smallmouths when he needed a few more pounds. Powroznik's five-fish final day weight of 16 pounds, 11 ounces beat out California's Ish Monroe's 14 pounds, 8 ounces. Powroznik caught his fish using small swimbaits, jigs, and a drop-shot setup while targeting weedlines, docks, sunken points and reeds. It was a prime example of being versatile and allow the fish to tell you what they want.
It is pretty special when some of the best anglers in the world spend time on your home waters. They are skilled at their craft and it is impressive how they can attack a new body of water and be successful. There is no substitute for putting your time in and figuring out the preferences, personalities and tendencies of your favorite fish. But always be sure that you are having fun along the way—it truly helps the process. If you want to learn and grow, be sure to tune into these big events that come close to your home. You will not regret it.
You can be among the first to get the latest info on where to go, what to use and how to use it!
---

Steve Mattson has been writing articles for MidWest Outdoors since 2001. He is a driven angler, guide and sponsored tournament pro who has won both bass and panfish tournaments, and has placed in walleye and pike events. He resides in northern Minnesota and enjoys helping others catch more fish. For more info: mattsonangling.com and @mattsonangling.
All author posts
---