Arkansas Big Bass Bonanza
The Big Bass Bonanza returns June 29-July 1
Arkansas guarantees $100,000 in prizes for fishermen who enter the state's largest fishing tournament–The Big Bass Bonanza. Anglers can compete for dozens of hourly prizes, plus daily payouts and a chance to land a bass worth $50,000. It all takes place on the Arkansas River, June 29 through July 1, with access pools in five locations: Fort Smith, Russellville, North Little Rock/Little Rock, Pine Bluff, and Dumas.
Last year's big fish, a 6.76-pound bass, put $50,000 in the bank for Dumas police officer Ricky Cantrell, his wife and newborn baby girl. Four other anglers took home $10,000 checks for weighing the largest fish in their pool. Those bass ranged from 5.76-pounds to 6.06-pounds; good fish, but well within the abilities of any amateur angler in the state.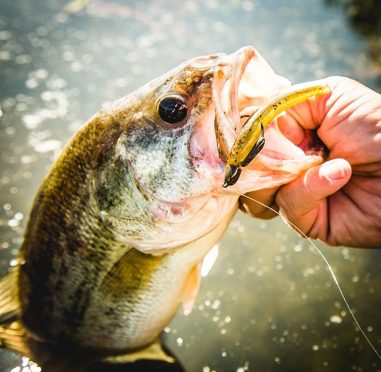 Special prizes for youth, High Schoolers
"All high school-age anglers are eligible to win prizes that will seriously upgrade their fishing gear," says tournament director Jill Thiel. "Our sponsors really stepped up to give high school anglers a chance to not only fish for the $50,000 grand prize and the multiple hourly prizes for big fish, but also the chance to win fantastic gear while they're at it."
Bonanza anglers in grades 6 through 8 will be eligible to win their own awards, as will anglers from 9-12 grades. Both youth divisions will be awarded 1st, 2nd & 3rd places. Prizes include lures from LiveTarget Lures, Pradco Outdoor Brands(pending confirmation before publication) and Z-Man. Other prizes include underwater fish cameras from Aqua-Vu, fishing rods from St. Croix Rod and tackle storage from Flambeau Outdoors. Meanwhile, Hardee's is serving up free meal prizes—including a year's worth of Thickburgers.
A special $1,000 Willow Leaf award will be presented to the parent/child or grandparent/grandchild duo that lands the largest fish during the tournament.
Registration Open Now
Tournament organizers at the Arkansas Hospitality Association say registration for this year's Simmons Bank Big Bass Bonanza opened this week. Anglers can register by visiting ArkansasBigBass.com or at one of our statewide registration sites. Entry fees are $80 per angler.  Stay up-to-date with the latest news and notes from the Simmons Bank Big Bass Bonanza via the tournament's Facebook page.
Anglers and biologists team to restock Arkansas rivers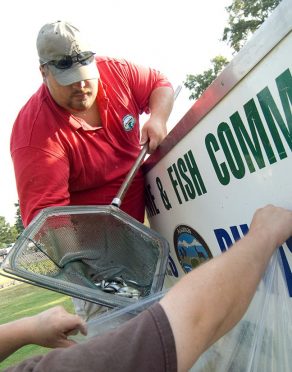 They'll pour in by the thousands. Tiny largemouth bass, no bigger than a human finger, making their way from plastic sacks to freedom. Altogether, some 100,000 black bass fingerlings will be released into the Arkansas River from anglers competing in the Simmons Bank Big Bass Bonanza. Helping the fabled fishery to bounce back from what biologists call a dramatic decline in spawning habitat.
"These anglers spread fingerlings out in the backwater areas where they fish," says Arkansas Game & Fish Commission biologist Colton Dennis. "That makes restocking much more effective than if we back up a truck to a ramp. Releasing thousands of fish into an area with a less complex habitat."
The Simmons Bank Big Bass Bonanza has partnered with the Arkansas Game and Fish Commission for the restocking event for well over a decade. Together, with help from the Army Corps of Engineers, they're working to provide long-term solutions to black bass population loss along the river. Those efforts include notching dikes, restoring fish habitat and restocking efforts like the one this weekend.
A hard fight for survival
"Young bass face predators such as bluegills, sunfish, herons and kingfishers," adds U.S. Fish & Wildlife External Affairs Officer Craig Springer. "It would be hard to say how many of those 100,000 fingerlings will make it to adulthood. A typical female largemouth may produce 4,000-5,000 eggs. Of those, only a few may grow to mature fish."
Arkansas Game & Fish biologists say that more than 473,000 largemouth bass fingerlings have been released into the river's ecosystem in the past five years by Big Bass Bonanza participants alone. Those numbers, they say, have helped up the tally of stocked fingerlings. Big Bass Bonanza fingerlings comprise as much as 15-percent of the wild population of largemouths in the river today.
The program, biologists say, is especially important in years like this one, when spring floods and high flows impact the fish's usual spawning grounds.
Plan now for your trip to Arkansas!
The Simmons Bank Big Bass Bonanza runs from June 29, 30-July 1. Weigh-in locations are located at Fort Smith, Russellville, North Little Rock/Little Rock, Pine Bluff and Dumas. More than $100,000 in cash will be awarded to anglers over three days, with hourly weigh-ins. Plus, special prizes from Raymarine, Flambeau, St. Croix Rods, Aqua-Vu, Z-Man, Buff, Hardee's, LiveTarget Lures, and more. High school anglers are eligible to win additional prizes, with the overall grand prize winner taking home $50,000 for the largest fish weighed.
So, how long does it take one of those fingerlings to grow big enough to bring home a check from the event? Grand prize winners at the Simmons Big Bass Bonanza — the $50,000 fish — typically tip the scales at around seven pounds. Individual pool winners have taken home $10,000 prizes at around five pounds.
"Largemouth bass grow at roughly a half-pound per year," notes Springer. "That varies naturally from water to water, but you might expect one over five pounds to be at least eight years old."
With at least 15 years of stocking in its history, it's possible that some of this year's money fish will have found their way into and back out of the river at the Simmons Bank Big Bass Bonanza.
Major sponsors of the tournament are Simmons Bank, Academy Sports + Outdoors, Arkansas Game & Fish Commission and Hardee's Saddle Peak. Other sponsors include Aqua-Vu, Raymarine, St. Croix Rod, Buff, Z-Man Fishing, LiveTarget Lures, Old Post Lodge, Flambeau Outdoors, Seaguar, Heart of Arkansas, North Little Rock Visitors Bureau, Pine Bluff Convention & Visitors Bureau, and Russellville Advertising & Promotions.
For more information on the tournament, registration sites and complete results, visit www.arkansasbigbass.com.  #BigBassBonanza
You can be among the first to get the latest info on where to go, what to use and how to use it!