Ice Fishing: A Sneaky State of Affairs
On the move
More than likely, because the ice still might be too thin to support my quad or snowmobile, I hoof it rather than drive. If I can get away without ice cleats over the soles of my boots, all the better. The noise from ice cleats scraping and digging into the ice reverberates tenfold under the water and gives up my whereabouts to the fish.
Instead, I don boots with a soft yet aggressive rubber tread built right in to provide superior grip on the ice. My boots need to be 100 percent waterproof so as to keep my feet dry when water splashes up and out of the hole when I bore a hole with my auger.
Speaking of augers, I make sure the blades of my StrikeMaster Lazer Synthetic Ultra-Lite or StrikeMaster power auger are razor sharp.  I want to bore as many holes as possible in a short period of time, quickly and efficiently. This way I can keep the uproar later in the day to a minimum.
Before my blades dull, however, I'll purchase replacement blades to always have another set on hand in case I damage the originals. Dull auger blades are really frustrating when ice fishing, yet few anglers think about bringing along some spares.
Cover me, I'm going in
Once I have drilled several holes, checked the depth and looked-for fish at each one, it's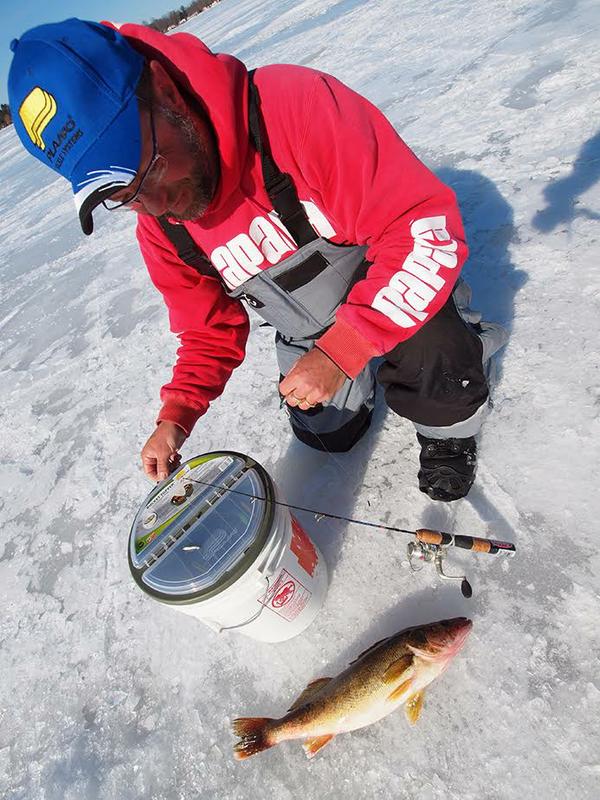 time to lower a line. But even while fishing I stay as quiet as possible. First off, I deploy my tip-ups, hooking up minnows fresh from my Plano minnow bucket. Next, I erect my Clam X200 Pro Thermal two-man ice shelter; not only to stay warm while inside its thick, insulated walls, but also to keep my silhouette shaded while on the thinner, clear ice.
Tip: Lay a piece of carpeting down on the ice beneath your feet to muffle any sound your boots make as you shuffle around. This keeps your feet warmer, too.
Hear that? I didn't think so
If you're looking to catch more fish early in the ice season, then take every measure to stay as stealthy as possible.
While wearing stealthy, warm footwear with good traction, walk directly to the spot you last caught fish before the lake froze, and drill as many holes as you can muster. Set those tip-ups, and then get inside a portable shanty.
Keep your commotion to a minimum and I promise, you'll catch more fish.
To learn more tips to be stealthy on the ice, look for Mark Martin's full article in the January Issue of MidWest Outdoors magazine, available now and can be found on the newsstand or by subscribing on our website.
You can be among the first to get the latest info on where to go, what to use and how to use it!
---

Mark Martin is a professional walleye tournament angler and instructor with the Ice Fishing School/Vacation series. For more information, check out his website at markmartins.net or fishingvacationschool.com.
All author posts
---