The Working Man's Deer Hunting Setup
Today's working man deer hunter's time-consuming schedule includes working five to seven days a week to pay bills and feed the family. This hunter waits all year for that first weekend of gun deer season for their only likely opportunity to hunt whitetail.
Many of these hunters feel their chances of taking a deer are slim. Not just because of limited time in the field, but because they are constantly bombarded with information promoting latest concepts for super buck-taking tactics. There are also a myriad of sent-free products, non-failing deer lures, special suits, in-the-ground deer lick products, food plot seed, equipment, newest trail cameras and multiple stands and setup locations over food plots and crop fields and the latest "big buck secret" DVDs.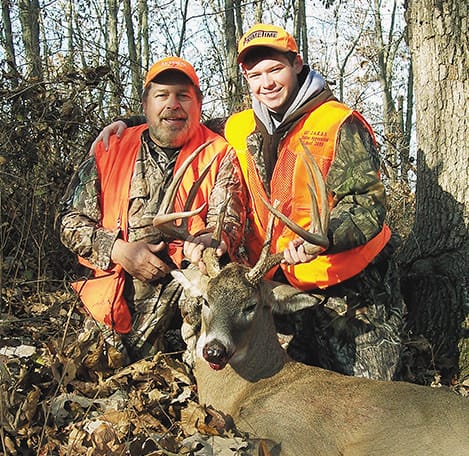 Actually, one can't carry all the super-duper big buck products out to a treestand. And you don't necessarily have to be a deer-hunting expert or outdoors TV superstar, have access to hundreds of acres of prime food plots and crop fields or even all the latest equipment to take a buck.
When searching for a deer-hunting place, look for an old farm without food plots or crops. Seek a brushy ditch or a remote ridge surrounded by fields—an area where three to four types of cover come together. Find a place no one else hunts, and a location the landowner wouldn't lease out just because it does not look like a deer hunting "place."
I have two simple gun season setups that produce bucks every year. Both are grown over cattle farms with no food plots or no crop fields, just brush, thickets, and a small patch of hardwoods surrounded on four sides of overgrazed cattle pasture. I received permission to hunt on both with no lease fees—and, no one else wanted to hunt either of them.
Firearm deer season is a different animal, as tons of people and equipment hit the timber, fields and food plots early on opening morning. This produces massive amounts of smells and noises. Whitetails run for cover; that's where I set up.
Are you enjoying this post?
You can be among the first to get the latest info on where to go, what to use and how to use it!
I utilize terrain features like the junction of brushy ditches and pinch points that connect two larger patches of timber and brush. We utilize old-time scouting tactics: We read sign, tracks, rub lines, droppings and visual sightings. More importantly, we closely examine top maps for the perfect pinch point like a bushy ditch funnel-type area in thick cover away from roads and other hunters.
One setup is in a deep ditch or creek bottom, where four other thick brush ditches come together with open pasture on the outside. Our other setup we call the "Buck Hub"—a hilltop-timbered ridge. It's a small patch of woods with ditches, cedar thickets and brushy fence lines that all connect. On opening morning when the shooting starts at daylight outside the Buck Hub, better get your gun up.
Without the extra equipment it takes a little more scouting and a little more searching for a farm no one else wants. And, it will take a little more common sense for you to find your own "honey hole" of brush to end up taking a buck for a nice morning ride in your truck.
Ray Eye is a MidWest Outdoors hunting instructor. He was raised in the turkey-rich hills of the Missouri Ozarks, and is considered the dean of America's professional turkey hunters. It's less widely known that he is an expert hunter for many other species. Eye has produced an online course, "Calling is Everything," that details how to call turkeys at any season of the year. Find it at eyesontheoutdoors.com.
You can be among the first to get the latest info on where to go, what to use and how to use it!
---
Ray Eye is an award-winning outdoor communications giant. Eye has a huge following with writing, radio, television and national seminars. This Missouri native is a Missouri Conservation Communicator of the Year, NWTF national Communicator of the Year and was inducted into the "Legends of the Outdoors" National Hall of Fame.
All author posts
---