Twelve Tips for Hunting Upland Birds
In our quest to take down big-game trophies, many of us have forsaken the sporting of upland birds. What a relaxing time it can be. A couple miles of walking doesn't seem like exercise when chatting with buddies. Well-trained dogs use their olfactory skills to pin down colorful flyers and hold "point" until you get there and take over. Each flush is just as exhilarating as the last. The camaraderie formed, with all involved, is the stuff we all need to write about. And while $2,000 guns are fun to shoot, I keep finding another excuse to pull Pap's Ithaca Model 37 Featherlight out of retirement.
Quick tips and etiquette for hunting upland birds:
Practice shooting clays with a thrower before your outing. Familiarize yourself with loading and unloading your weapons. Too many folks take liberties with shotguns because they're self-professed, big-game marksmen. Then, someone loses a leg or a life.
Be prompt for your shoot. Everyone loathes the self-centered guy who can't honor his friends' time.
Don't show up in deer-hunting camo. Accessorize your well-appointed apparel with lots of blaze orange for everyone's benefit.
Agree to walk in a horizontal line with every man accounted for. A straight push better ensures clean coverage of your parcel.
Discuss shooting zones with partners and never shoot towards them. When in doubt, pass on the shot.
If the shot is best taken by someone else in your party, use hand signals to convey it's theirs before talking a bunch. Too much noise spooks a hunkered-down bird and they run.
When your dog is on point, keep your barrel facing to the sky; stock on shoulder and ready. On the flush, slide your gun butt up to your cheek and take aim.
Remember, you want to lead your target by swinging your barrel in front of it and aiming for the head. It's likely you'll hit the body. Keep your eye and cheek to the stock for the follow-up shot; don't pull your head.
When a bird kicks up direct, sideways or slightly behind, pivot your feet and hips like a point guard in basketball to better make the shot.
Never take low shots that could put your dog or friends at risk. Besides, shooting birds on the ground is considered very unsportsmanlike.
Attitude is everything for a fun day. Never claim all the birds shot down. Never fight over birds. Never yell at the guide dog. If you outshoot your friends, share some of the harvest.
Laugh and joke. We're not guaranteed tomorrow, so take photos of your buddies. Those memories will last a lifetime.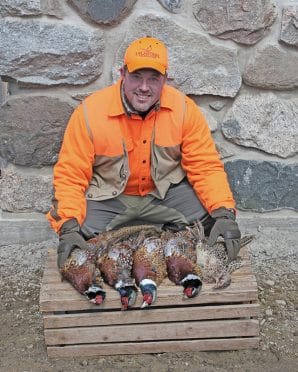 Scott Cummings is an avid sportsman, educator and nationally-published freelance outdoors writer and photographer. National Wild Turkey Federation and Wildlife Forever named him their 2013 and 2014 Conservation Educator of the Year for his work in and out of the classroom.
You can be among the first to get the latest info on where to go, what to use and how to use it!