Small Dogs Can Handle Big, Bad Roosters
"It's not the size of the dog in the fight," the old saying begins, but the concept doesn't carry much weight with a certain segment of wingshots, to whom bigger dogs are automatically more capable pheasant hunters. "Are you sure that dog will be big enough to carry a rooster?" If I had a dog biscuit for each time someone's asked me that about my bird dogs we'd be set with treats for life.
Surely some other "small" (a relative term if there ever was one) dog owners feel my pain, like the owner of "Gretchen," the 21-pound female French Brittany that stopped by the Pheasants Forever booth at a recent event. "That dog will carry a pheasant?" a fellow attendee asked the master of the 2-year-old pointing dog.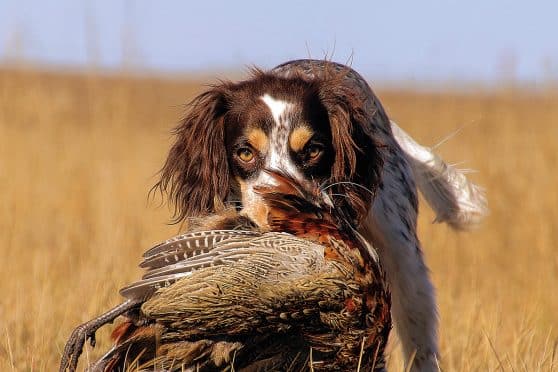 I bet they get that a lot.
For all its gaudiness, a big ring-necked pheasant rooster checks in at all of three pounds, with more than 20 inches of its length contained in its tail. In other words, small working breeds will have no problem showing who the field boss is. The following breeds all check in at 35 pounds or less, perfectly sized and suited for the field, home, truck, lap…and in our family's case–bed.
American Water Spaniel – The "Townhouse Chessie" is something of a one-man dog, which could work out great if you're a one-dog man.
Beagle – Not normally thought of as a bird dog, but search "beagle pheasant hunting" online and you'll find enough evidence to the contrary.
Are you enjoying this post?
You can be among the first to get the latest info on where to go, what to use and how to use it!
Boykin Spaniel – Notoriously good for working in hot weather, which means no problem when the heat of your gun barrel has it raining southern quail or big ol' roosters.
Cocker Spaniel – The bluegill of bird dogs, the smallest of the American Kennel Club's sporting breeds is regarded by some as pound for pound the toughest gun dog. Field bred versions can be hard to find, but they do still exist.
English Cocker Spaniel – Have deservingly acquired the nickname "Pocket Rocket." "Pocket" for their size, "Rocket" for their drive.
French Brittany – If you ever want to insult a French Brittany owner, just call their dog a "Brittany." If you ever want a close-working pointing dog, consider the Epagneul Breton (French name).
Jack Russell Terrier – Longtime Pheasants Forever magazine contributor, photographer Mitch Kezar, hunts a Jack Russell on pheasants, with much success. It's always a good idea to trust the guy behind the lens.
You can be among the first to get the latest info on where to go, what to use and how to use it!
---
Anthony Hauck is Pheasants Forever's director of public relations. Contact him at AHauck@pheasantsforever.org and follow him on Twitter @AnthonyHauckPF.
All author posts
---