New Products for 2022 (Part 2)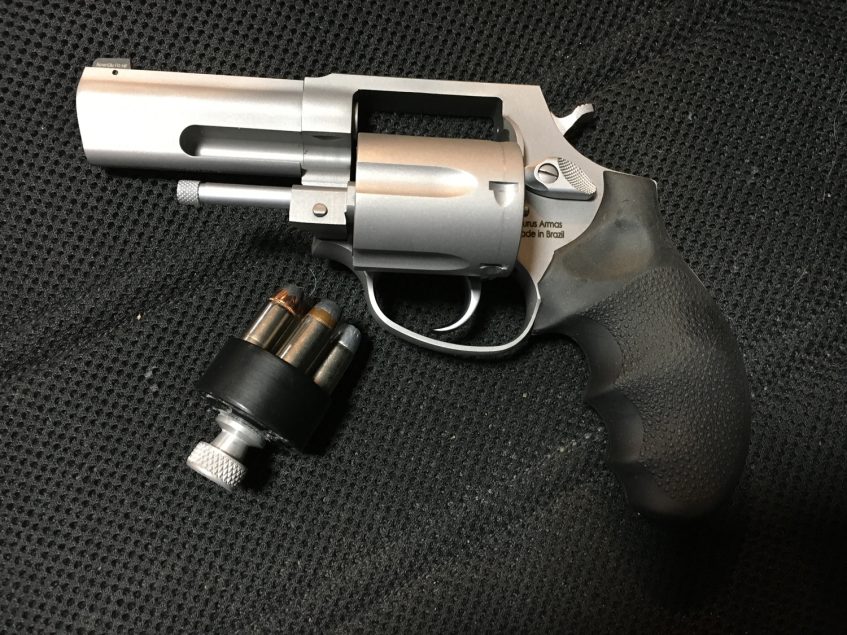 New revolver from Taurus
Taurus hits the deck running this year with a brand-new entry into the wheel gun department, and this time it is a sweet little 3-inch, 5-shot, 357 magnum centered around the design of the Smith & Wesson J-Frame revolver. Made in brushed stainless steel, the gun is low maintenance from the muzzle to the Bird's Head grip base. The new Model 605 retains a slotted receiver fame and red ramp front sight that is all steel. This is refreshing, as the current trend in using plastic glow sights on many of the new entries is not impressive at all. This sight system will take the drag effects of leather holsters forever and stay true for combat level shooting even if it is needed as a club versus a gun. And the red ramp plus white dot makes for very fast target acquisition, even in lower-lighting conditions.
Priced at about half that of the competition, this gun is a solid buy. I own five different Taurus products right up to the Raging Hunter 454 Casull. This brand requires no education as to its operational value and effectiveness as applied to the outdoorsman or big game hunter.
Self-defense is also right in the loop in terms of a home defense weapon, or general-carry gun by the public. I regard this weapon as a good general-purpose, utility handgun. If I would like to see anything different here it would be the introduction, or should I say reintroduction, of the 44 Special in this five-shot model as a 3-inch barreled handgun. Total rounds: 5; total weight dry: 1.5 pounds.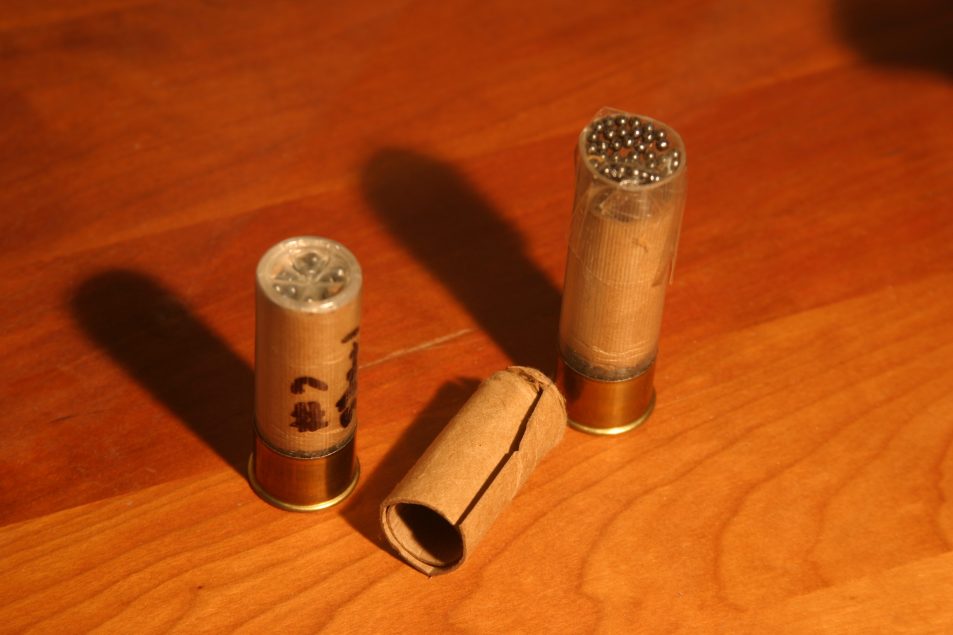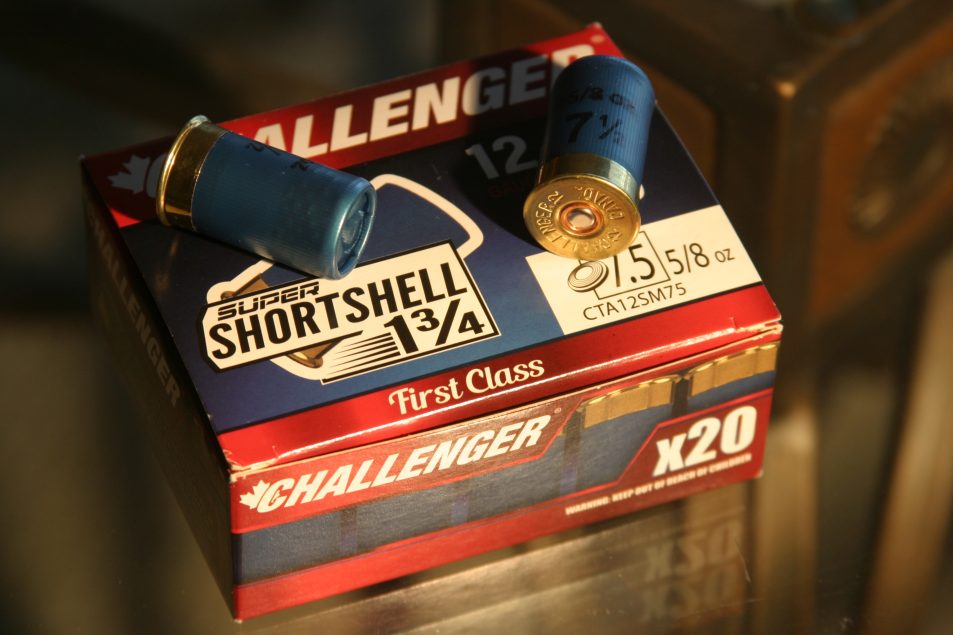 Ammunition
Challenger Super Short shell
Super-short shells are the rage, it would seem, and for the most part an interesting development in shotgun shells. Challenger Canada, among others, is offering the new super-short shot shells that measure 1 3/4 inches in length, carry 5.8 ounces of payloads if fine or buckshot, and allow an extended length tube magazine to increase its rounds count by 1/3 or more. It is about staying in a fight when the payload is buckshot, and staying with a large flock of crows, junk birds or snow geese (non-toxic shot) when shooting for high number counts.
Challenger is out of Canada, and even with the small showing at SHOT this past winter, Challenger was there offering the little shells in full display.
With load velocity of 1,200 f.p.s., the 7 1/2 shot size lead load is super easy on the shooter's frame, and great for training youth or smaller fame individuals. I also found them to be outstanding in terms of sound reduction when loading into my Metrogun systems barrels. When called inside 25 yards, when called, turkeys are stone dead. Want to take raccoon treed, or other medium-sized critters, as in coyotes? The short round with the #4 buckshot load is another hard-hitting option. My Mossberg 590 assault, 12-gauge combat weapon is stoked with 14 rounds of shot shells, and makes for a solid area weapon, as in holding a doorway or other area that you want to clear of undesirable objects and keep everything just that way.
Are you enjoying this post?
You can be among the first to get the latest info on where to go, what to use and how to use it!
Shot shell ammo without wads?
A product of Polywad, Inc., this shot shell carries no wad whatsoever, and also makes use of steel shot pellets. I know this sound nuts, but it is a fact, and current testing here at Ballistics Research & Development indicates that Mr. Jay Menefee, the inventor of this specific shot shell load, is onto something. Using fine steel as in #7 shot, and packed with ground walnut husks, this load requires no protective wad at all. With the environmentalists making a whole lot of noise about hunters and target shooters filling the land with plastic, this option has some merit, to be sure. I have tested these loads in small sample lots and find them to indeed work well at shorter ranges, say on a skeet tower, or rabbit runway during a winter hunt.
A second option also designed by Mr. Menefee is an all-paper wad, non-toxic load that, like the previous offering, works quite well. This spring, the new paper loads were taken afield for spring crow hunts here in my area, and to some positive success. The 420-grain load of #7 steel in the paper wrapper, which was moving at 1,300 f.p.s., worked quite well. With more time and space, additional material will be forthcoming on these new and very different loads. Polywad, Inc., was a company that build prototype loads and finished product for many areas of the smooth-bore ballistics industry in the USA, Now the company is into straight designing and development of new ideas in shot shell design. The effort shows and will continue to step up within the design and research community regarding the world of modern shot shell offerings.
Lightweight rifle pack
In most cases, I do not talk about pack gear to any major level, but in this case, I have made an exception to the rule, in that Gunrunner is not only a general backpack for day use, but also a rifle scabbard. That last point is the total point of this review. In many cases, I carry a backpack on a hunt, but end up arm hauling my rifle as a secondary task in the field. At my age, I guess anything that eases the load is going to get my attention every time. Gunrunner by Eberlestock is designed in Boise, Idaho by military and outdoor types. This pack will carry your rifle in a straight-up, muzzle-down position right in the very center of your back. Add on the extra pouches and generous main pack space, and you have a setup that will hold water, food, field gear, ammo and, best of all, that prized hunting or defense rifle.
As of this writing, I am very close to hitting the Carolina swamps for hogs in country that is wet, big and full of nasty stuff. Here, I want easy access to my handgun, but need to carry in a 45-70 carbine (Marlin), ammo and a day's power bars with water. Enter the new Gunrunner rifle pack system. Check them out at Eberlestock.com.
Ammo returning
As a side note, I spent a day running though big box stores and gun shops, checking out ammo supplies. There is some good news on that front in that supplies are starting to trickle in, or even make for a small stream in some cases. I located 7 mm Rem Mag, 243 Winchester, 44 Special as well as 38 Special, and ample amounts of 22 LR, and some additional selections in handloading powders as well. Remington and Hornady are holding up the load in this case, and Hornady was being offered as well in self-defense 410 bore ammunition. Also by Hornady are far more handloading bullets. I got my hands on the 45 Cal, 458-size bullets for the Marlin 45-70 just two days ago. I had not seen them for a very long time. Not massive changes, but some light at the end of the tunnel.
Now, if that nasty rat in Russia gets out of the way (and to that point I am being conservative here), it is just possible that things may improve in this area of the shooting sports market. As the salesman stated in Scheels, "Don't hold your breath on this deal."
Currently, I am getting a steady flow of new ordnance, as well as both test and market ammunition for the 2022 year almost every week. This says the industry has faith in the future, so let's just hope they are correct!
You can be among the first to get the latest info on where to go, what to use and how to use it!
---

Writing on outdoor subjects for over 40 years, L.P. Brezny has written four books on shotgun and rifle (ballistics and performance). He's an expert at smoothbore, and high-power, ultra-long-range shooting. He's a specialist, producing reviews covering general products used in the outdoors industry.
All author posts
---