A Current Rundown of Some Glass Sights part two
New scope options field-tested
In last month's issue of MidWest Outdoors, we touched on several new models based on some real-time, hands-on live-fire testing. Here, we will look at more long-range optic riflescopes and options.
Meopta MeoPro Series
Meopta is a newer outfit to the rifle optic scene, but don't sell this company short. With European quality and American production, Meopta is not a bit short on quality. With a series of 12 scope options, and covering everything from the AR-15-style receiver to heavy-target models, this company is on the right track in terms of rifle shooter options.
The scope sent to me for review was the MeoPro 6.5-20×50 HTR series, and like all their models, this retained a 1-inch main tube. This scope made use of an exposed elevation and the windage adjustments, with a side-focus/parallax correction knob. Optic quality was outstanding as applied to in this case: a conventional crosshair reticle setup.
Reticle choices are varied with this company, and as such, the shooter can obtain mil-dot, McWhorter MVII, which is an almost Horus Vision Christmas tree, and also lighted crosshairs or BDC systems through the glass. Based on the standard crosshairs installed on my test scope ZII, I relegated the system to a Mossberg Scout rifle in .308 Win. and held my test shooting about 400 to 500 yards on warm targets.
Based on the second focal plane reticle, this system will advance the selected downrange target, in terms of size, as the scope power is increased. Again, the standard crosshair made this element a smooth transition from first focal plane systems. But if the complex, long-range hash marks or mils are used, there is some elevation loss with higher magnification adjustments as mils or hash marks are eaten up by the increased power through the reticle.
Shooting the new Black Hills 168-grain Sierra TMK bullets, I first zeroed for 100 yards using three rounds, then turned the system loose on prairie dogs that ranged from 150 to the previously mentioned 500 yards across a mile-wide dog town. With a 24 MOA elevation adjustment in the exposed turret adjusters, the system clicked in with each MOA adjustment with solid advances and stayed in place under heavy recoil regarding the light carbine-style rifle and the heavy Black Hills Sierra Match King loads. Return to base zero, or a change in MOA clicks, was clean and repeatable.
I found that failing target edge lines were at a low level, even with damp earth and a hot sun. Mirage was strong, but the quality glass cut through it for reading bullet drift and estimating range and drop requirements. For my part, I would be far more interested in the MVII reticle or mil-dots, and have that applied to the 6x18x50. With most shooting done in western South Dakota, and with starts at 400 through 1,500 yards, the MVII under high magnification would fit the bill nicely.
I should also add that the new Black Hills 168-grain Sierras in the hard-tip bullet produced some very accurate results from 333 yards to 428 yards on a series of dog kills. Using impact splat adjusting for exact bullet placement was very easy, as the accuracy of a second shot was predictable. And once zeroed, even ranges beyond 400-yard one-shot kills were common over the course of a full day of test shooting. Again, all this was accomplished by way of the new Mossberg turn-bolt Scout rifle.
Priced at the mid-range market for rifle-glass scopes, this is a solid value and retains solid backing by the company. Currently, the full line of Meopta optics, from rifle glass to spotting scopes, can be found at sporting goods outlets.
Burris Veracity Riflescope
Burris, the well-known American scope manufacture, is getting deeper into the long-range optics game with their new Burris 6x25x50, long-range Veracity Riflescope. We—my partners and I at Ballistics Research & Development—have been using Burris optics when testing both new rifles and bullets for several years. In most cases, we have stayed with the high-magnification, long-range options in scopes, as they fit the general level of testing regarding tasks at hand most of the time. The new Burris scope makes use of a "M.A.D. Knob System," regarding its elevation and windage knobs. This system allows the use of both capped adjustment for brush-country deer hunting or open adjustments for long-range applications. The Burris system also allows for factory-ordered, custom- cut elevation knobs based on a specific cartridge or handload. In this case, Burris cut a special elevation turret knob for me in the new Hornady 6.5 Creedmoor 140-grain ELD-X cartridge or handload. As such, the scope was swapped out between my Ruger Hawkeye, mounting a 20 MOA Weaver style-base ramp and the Savage short Scout-style 110 .308 Win. with a Weaver flat rail design and six screw tactical rings and bases.
As offered with the standard turret adjustments, the Burris long-range scope will allow—at least according to my scope height and mounting systems—a full 48 MOA dialed from base zero. After a re-zero to 100 yards, the turret elevation still retained 24.2 MOA. Built in the second focal plane, the reticle MOA dots can be used by "halving" them for very long-range applications. This means using the mills in the reticle first for elevation, and if more elevation is required, then turning to the elevation knob on the turret. In effect, half the elevation is produced by way of the reticle, and half by the turret application. This makes for a scope with added ranging applications installed and a very fast target acquisition system with mil-dot elevation under practical ranges in the field. I like this or similar systems, and don't buy a scope lacking this flexible option in elevation and windage systems.
Based on the Ruger Hawkeye rifles and Creedmoor cartridges I tested, large numbers of Berger 130-grain VLD's—as handloaded by yours truly—by additional downrange applications, were applied to the new Federal 168-grain 6.5 Creedmoor with the target-grade open-point bullet. As is standard fair among many long-range shooters, the 6.5 flat-out shinned when matched to the new Burris Veracity long-range optic.
When remounted to the .308 Win. Savage 110 Scout rifle, the range was pulled in a bit to about the 400-yard mark. And, a brand new Browning offered up a new .308 Win., 155-grain BXR rapid expansion "Matrix Tip" cartridge. These new rounds are not dog-shooting fodder, but for record and basic zero, I did send some of them downrange for basic accuracy testing—as applied to the 110 Scout and some future fall whitetail applications. As expected, I was not disappointed by the results with the new Browning 308 ammunition. Three rounds at 326 yards on a single dog lodge produced 2 1/2 kills. Dog number three was hit, but not recovered. With a poly-tip bullet and unique core design, these bullets were shrapnel bombs when they slapped a rock-covered, dry, prairie-dog-gumbo lodge surface.
If I don't draw to a trophy buck tag here in the hills when shooting my big .300 Win. Mag. and the new Browning BXR, I'll turn to my winter-killed-meat deer by way of this new .308 cartridge offered by the folks at Browning. It's always nice to shoot top-grade ammo when testing quality optics.
What I can say about Burris is that when I shot 100 rounds with one of the variable scopes on a 3 1/2-inch, wildcat 20-gauge custom super magnum by the old Hastings made with a recoil level equal or exceeding the .458 Winchester, not a single crew or internal element was loosened. These folks build one tough, hard-working optical tube for high-power rifles.
Are you enjoying this post?
You can be among the first to get the latest info on where to go, what to use and how to use it!
Nightforce B.E.A.S.T.
In general, I don't buy or even review optics systems reserved for professional operators across the pond, or even for specialized police snipers in the increasingly violent U.S. who may be called upon to make a nose-lip hit on a dirt-bag hostage taker. However, I did get the rare chance to field-test the new Nightforce B.E.A.S.T.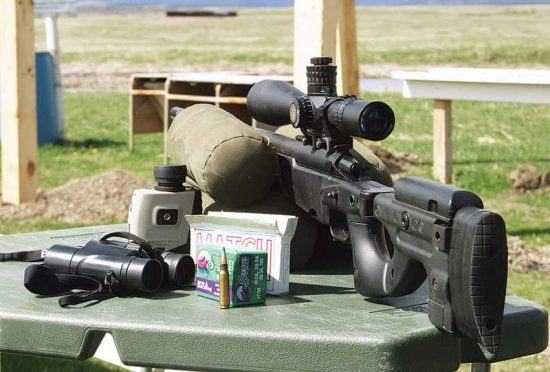 There is a real cut-above-the-rest system sitting out there if you just happened to have $4,000 and change floating around in your pocket. This glass sight has come in second place on lists before, however, in my mind, the top three or four on these lists that are at the same price point and quality level were hard to tell apart.
For testing, hands-on, hot-lead downrange applications are a must if the true picture of a new product is under review. In this case, the new Nightforce B.E.A.S.T. was to see a great deal of live-fire range applications, both on steel and warm targets.
Built in the second focal plane, the B.E.A.S.T. came together by way of a massive interview process completed by Nightforce when checking in with active military and police snipers. For the most part, it was developed for ultra-long-range sniping applications by way of the .300 Win. Mag, .338 Lapua Magnum and/or .50 BMG for dangerous encounters with enemies with machine gun-mounted pickups or those packing trench mortars. Being tasked with 1-mile shooting requirements, Nightforce pulled all its marbles into one bag and came up with the B.E.A.S.T., which is nothing less than "state-of-the-scope-building" art.
Using the Milrad system developed by the United States Marine Corps for shooting combat targets (humans), in general, you can figure the 1 milrad (MIL) is equal to 3 1/2 inches at 100 yards in elevation. In other words, milrads move up in elevation faster and with less fuss than MOA adjustments found on most hunting riflescopes—even ones which use some type of reticle elevation system.
The B.E.A.S.T. makes use of a Horus-designed Christmas tree reticle, allowing a full 30 milrads of elevation from the upper crossing line zero point in the reticle. Thirty milrads is a massive 35 inches-plus per graduation (single MIL), and a total of 1.050 inches when observed at 1,000 yards. At greater ranges—1,700 yards or more—it gets even crazier. In effect, you can DOPE (Data of Previous Engagements) your elevation with the B.E.A.S.T. and never touch a turret cap out to a mile—that is, if you're shooting enough rifle and paired cartridge.
Why is this all so critical?
Because, when you're being shot at or mortars are being dropped onto your position, you don't have time to mess with spinning turrets; you have to make use of pre-established firing solutions and return accurate fire promptly. Remember, one sniper's bullet can save a large, friendly force from massive casualties if the incoming source of fire can be quickly extinguished. The B.E.A.S.T. takes all this into account, and is an ultra-long-range tool for fighters in a theater of war or for when anyone in our region wants to dust stuff into the next zip code.
Speaking of dusting stuff into the next zip code, the .308 Winchester—the Ithaca test rifle sent—and the new Nightforce scope attached, the system got the call. Now, the .308 is not an ultra-long-range zip code shooter, but it can be stretched to 1,000 yards and is a dead-sure tack driver to 600 all day with good ammo and optics like those found on the B.E.A.S.T.
Setting up on our club range—attached to a 3.4-by-1-mile dog town with 1,000 yards of steel targets—I turned the Nightforce B.E.A.S.T. loose on some metal. With pre-established fire solutions offered by Hornady 168-grain A-Max, Berger Bullets VLD's and Sierra TMK 168-grain Match King pills, the three primary bullet brands were sent downrange for testing, It was done simply to drop to the correct mil setting, allow for crosswind drift when present and to touch the outstanding Ithaca single-stage trigger. At one point, I dusted off 14 dogs with 12 rounds of Sierra TMK's sent downrange via my handloaded fodder. This running uninterrupted-style grass-rat shooting was not produced just a single time, but was done several times over a full week of dog shooting. The rifle, optics and ammo together were just that good.
On steel, it was too easy, but I also dropped 1-quart milk jugs filled with water at 600 and 800 yards. Again, just pull the correct mil setting, or, at times, add a few 1/10-MIL corrections and "send it." With a full 18-pound rifle and glass I was able to shoot less of a spotter, as it always took a bullet from 1 full second up to 3 seconds to return a splash hit, or in this case, the sound of lead on a steel plate. At 1,000 yards, I could observe my own handmade-designed coyote target open up a large hole against the big steel backer long before the sound returned to me—steel being slammed by copper and lead core material.
Optical quality for the Nightforce was nothing less than world-class, simply the best. I was able to cut through waves of heat that would drown out most scopes at 800-plus yards. Adjusting for focus with the left-side parallax knob returned super-crisp, sharp-edged targets right down to seemingly single hairs standing out on the dogs out to 500 yards.
What I did wish for after spending some time behind the Nightforce optic was that it be tied to a .300 Win. Mag., or better yet, the .338 Lap for some 1-mile work downrange—I know for a fact that this scope would take on any task if the gun load could send the mail far enough. If you require more range than what the reticle will allow, you can move to the halving system and turn the elevation turret a full 30 milrads up from the basic 100-yard zero and shoot as far as you can see a target.
L.P. Brezny has worked in research and development across the shooting industry for 37 years. He has developed and marketed systems for 12 gauges, designed ammunition for Winchester and Federal Cartridge, designed separator quiet slugs, shotshells and one-choke do-it-all systems. Brezny was the first ballistics writer to measure shotgun pellets in flight to ranges as great as 100 yards. He has published three books on shooting (Gun Digest Books), and is completing a fourth on long-range rifle applications. He has published hundreds of articles on sending rounds downrange.