Traveling Smart: Staying Healthy on the Road
Springtime is a busy time for many of us, who either work in the outdoor industry or just spend as much time outdoors as possible, and is full of trade shows, conventions, travel and preparing for spring gobbler season. Last season alone, I traveled more than 5,000 miles in spring for trade shows and turkey hunting. Instead of flying from place to place, we chose to drive, because we bring along so much production gear, hunting gear, and, of course, our dogs.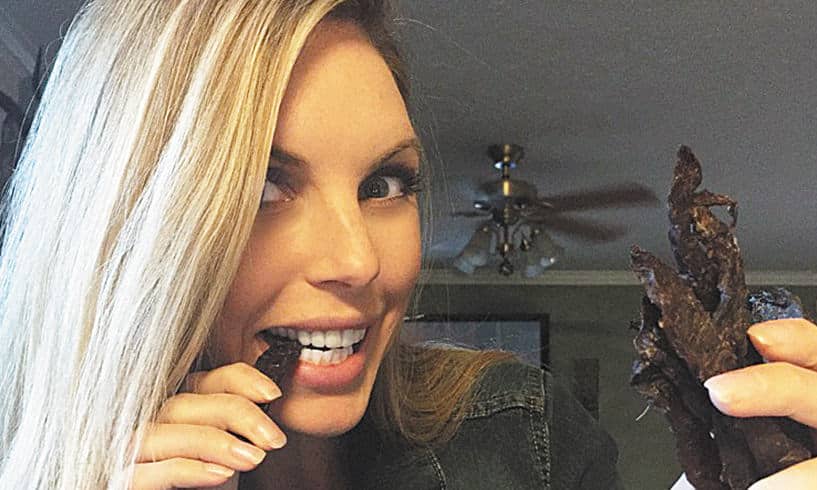 How do we stay healthy on the road? What makes the difference between a heart-healthy road trip and one that leaves you feeling sluggish and tired? Over the years, I've come up with some pretty great "life hacks" you can use to be as healthy as possible while maintaining a busy travel schedule.
Fail to prepare, prepare to fail
Plan ahead if you have a busy week or month coming up. "Meal prep" can sound daunting if you don't want to spend hours in the kitchen, but it can be simple and easy if you do it the right way. For example, if I know that I will be on the road traveling for a week, I prepare enough food to get me through two meals per day. This works well for me because I know that I'll be eating out for either lunch or dinner at least once a day during most of my trips. If I'm staying at a lodge for a hunt, I still bring my own meals.
It's smart to have healthy options, even if you just snack on the healthy meals throughout the day. It will keep you on track, and can prevent you from over-indulging when everyone else is diving into fried or fatty foods.
I typically prepare a combination of different foods, and put them into containers together based on carbohydrates and protein. Here are some ideas and suggestions for easy-to-prepare and healthy combinations:
Container 1:
Baked chicken breast
Asparagus (grilled or steamed)
Brown rice (1/2 cup prepared)
Container 2:
Wild game steak (venison or any lean wild game you have)
Half of a baked sweet potato
Brussel sprouts (steamed or baked)
Container 3:
Hard-boiled eggs or
Protein smoothies (frozen)
Tips
Blend a smoothie, then pour the contents into muffin pans. Put into the freezer. When you want a smoothie without the hassle, just grab one muffin-sized frozen smoothie from the freezer and put it in the blender for breakfast in no time.
I keep a container of hard-boiled eggs with me almost all the time. It's a perfect snack that is relatively low in cholesterol, high in protein and easy to pack on any trip. Even if you're flying on an airline, remember that you can carry foods on board and through security if they are solid foods that you pack at home.
I also like to pack healthy snacks so I have options in between meals. I recently processed a white-tailed deer and made the entire thing into venison jerky. This is a perfect snack to keep with you while you travel! Not only is it good for you and high in protein, people will never forget it if you decide to share. If you don't have time to make your own, consider purchasing jerky that "gives back" to the community like Reel 'n Smoke Jerky. For every bag of jerky you purchase, they send some overseas to some of our service members.
Use what's in your freezer
Many of you enjoy hunting, or know someone who hunts. I choose to cook with wild game because it is naturally lean, hormone-free and readily available to me straight from my own freezer. Many wild game recipes play up the natural flavors of the meat, but you can still have a healthy dish on the table without the meat tasting "gamey" or "too wild." After many years of trial and error, I have found a few heart-healthy recipes that your entire family will enjoy and that won't pack on additional pounds to your waistline.
Even if you're traveling, you can still enjoy the benefits and flavors of wild game if you make preparations ahead of time. I travel in a fifth-wheel trailer across the country, so it's easy for me to pack my freezer full of wild game for our days on the road. If, however, you don't have a travel trailer or if you're flying to your destination, you can still find creative ways to keep your health in check on your travels.
Try these tips next time you travel:
Pack small bags of healthy snacks and keep them in your carry-on bag. I choose almonds, nut mixes and jerky. They won't spoil, they won't stain or ruin anything if they spill in your bag and you won't feel guilty after snacking on them.
Drink plenty of water. I recommend drinking about a gallon of water every day, and even more when you travel and/or the weather is hot. Flying will dehydrate your body, so avoid any liquids that will dehydrate you even further. Coffee is delicious, but it's not a good choice if you are already fighting dehydration. If you need something other than water, stick to non-carbonated and more natural liquids like coconut water. Definitely avoid alcoholic beverages completely on travel days.
Prepare protein cookies to take along. They are delicious and healthy.
Move around as much as possible while you are traveling. If you're flying on an airline, try to wear an activity tracker and set a movement goal for the day. I attempt to take 10,000 steps per day, even on travel days. If you get near the end of your day and you haven't reached your goal yet, go for a stroll. Not only will it help you fight jet lag, but you also will enjoy your trip a little more if you get out and walk briskly for a few minutes now and then. If you have 20 minutes before your flight is boarding, that's enough time for a quick stroll through the terminal. If you're traveling by car, every stop can become a quick heart-pumping walk around the parking lot. The three additional minutes it will take won't put you off schedule, and will help if you have a sore back from sitting all day.
Traveling should be fun, exciting and a healthy way of life. By thinking ahead and keeping an open mind, you'll be able to pack more efficiently for days on the road, fly across the country without feeling bloated or uncomfortable and enjoy your time of traveling to your destination in a healthier way.
 Send Julie McQueen your outdoors-specific exercise and nutrition questions, at any of our social media pages. Like us at facebook.com/MidWestOutdoorsTV, facebook.com/JulieMcQueen.brotherhood, and follow our Instagram feeds @mwoutdoor and @julesmcqueen. "Fitness for the Field" is peer-reviewed by trainers and nutritionists at UpLift Guided Fitness in Woodbury, Minn. Eat healthy for the rest of your outdoor-loving life at upliftfitness.com/21dayoffer.
For more information…
To see Julie McQueen's personal recipes, subscribe to MidWest Outdoors magazine. And, as always, find her on social media to let her know what you think.