Make the most of your resolutions
It's February and you are just over a month into the new year. If you made a resolution to improve areas of your life, you understand the frustration many people feel this time of year. If, however, you love the outdoors, I have good news for you. There are many ways that we can keep our goals for the new year, even if we need to change the way we achieve them. Most of us have goals that revolve around our experiences in the outdoors: We want to be better hunters, more successful fishermen or want to find more time to be outside. Let's pick a few upcoming outdoor traditions and have fun getting ready for them.
Spring turkey preparation
In most areas, turkey season won't begin until April (March if you travel a bit), but February seems to be the month that we all begin planning for it. Depending on where you hunt, you will have different goals for succeeding at bagging your gobbler. On some hunts, you'll need to sit for long periods of time and you'll need to be still while keeping your eyes and ears on high alert. Hunting turkeys from a blind takes a lot of patience and good posture. How often have you been sitting in your blind when you realize that your spine is curved in all the wrong directions? You stretch; maybe hear your spine crack a bit, and then go right back to that same unhealthy position.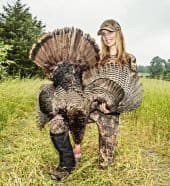 If you use ground blinds for turkey season, I want to challenge you to improve your posture before you ever step foot in the blind. One technique for improving your posture and remaining aware of how you are sitting is to replace your office chair with an exercise (stability) ball. Even if you only do this for an hour a day at first, you will notice your mind becoming more aware of what your spine is doing. Work your way up to a few hours a day, and you might actually begin to like how you feel after sitting for long periods of time. If you don't want to bring that big, colorful exercise ball into your workplace, try bringing your actual hunting blind chair. Most of them are small and compact, and will be just as good for training your muscles to sit up straight. Your posture is built on muscle memory, so let's work on creating the right kinds of memories in your muscles. Practice sitting up straight and keeping your core under control so it becomes a habit. Your focus will improve at work, and when you get into your ground blind, you will sit up straight without thinking about it.
If you don't sit in an office chair at work every day, practice your good posture when you do sit down. Don't let your lower back "melt" into the chair or couch. Focus on keeping your spine straight and your shoulders back.
Turkey hunters who enjoy on-the-go turkey hunting, aka "run-and-gun" style, will need to focus on some things aside from posture. You'll want to do some stretching regularly so that you don't pull muscles when you find an awkward tree to sit up against. We all know the feeling of slouching down next to a tree, our gun propped up on our knee and the aches and pains shooting down our spine after a few minutes of trying to hold still. Some stretching and core exercises won't prevent that pain, but it might prevent injury when you try to stand up or turn quickly.
Your core is the part of your body that keeps you sitting up when you are slouching against a tree. Strengthening your core muscles will not only improve your turkey season, but your entire life.
A good example of a "core exercise" that almost anyone can do—that I do regularly to prevent injuries in the field—is the Dumbbell Side Bend. This simple, effective exercise will help strengthen your core and it's a realistic example of a movement that we all use in the field. When you pick up your backpack or lift a turkey from the ground by its legs, you are engaging core muscles to lift, turn and hold yourself up.
No turkey, no problem: Let's go fishing
Of course, everybody isn't a turkey fanatic. Some of you will be focusing on catching fish through the ice or in the winter streams. It seems like most of the fish that I target during these cold months are trophy class. They fight harder, thrive in the cold waters and they're healthy from feeding on the smaller baitfish that weren't lucky enough to make it through the winter. These fish are the ones that make you feel warm all over when they bite, no matter the conditions. They might also make your arms, back, and neck sore if you aren't physically ready for a good day on the water. I personally go after trophy fish on a pretty regular basis, and this is one of the main reasons I build my upper body strength throughout the year.
During the month of February, you might be drilling holes in the ice to look for panfish, walleyes or pike. Maybe you mix it up and ply unfrozen waters, fly rod or casting rod in hand. Either way, fishing in the winter months can be a "grueling pleasure" in more ways than one. Sometimes just getting set up with your gear is enough to put strain on your joints, and then pulling the fish from the water increases your risk of injury. If you'll be wading a cold stretch of river after trout, it would be good to do stretching and leg exercises that improve balance.
My favorite exercise to target this specific need is what we call Skaters. Skaters work on your balance, improve your muscle density in your quadriceps and hamstrings (upper leg muscles) and just might prevent you from tumbling over in the cold water if you miss a step. Try incorporating some of these into your daily routine and see if you feel more stable next time you walk on the moss-covered rocks in your favorite stream.
At least two days a week I focus on lifting weights that will help me pull in heavy-fighting fish. Even if you don't like to lift weights, I'm sure you lift something and put it back down from time to time. Just utilizing those muscle groups on a semi-regular basis will help your long-term technique. For example, if you have to lift a heavy bag of dog food, use your biceps and your shoulders instead of using your back. You can practice with everyday items if you don't want to go to the gym or devote an hour every day to it.
I personally enjoy lifting weights, and I've been thankful for that during the times when I'm fighting to pull in a 180-pound tarpon while the boat is rocking on the ocean waves. It's important for me to be as efficient as possible, so part of my routine involves building and maintaining muscle groups that make my days on the water more enjoyable.
Spend more time outside
It doesn't matter if you're preparing to chase turkeys through the spring foliage or fishing your way through the countryside. Your health enables you to enjoy those moments afield without stressing over injury or pain. My advice to you is to take good care of your body by eating healthy meals, staying active and working to strengthen your vessel in as many ways as possible. If you enjoy exercise, find new ways to incorporate some moves into your routine that will benefit your next adventure in the woods. And if you don't enjoy exercise, take small steps to protect yourself from injury. Either way, you know that you have a support system here at MidWest Outdoors, and we want you to enjoy every moment that you get to spend in the great outdoors.
Send Julie McQueen your outdoors-specific exercise and nutrition questions, at any of our social media pages. Like us at facebook.com/MidWestOutdoorsTV, facebook.com/JulieMcQueen.brotherhood, and follow our Instagram feeds @mwoutdoor and @julesmcqueen. "Fitness for the Field" is peer-reviewed by trainers and nutritionists at UpLift Guided Fitness in Woodbury, Minn. Eat healthy for the rest of your outdoor-loving life at upliftfitness.com/21dayoffer.
Dumbbell Side Bend
While standing up straight, hold the dumbbell in one hand with your opposite hand on your hip. Keep your core tight and your back straight while bending to the side and let the weight dip down toward your legs.
Slowly use your core muscles to contract and pull the weight back up until you are standing upright again. Repeat 10 to 15 times while using a weight that challenges you. Switch hands and do the same on your opposite side.
Skaters
While putting all your weight on one leg, slowly raise the opposite leg and begin to bend slightly at the waist. Both knees should be bent slightly, and your opposite arm should come forward for balance. Keep a straight back, lower your body weight to challenge your upper leg muscles and focus on keeping your balance. If you need to touch your back foot to the ground you can, and then work your way into keeping it off of the ground throughout the movement.
Come back to the beginning position and switch legs. The entire movement should be fluid and balanced, similar to that of a person who is skating.