In His Own Words… Mark Fisher: Artistic Eye for Lure Design
If we were to begin Mark Fisher's story at a seminal moment, you would see a fully-qualified but frankly terrified lifelong fisherman holding a box of prototype and concept lures and a suitcase, waiting to be picked up at the Helsinki airport. A guy who still thought of himself as a kid from Minnesota who loved fishing and art and creative work had to pinch himself because he'd been sent all the way to Finland to work closely with old-world craftsmen who build Rapala lures for a living.
"Seriously, I was kind of thinking, 'what am I doing here?'" remembers Fisher. "But once we settled in and started working together, everything came together and I knew it was what I was really made to do."
Ever wonder how a kid from the neighborhood ends up on the front lines for a premier brand in the fishing lure business? There are stops along the way that might not seem to light the rainbow leading to a life of dreaming up new Rapalas. But that's what makes each life's tale worth telling.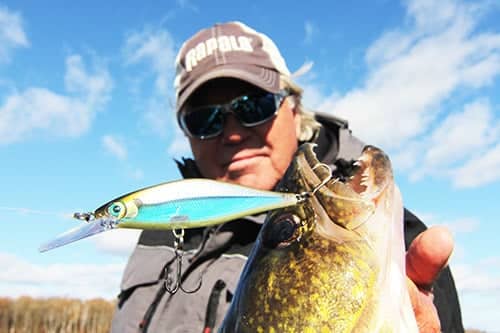 This one meanders from childhood vacations in the Minnesota countryside to night clubs to night art classes to a knack for working out the puzzle of making a fish bite, even when it isn't looking for something to eat. Meet a guy who knows how to trigger fish, and how to help you do it, too, as we present Fishing Hall of Famer Mark Fisher, in his own words…
MidWest Outdoors: Tell us about what got you started in fishing and hunting. We know you are a hunter, too.
Mark Fisher: My childhood was the classic 1950s, 1960s family exposure to the outdoors. In the fall, we'd go pheasant hunting, mix it up with a little duck hunting, and in the summer, we'd do the classic vacations, in the Alexandria area, on Lake Ida. We stayed there for at least a week at a time.
MWO: Yeah, Lake Ida, that's a classic lake, too.
Fisher: Oh it is, it really is. We spent our time catching frogs for bass fishing, and we'd catch a few extras and sell 'em for a quarter apiece to people at the resort. That's where it all started, bailing out cedar strips [wooden boats] with a coffee can, and using Hi-lex bottles with a rope and a brick for a weight, for our marker buoys.
MWO: Do you remember the first really big fish you caught, and what it was?
Fisher: You're gonna think I'm making this up, but the first experience I had catching a good fish was the first time I had a Rapala in my hand.
MWO: You're right. It sounds like you're making it up.
Fisher: That's a fact. It was 1963. I caught two fish, on a #9 floater. I had a sunfish on the belly hook, and a walleye on the tail hook.
MWO: At the same time?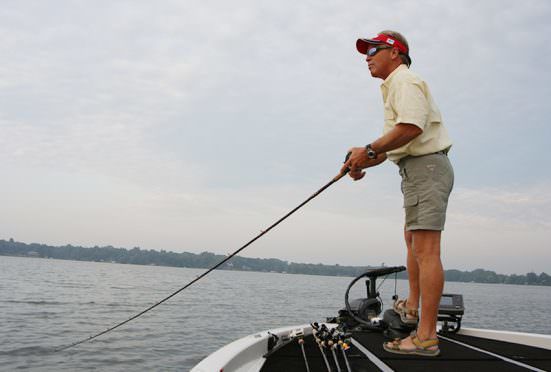 Fisher: At the same time. Honest to God. And, by the way, when my dad passed away and we went through his tackle boxes, we found the gold #9 floater. It's in my desk drawer. I keep it here at the office.
MWO: It's the one you caught the two fish on?
Fisher: Absolutely. I've always known where that thing was, all through my life.
MWO: Tell us more about the two fish you caught on it at the same time.
Fisher: I remember it vividly, as if it were yesterday. We always trolled. We very seldom casted. The only time I went casting was with my mother. She loved throwing Hula Poppers. But on this deal, we were trolling, as usual, and we came out of the main lake into the little bay that had the resort we stayed at.
As a 10-year-old kid, you know what it's like to get the opportunity to shoot your dad's shotgun, or use your dad's rod and reel. It was unbelievably special. We had gone to the Coast to Coast Hardware store and bought a brand new rod, a brand new reel. My dad had his name on the list for this new Rapala lure, and it had just come in. So we used S&H Green Stamps to get a brand new rod and reel for this very special lure.
So I get Dad's old rod and reel, and I'm lovin' it; it's got the old black dacron line on it, but now it's mine. It's got a leader on it that you could pull a train with. So we come out of the main lake onto a sandbar and into this small bay, and Dad said, "it's your turn; you should troll this new lure and see what happens." My dad had great success with it, all day long.
So I put on the Rapala, and have the rod in my hand, and we're just over the sandbar, onto what I would know today as the inside edge, before we hit the weedline, and I just got a tug. I remember saying, "I think I have one," and my dad said, "well, wind it in, wind it in," and I'm winding it in, and I got a bigger tug, and I said, "I think I'm stuck on something."
When I finally got this whole situation up to the boat, it turned out to be about a 4-pound walleye on the tail hook, and a big bull-nosed bluegill on the belly hook.
MWO: Are there any photographs of that catch?
Fisher: I wish there were. That would be a classic. But in those days, we never brought the camera in the boat, because you didn't want it to fall overboard, or onto the bottom of that leaky cedar-strip boat [laughs].
MWO: But you have a good memory of seeing those two fish on the lure at the same time.
Fisher: Oh, absolutely. I didn't know something like that could happen until that day. But that's what really got me going. Could that have been the beginning of what triggered what I enjoy so much about fishing, of looking at fishing as a puzzle?
MWO: In the intervening years, you worked at a variety of things, and started and ran a successful sign-painting business. Your big talent, you tell us, is in art, in seeing color and drawing things. Between that and your fascination with fishing, along with key skills you picked up at other jobs, one day the phone rang and it was Tom Mackin at Rapala. How much did that change your life?
Fisher: It's interesting how you become a student of the sport without really recognizing it. You have to be ready when opportunity knocks. Everything I did, prior to getting here, helped me get here.
MWO: Speaking of that, let's rewind and go back to where it all started for you, so we get an even better sense of your fascination with fishing and hunting. What other memories do you have of your early years in the outdoors?
Fisher: The easiest answer, for me, is that I had a family that liked fishing, so I got a lot of exposure to it. And it wasn't just my immediate family; my grandmother didn't care if she ever fished, but she sure loved going to the lake. I had aunts who would fish occasionally and also just wanted to go to the lake.
Every summer, we'd rent a cabin, next to a cornfield. It was the last cabin on the end of the line. We did the normal kid deal. "There's a pocket gopher—who's got a BB gun?'
Also, I had cousins, and great uncles in Hutchinson (west of the Twin Cities), and we'd go out there squirrel hunting. We were always outdoors, along with playing organized baseball.
MWO: Your dad was more of a pike and walleye guy, and we hear it was your mother who actually got you started fishing for bass. Is that right? Tell us about both of them.
Fisher: Yeah, my dad came from Texas. He grew up outside of Dallas, in a rural setting, during pretty rough times, coming out of the Depression era. Did a stint in the service at the end of World War II. Stretched his legs, bumped into my mom in California, and they stayed in contact.
MWO: Is your mom from California?
Fisher: No, she's from right here in Robbinsdale [a Twin Cities suburb]. So reel it way ahead, and they get married. And the neighbor across the street is this classic Norwegian guy, just the greatest guy, and he took my dad hunting and fishing. To some degree, he became like a surrogate father to my dad.
He taught my dad a lot about the outdoors. They'd hunt pheasants and ducks, and go after pike and panfish and walleyes, really anything that swam. My dad liked to troll, and when I started fishing with him, that's what we did. You would troll around, you get your lines tangled up, you're in the weeds, you're out of the weeds. Today, you'd go, "where was that weed bed?" and you'd go back to it, instead of avoiding it.
We'd come in at the end of a day of trolling, then we'd all do our chores around the cabin and have dinner. And then it was mom who'd say, "let's go bass fishing down in the bay." We'd head into the bay, around the lily pads, with spring-loaded frogs and Hula Poppers and Jitter Bugs, and my dad enjoyed it enough, but my mom really liked the casting. She loved the topwater deal, and so did I. Who doesn't enjoy seeing the explosion of a fish taking a bait on the surface?
Because you can see the hunt. Hunting is hunting and fishing is fishing, but sometimes the two cross over. When you see the chase in play, and you see the attack right before your eyes, the first time that happened for me, I remember thinking that I wanted to do that again. And as soon as you know you gotta do that again, you're hooked.
For me, that was more fun than trying to figure out whether I snagged a weed or got a bite while we were trolling. I just loved that time, when the sun was going down and we were casting around the pads and the bulrushes, and waiting for that next explosion from a bass.
MWO: You were still a little kid at this point, so walk us forward as you get into your teen years. In addition to your love for fishing and hunting, what other interests did you have?
Fisher: I always had a love of art, and I exposed myself to everything I could, from painting to drawing to sketching. And I played music, played the drums. And, of course, the Vietnam war was coming as I got into high school, and it was looking like I could get drafted. I was working really hard at building my skills in parade drumming. From about late junior high through high school, I was also playing in garage bands and basement bands, and played baseball, and dabbled in football until I was just too small. I wasn't a big guy. Then I got into wrestling, too. Between all that and confirmation, there was always a lot going on.
MWO: Were you drafted into the military?
Fisher: No, I never was, so after high school I kept playing in rock and roll bands and enjoyed that, and we had some successes.
MWO: You didn't know this at the time, but your art talent ended up being an important asset for what has become a career in fishing lure development.
Fisher: Right, it was huge. As you look back and try to put my own puzzle together, there was a period of about three years where I played music full-time. I was in a number of bands that toured all over, and I was in a few house bands, but eventually I realized I couldn't do rock and roll forever. It was time to do something else, and I remember going back and talking to one of my old high school art teachers, and told him I'd really like to get into sign painting.
MWO: So you started the sign-painting business partly for a new career and partly as a creative outlet for your artistic side?
Fisher: That's exactly what it was. I went in and served an apprenticeship to learn the skill-sets needed for sign painting, and then what I really wanted to do was become a pictorial artist, where you would paint 40-foot pictures on the side of a building. It was an acquired skill, working with a lot of good journeymen; you'd pick up a little from this guy, a little from that guy, and I took night classes. I was very serious about it. After a four-year apprenticeship, I was ready to start the business.
Fisher and his brother-in-law built the sign-painting business for 20 years, during which Fisher honed his skills in fishing, especially tournament bass fishing. When we pick up on the podcast, he shares the story of how everything he'd done up to that point led him to a career in the fishing business, eventually developing new lures for arguably the most storied brand in the sport. Hear his tips on triggering fish, how he works on lures with world-class designers despite a language barrier, and a whole lot more.
Listen to more
with Mark Fisher…
You'll find it in the Podcast section at MidWestOutdoors.com. On the home page, look for the button that says Podcast, click on it, and you'll find the interview. We hope you have time to listen to some of our other episodes as well. We'll see you there… it's time well spent.
Ed "Tex" Fisher, Mark's dad, loved to troll for pike and walleyes. Here is father and son after a successful outing. Over time, Mark gravitated to the casting game, especially for bass.
Below: Rainy Lake might be Fisher's favorite body of water. This giant pike fell for a Glidin' Rap during a filming trip.
Fisher through the years:
Born: March 9, 1953 in Minneapolis, Minnesota.
1950s and '60s: Had a wide-spectrum exposure to the outdoors, hunting pheasants and ducks in the fall, fishing for anything that bit in the summer. His dad was a troller, targeting pike and walleyes; his mom loved to cast for bass in the evenings.
1963: First memorable catch, which came, "the first time I had a Rapala in my hand," recounts Fisher. "I hooked a big sunfish on the belly hook, and while I was reeling it in, a nice walleye grabbed the tail hook." It was his father's lure. "When my dad passed away," Fisher said, "we found that old #9 gold floater, the same one I caught those fish on. I keep it in my desk drawer at work."
1977: Started, with a brother-in-law, Fish & LaBeau, a sign painting business. After spending years as a drummer in numerous bands, including touring rock-and-roll groups, "I wanted to do something different with my life," says Fisher.
1987: Won Angler of the Year first time he fished a bass tour, the Midwest Open Bass Classic Circuit.
1993: Got his start in the outdoor industry co-hosting "Bear Facts and Fish Tales," a weekly radio show, initially airing on 1500 KSTP in the Twin Cities. Hall of Fame fisherman Larry "Bear" Bollig was (and still is) the co-host. After 18 years on KSTP, the show rolls on every Sunday, 7-9 p.m., on Bob 106 FM. To listen, go to dothebob.com where you can listen live, or call up show archives.
1994: Won the prestigious Don Shelby US Invitational bass event on Lake Minnetonka, over a field of 135 elite anglers.
1997: Sold his half interest in the sign painting business and began working at Skirts Plus, a small fishing manufacturer specializing in spinnerbaits and other bass lures. The company designed and made silicone skirts and components for spinnerbaits and bass jigs. Principals included Don Link, a hardcore bass and muskie fisherman who was had been a business partner with Lonnie Stanley and Mike Dyess (both owners in famous Stanley Jigs), and Joel Hafermann, a friend who had owned several sporting goods stores in Shakopee, Minnesota.
Fisher credits Link with teaching him much about designing jigs. "Don is one of the most creative people I've ever met," he says. During Fisher's tenure, Skirts Plus pioneered rattles in bass jigs, which became a staple in the industry.
1999: Won Angler of the Year on Silverado Tournament Trail.
2000: By virtue of winning Angler of the Year on the Silverado tour, qualified for the now-famous 'Ranger M1 Millennium Bass Event,' held by Irwin Jacobs' FLW organization, which offered 200 seeded anglers a shot at $1 million in a three-day tournament held in Cypress Gardens, Florida. The field, as expected, featured an all-star cast of the greatest anglers in the bass world. Fisher did not win the tournament, but has fond memories of fishing in it.
(Famous broadcaster Joe Buck called the action live on Fox, and the winner was Darrell Robertson, of Jay, Oklahoma. David Fritts, who graced our cover in 2015, finished second.)
2000: Began working at Rapala, starting as Director of Field Promotions. Landing that job was a matter of "being in the right place at the right time," says Fisher, "and being prepared. You have to be ready when opportunity knocks. Everything I did, prior to getting here, helped me get here." Nowadays, he is also Director of Lure Development for Rapala hard baits.
2011: Inducted into Fresh Water Fishing Hall of Fame as a Legendary Communicator.
'Fish' at the helm of Grandpa's boat. In this 17-foot tiller with dual electric motors, dual Si-Tex flashers, splash guards and more, a young Fisher honed his talents. The rig was always on the lift at the dock on Bay Lake in north-central Minnesota.
On the day of his induction into the National Fresh Water Fishing Hall of Fame, from left: Fisher; Tom Mackin, Rapala President; writer/TV host Ron Schara; and Emmett Brown, Executive Director of the Hall.
You can be among the first to get the latest info on where to go, what to use and how to use it!
---
MidWest Outdoors editorial director Mark Strand is a graduate of University of Minnesota School of Journalism with a minor in Fisheries & Wildlife Science. He has written for nearly every outdoor magazine over the past 41 years, and has written or co-written 14 books. In addition to writing and photography, Strand produces the MidWest Outdoors Podcast, and contributes to MWO digital properties. He is an outdoor generalist who loves hunting and fishing of all types. In 2018 Strand was elected to the Minnesota Fishing Hall of Fame.
All author posts
---